Business
MIS students help solve information technology needs for small businesses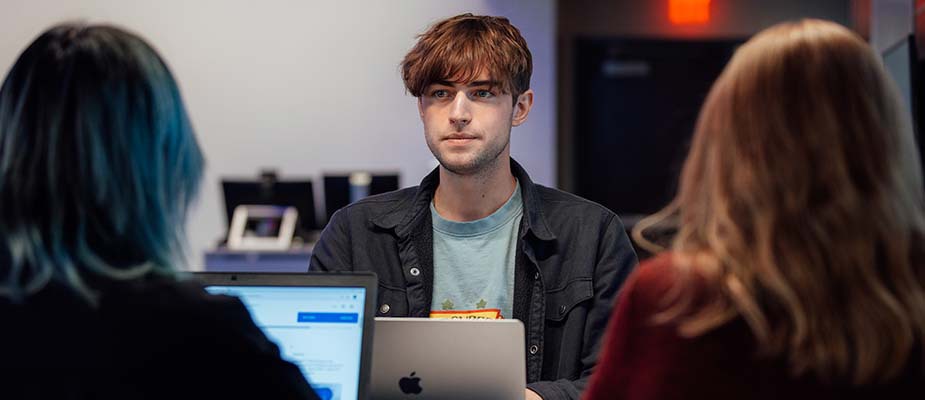 Throughout their time at the College of Business, Management Information Systems (MIS) students take in a well-rounded curriculum full of fundamental principles, applications and more. This coursework prepares them for a career in technology and business. One course, Information System Development Projects, taught by Betsy Ratchford, is intended to bundle those lessons and apply them in real-world scenarios.
Students work with local small businesses and non-profit organizations to help them with their information technology needs, namely creating an entire website. After the website is developed, students create training manuals for the business owners to use after the class finishes. 
"This class is more like a consulting project than a typical teacher-student type classroom," Ratchford said. "Students do everything from soliciting the user requirements, outlining the needs of the system and identifying the platform to build the system on."
The course is intended to give students a taste of what real clients look for, particularly client communication, which is almost impossible to simulate in a traditional setting. Students are broken into small groups, and they work exclusively with the client. Ratchford oversees the projects and answers questions or steps in if needed.
"It's really hard to teach communication in a fictitious setting," Ratchford said. "In this environment, students have to know what questions to ask in order  to get the clients to provide them with what they need to complete the project." 
Ratchford added that students can be nervous to begin but soon warm up to the experience and realize its benefits. Nick Mortoza (Accounting and MIS, '22) said he enjoyed the independent learning structure of the course and understanding how to operate within a self-managed team.
"It's cool because you get to see how it is in the real world, then actually go and develop a website for them," he said. "It was interesting to see how we could structure the project around what works best not only for our team but also with the client."
Jenna Haugen (MIS, '22) agrees. She added it was heartwarming to help smaller businesses around the community and put together websites they could only dream of creating. The experience also helps during job interviews, as a way to show real-world application.
"I've never had experience developing any system or website," Haugen said. "So now I have something I can talk about, and it's a great real opportunity as a student."
Ratchford said employers notice these types of classes, and it's one of many reasons why UNI Business graduates stand out among the rest.
"When talking with employers who hire our students, they say real-world experiences such as these set UNI MIS  students apart from others," Ratchford said.
Clients are happy, too. "I actually had a client contact me this week and mention how impressed he was with the deliverables and communication," she added. "I've never had a negative experience."