Business
Students take home awards, experience from Okoboji Entrepreneurial Institute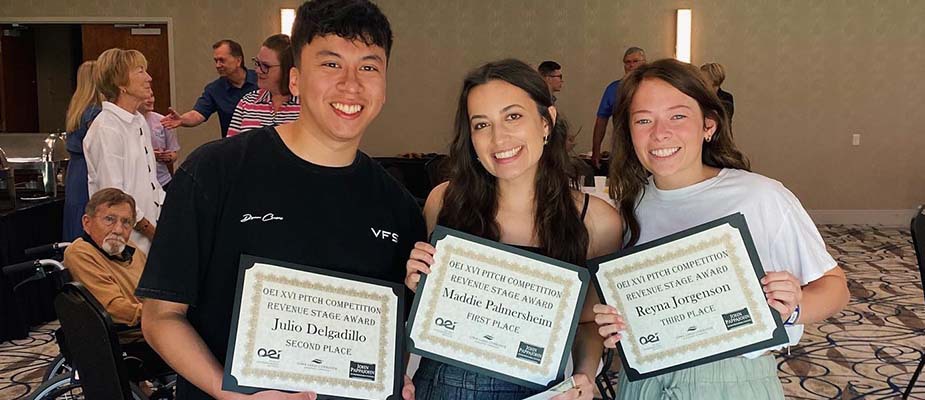 A group of entrepreneurship students from the University of Northern Iowa John Pappajohn Entrepreneurial Center (JPEC) were selected to attend the Okoboji Entrepreneurial Institute (OEI) this summer, gaining valuable skills and taking home some hardware.
Reyna Jorgenson (Finance and Real Estate, '24), Maddie Palmersheim (Marketing, '21), Skyler Ramsey (Real Estate, Financial Management, Organizational Leadership, '24), Noman Ikram (MBA, '22) and Fatima Rodriguez (Management Information Systems, '24) were five of 32 students from UNI, Iowa State University, the University of Iowa, Buena Vista University and Iowa Lakes Community College who attended OEI in June.
The students stayed with host families and followed one of three tracks based on the stage of their business: ideation, prototype and revenue. Keynote entrepreneurs and volunteers came to speak and help the students throughout the course. During their free time, students explored Okoboji, including the Okoboji Classic Car museum, where the pitch competition was held.
Palmersheim (1st) and Jorgenson (3rd) both placed in the competition, winning cash prizes to help fund their businesses and gained experience pitching to peers and real-world professionals. They also received feedback they have since incorporated into their businesses.
"It was helpful hearing that outside perspective from people who genuinely want you to succeed," said Palmersheim, who operates Moo's Bakery, her online, plant-based bakery, and is also a program assistant at the JPEC. "It was sound advice. I really appreciated hearing it."
Jorgenson, who started a clothing reselling business called Recreated by Rey, agreed. "There are different pitch competitions throughout the year with the JPEC, and this prepared me for those," she said. "Some people gave me great ideas for branding that I could take home."
Jorgenson's business competed in the revenue tract. She said it was eye-opening to hear from successful business owners, particularly Tom Bedell, the former CEO of Berkley and Company, a fishing supplies company started by his father.
"He talked about how to treat your employees right and the importance of a low turnover rate," Jorgenson said. "It just stuck with me because he's an entrepreneur, and he sees those values. And it was a big takeaway because I can honestly apply it to so many things in my life."
Looking back now, Palmersheim says the experience of networking and mingling with students across the state was one of her favorite parts of the OEI.
"I think talking with students from other schools was invaluable," Palmersheim said. "I really liked the host family situation as well. I thought it'd be uncomfortable, but it turned out to be the best part of the experience."