Business
Top Jobs in Business Analytics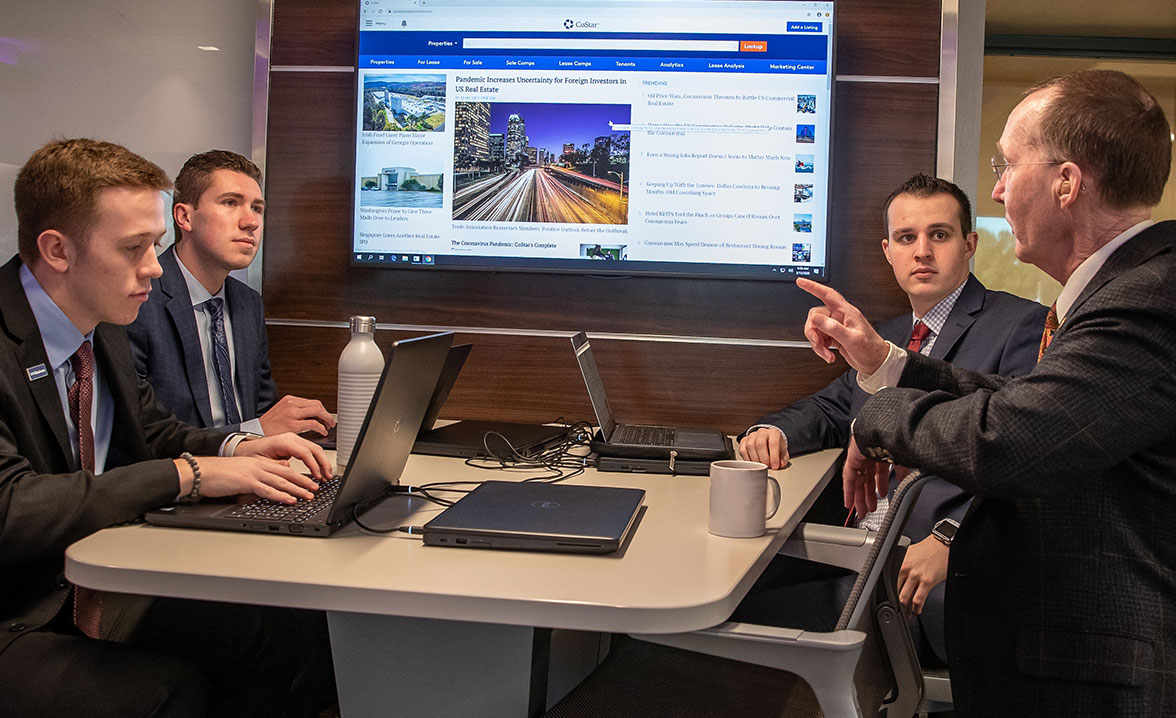 What is Business Analytics?
Our world is overrun with data. This is great news for people who are interested in getting a business analytics degree because the sheer volume of data in our modern world is at the heart of these careers. The business analytics field is all about gathering and interpreting information to understand the past and make better decisions for the future. The data could be anything from quarterly sales numbers to an organization's transportation costs. 
Being good at business analytics requires a passion for efficiency and strategic thinking as well as strong math and analytics skills. However, business analysts often also have to be interpreters that can communicate complex topics in simple terms.
 
Business Analytics Vs. Data Analytics
It's important not to confuse business analytics with data analytics. While they share similarities, they are separate fields. If you work in data analytics, you are solely focused on the data. You'll leverage different computational tools and programs to analyze the data and gain insights.
While business analysts also gather and analyze data, they take the extra step of making expert recommendations on how to apply these data-driven insights. If you're someone who just wants to be on computers and loves looking at big sets of data, data analytics might be a better fit. But if you prefer helping to determine an organization's best steps in light of data-driven insights, business analytics will be better suited to you.
 
Top Jobs in Business Analytics
If business analytics is a field you're interested in, there are lots of options! It's an incredibly competitive field, but once you're in it, you'll reap many rewards. Here are a few of the top business analytics careers with their average salaries that can be found on Payscale.com.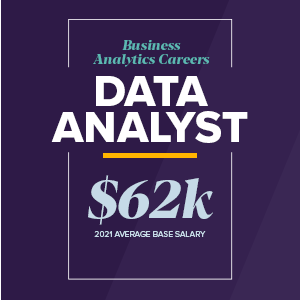 Data Analyst
2021 average base salary: $61,901
A data analyst is responsible for helping organizations strategize based on data analysis. However, the roles are still different. For example, while data scientists often rely on computer code to analyze data, a data analyst is more likely to use statistical software and relational database software. Data analysts are responsible for providing businesses with regular reports based on routine analysis.

Big Data Analyst 
2021 average base salary: $84,955
A big data analyst is another role that involves identifying data trends and making recommendations for a business accordingly. However, people who have this job are specifically looking at big data, which is a data set that is too big or complicated for a traditional data processing software to sort through. Big data analysts use a combination of manual analysis and automated data analysis to gather insights.

Business Intelligence Analyst
2021 average base salary: $69,908
A business intelligence analyst studies markets to produce market intelligence and finance reports. If you hold this job in business analytics, you might be able to identify why an organization is losing money and come up with actionable steps for how they can correct it. Some key skills for BI analysts include data mining and modeling as well as database management, business administration, and others.

Research Analyst 
2021 average base salary: $57,524
Although research analysts are common across many industries, you'll find them most frequently working in finance. The role of a research analyst starts by conducting background research on areas such as economics, consumer behavior, or accounting. They then analyze, interpret, and present their findings. Since research is such a big part of this business analytics career, it helps if you have a lot of curiosity and impeccable research and fact-checking skills.

Pricing Analyst
2021 average base salary: $58,498
Pricing analysts are dedicated to helping businesses choose the best price for their products or services. The data behind pricing comes from a variety of sources including consumer habits, industry trends, internal costs, and more. Depending on an organization's size, a business may either have its own full-time pricing analyst or they may have to outsource this type of work.
You Can Earn Your Business Analytics Degree at UNI!
Although you may have time to weigh your options, pursuing a degree in business analytics would provide endless possibilities. You can expect any business analytics salary to be high and the career opportunities to continue to grow. UNI has a fantastic business analytics program, including 100% career placement! If we've piqued your interest at all, contact our Department of Management, we would love to answer any questions you might have about the program.
As Iowa's only regional comprehensive university, we are designed to provide an immersive educational experience that combines critical coursework with real, practical field work. 
Real, relevant academic excellence for a world that expects future-ready graduates.
98% of UNI grads find success within 6 months of graduation.

UNI graduates more teachers than any other university in Iowa.

UNI graduates more CPAs than anywhere in Iowa.

UNI is ranked a top regional public university by U.S. News & World Report.