Business
UNI alumni Mark and Jill Oman create scholarship to benefit students in UNI's new hybrid accounting program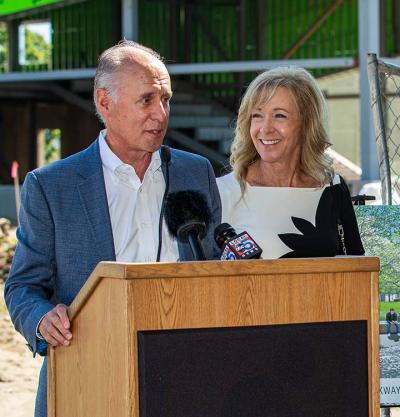 CEDAR FALLS, Iowa – A new accounting scholarship will provide more financial accessibility and opportunities for students enrolled in the new UNI accounting hybrid program at Des Moines Area Community College. The generous $94,000 gift from Greater Des Moines residents Mark (Accounting '79) and Jill (Management '85) Oman will be awarded to eligible students, starting with the first cohort in August.
"When we learned that UNI accounting degrees were being offered at UNI@DMACC, and being a UNI accounting alum myself, we wanted to provide scholarship support for these students," said Mark Oman. "The financial challenges of affording an education today are significant at every campus and are particularly acute at the urban DMACC campus. Jill and I wanted to provide scholarship support for students at the Des Moines location in the same way scholarships are provided for students at the Cedar Falls campus."
The Omans have been proud supporters of the UNI@DMACC partnership, which seeks to provide new affordable pathways for place-bound learners. Both are College of Business alumni. Mark Oman, managing director of Oman Capital, is a first-generation college student who is committed to helping others receive the same benefits that a bachelor's degree provided him. 
"I'm very excited for this gift and how it will benefit students," said Paul Sapp, associate director of transfer admissions at the UNI@DMACC Center housed on the Urban campus. "It shows the community's commitment here [in Des Moines] to the value of earning an accounting education from the University of Northern Iowa. This drives home the magnitude of the program and the impact it could have for people and businesses in the Greater Des Moines area."
UNI offers several online degree completion programs through the partnership, but the hybrid accounting path will make it possible for students to obtain a four-year accounting degree by attending classes virtually and in-person in the evenings on the DMACC Urban Campus. The partnership's ultimate goal is to make education and career possibilities accessible, particularly for adult learners or working professionals who are unable to relocate easily.
Gifts like this one from Mark and Jill Oman help make these options affordable, so students can focus on launching new careers and pathways for themselves and their families.
"This scholarship helps make tuition neutral, so students don't see this sudden influx in expenses," Sapp said. "It's all about accessibility and affordability. Those are important to adult learners – busy adults who already have jobs and families and their own homes, and who aren't able to go to Cedar Falls. So having this hybrid program and helping it be affordable, is crucial."
Applications for the Fall 2023 cohort of the hybrid accounting program are now being accepted. Those interested can reach out to Sapp at paul.sapp@uni.edu for more information on the program and scholarship requirements. Classes begin August 21. For more information about the accounting degree program and to apply, visit online.uni.edu/accounting.