Business
UNI Business Wins Regional Tax Competition for Third Time in Four Years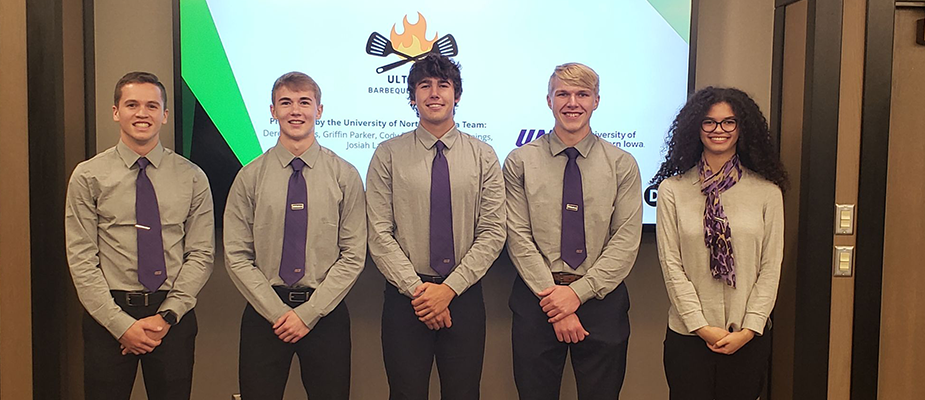 The College of Business has become a powerhouse in the annual Deloitte FanTAXtic competition, which pits colleges and their students against each other in accounting-focused challenges. For the third time in four years, a team from UNI has won the fall regional competition, proof positive of the high-quality UNI accounting program that prepares students for their career challenges. 
The UNI accounting team, comprised of Derek Koppes, Griffin Parker, Cody Ploog, Carissa Demings and Josiah Laddusaw, with faculty adviser Cathalene Bowler, had to answer three questions relating to business and tax, all of which are common questions that accountants have to answer for their clients, then present to a panel of expert Deloitte judges. The panel ultimately decided which team performed the best analysis. 
The first question was whether to purchase or lease equipment and the tax implications of the decision. 
The second and main portion asked whether the organization should operate as a partnership or corporation based on the lowest amount of federal tax. 
The third part discussed the future consequences of the decision, including liability concerns, politics and other non-tax factors.  
"Getting the experience of working in a team like that is definitely something that we'll be able to carry on and use for years to come," Koppes said. "This ended up being very beneficial, as an actual practical application to what I'm studying. Everything was building off what I was learning in my income tax class. I know myself and younger members of the team are going to benefit immensely."
This year's competition offered a unique challenge for UNI's team as they were moved from the midwest region to the western region. Despite the change and new competition, including Brigham Young University, University of San Diego and the University of Utah, they were able to continue UNI's winning record. 
Beyond the classroom, students who perform well in the competition are recruited by big public tax accounting firms, including the sponsor Deloitte. 
"This competition really is a recruiting event," Bowler said. "At the national competition, students are usually offered the chance to attend Deloitte's leadership program in the summer. This ultimately gives them the opportunity to get an internship offer, which may lead to a full-time job offer. The competition will open doors." 
In the end, though, the team was happy to perform well for yet another year. Bowler said that's because UNI is preparing students for the real world of accounting and business.  
"It's a wonderful feeling," Bowler said. "I think the students at UNI are phenomenal. But it shows how UNI is preparing students for big careers and putting them in a place where they can respond to these types of situations. So, I have to give credit to all the faculty that have contributed to these students' learning." 
The UNI Accounting team is now preparing to participate in the national finals at Deloitte University in Westlake, Texas, on Jan. 14-15.