Business
UNI College of Business faculty honored with prestigious state and university awards
Two UNI College of Business faculty members were honored this academic year, recognizing their outstanding professional contributions during their careers.
James Mattingly, Regents Award for Faculty Excellence
Associate Professor of Management
James Mattingly earned the Ross A. Nielson Professional Service Award last year, which put him in the running for the Regents Award for Faculty Excellence. He learned he was one of three UNI professors who earned it this fall. The honor, given to those who represent a significant contribution to excellence in public education, is extra sweet because Mattingly is winding down his career for retirement.
"I was really happy to receive it because it's considered to be the most prestigious faculty award," Mattingly said. "One of one of my colleagues, I think he said it well, 'This is just a nice send-off gift.'"
Beyond his 20 years of teaching at UNI, one of his biggest achievements was researching and informing how the College of Business can teach and assess critical thinking throughout the core business program. He also became an early pioneer for the college's delivery in online education.
Atul Mitra, who nominated Mattingly, has seen his work ethic firsthand. They used to sit in offices right next to each other in the Curris Business Building and regularly talked about their work.
"I know how thoughtful he is in terms of how he approaches different topics," said Mitra, professor and head of management. "I feel really proud that he got it. He's a good role model for our department. This is something comes from your heart."
Brett Olsen, Faculty Award for Excellence in Teaching
Head of Finance and Economics, Associate Professor of Finance
Even as Brett Olsen has expanded his role as a department head and worked toward tenure, he never lost sight of his connection with students in the classroom. And that was a big reason why he was one of two 2022 honorees at UNI for the Class of 1943 Faculty Award for Excellence in Teaching, given with an emphasis on effective performance in the classroom.
"I'd be lying if I didn't say this was somewhat satisfying getting nominated and being honored for the work I've been doing," Olsen said. "I'm so appreciative for the folks that nominated me and those that supported my nomination. It's so rewarding to know that others find value in what you're doing. Whether it's in the classroom or outside the classroom, advising a student group, taking them on competitions — that's the part that I enjoy the most."
Shar Self, former department head for finance and economics, nominated Olsen for the award. She said he exemplifies all three parts of the criteria: teaching, research and service. At one point, Olsen was the only tenured professor in the department. He took on a lot of work and did it all with complaints.
"He was carrying an unreal amount of service, and with so much grace," Self said. "He also collaborates with everyone in the department, including junior staff. He's really the full package. I'm so, so happy for him. He deserves the recognition."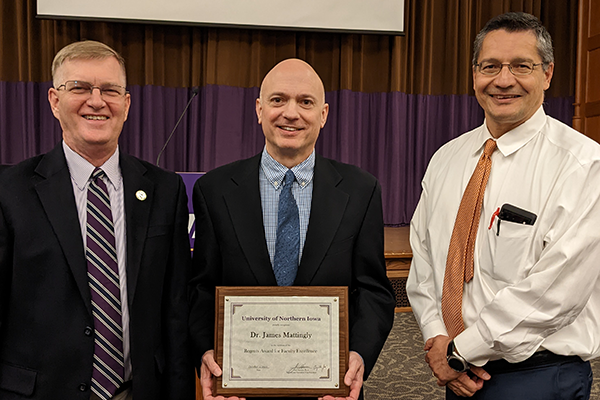 Mattingly (center) pictured with President Nook (left) and Provost Herrera (right).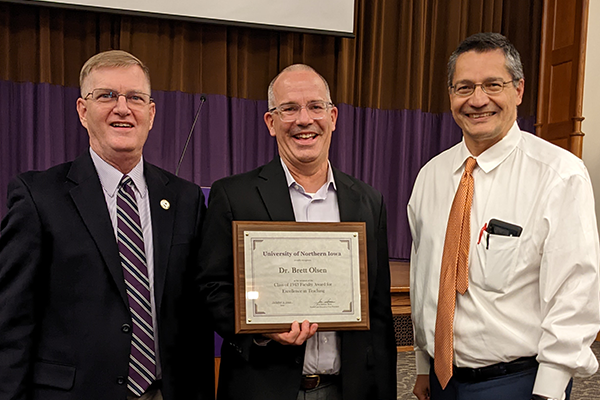 ‌
Olsen (center) pictured with President Nook (left) and Provost Herrera (right).