Business
UNI documents its history in the metaverse
With all the buzz, you might think the Metaverse is a brand-new concept – the cutting edge of technology where all ideas are new and innovation is celebrated.  Meanwhile, University Archivist, Jaycie Vos is working to acquire more than a decades' worth of historical and virtual documents related to UNI instruction, research, and creative activity in the metaverse. 
The first persistent virtual world, the Second Life metaverse, came online in 2003 and continues to thrive.  By 2008, faculty in the Colleges of Business and Education had discovered the management, marketing, and educational potential of virtual reality, and with support from the College of Business, vIowa was established.  As an educational and outreach effort, the virtual island provided business, entertainment, and meeting venues for Iowa businesses and residents. Leigh Zeitz, associate professor of Curriculum & Instruction, recalls, "Second Life was the pioneer of virtual worlds. It is not a game with preordained rules but an environment defined by its users."
The metaverse island served as a research site to explore K-12 instructional methods, management decision-making, learning theory, and organizational communication, leading to publications by at least five faculty members.  Much of the original research data, along with instructional materials and administrative documents, will be housed in the University Archives at UNI's Rod Library.
At the beginning, UNI's research was exploratory.  The late Dan Power, professor of Management Information Systems, worked with a world-wide network of academic, corporate, and creative associates to develop some of the first virtual meeting spaces, galleries, sculpture gardens, and music venues. Meanwhile, Zeitz built Dr. Z's, a venue for UNI's educational technology program.  Students from all over the state could socialize and dance in a virtual student union, while a second floor devoted to class meetings and labs allowed them to create learning adventures for their own K-12 students.  
Island expenses were covered by income from a thriving business district, managed by Susan Wurtz, associate professor of Human Resources Management.  Shoppers could find avatar fashions, digital artwork and sculpture, legal consulting, and household items, while entertain venues included Madeleine's, one of Second Life's most popular music clubs, a skating rink, and balloon rides during the annual Bix Biederbecke Jazz Festival.  A town square, residential district, chapel, riverside park, and the Curris Business Building offered a variety of services, and any RL Iowa resident was provided rent-free building space to explore their own virtual reality ideas.
Using data gleaned from the project, research projects and academic publications emerged. Wurtz investigated the cognitive processing implications for virtual training environments. Along with Dale Cyphert, then an associate professor in Management, Leslie K. Duclos (aka Leslie K. Wilson), then associate dean, and Elena N. Dodge, assessment specialist and instructor, Wurtz also explored the management implications of virtual interactions and best practices for management in and of virtual organizations.
With a decade's long head start, UNI remains at the cutting edge of emerging virtual technologies. Virtual training technology developed by the Iowa Waste Reduction Center was licensed to a Netherlands company in 2016 Rod Library's offers VR units for check out in the Digital Media Hub, and current faculty projects include Dr. Penny Wang's project to teach Mandarin, Dr. Tareneh Haghanikar's work in teacher education and UNI's unique major in Interactive Digital Studies just celebrated its 10th year. Students enrolled in Digital Marketing took top honors in the American Advertising Federation's 2022 National Student Advertising Competition with a campaign for … you guessed it… a virtual reality system, Meta Quest 2.  
The cutting-edge activities undertaken by UNI faculty represent a challenge for archivists and historians as well. Academic libraries around the country have just begun to tackle the challenges, which include evolving technical platforms as well as widely distributed users and intellectual property law.  Archivist Vos describes her work in collecting the UNI materials, "It is interesting but not something you encounter every day as an archivist!"
‌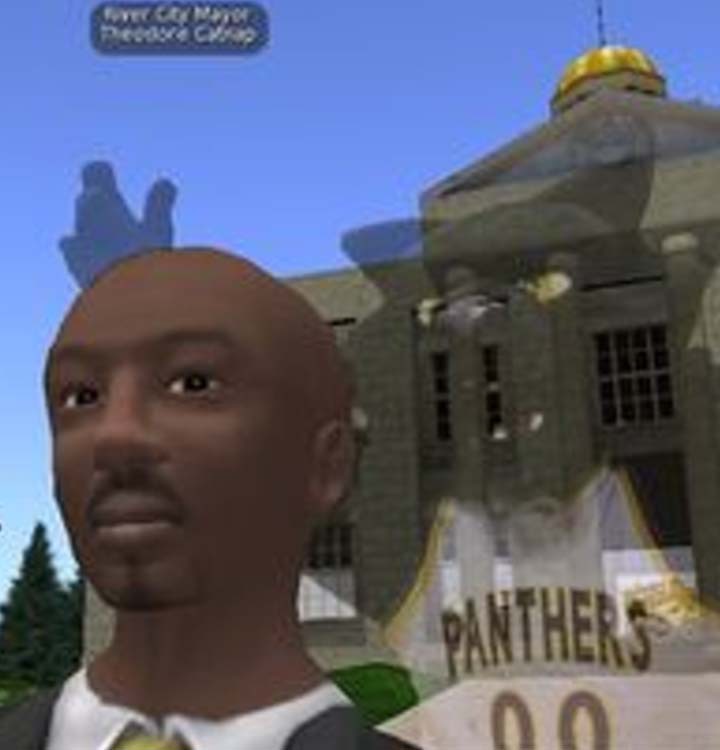 Theodore Catnap served as the Mayor of vIowa, shown here in front of the Iowa Capitol building, which served as the island's City Hall.
‌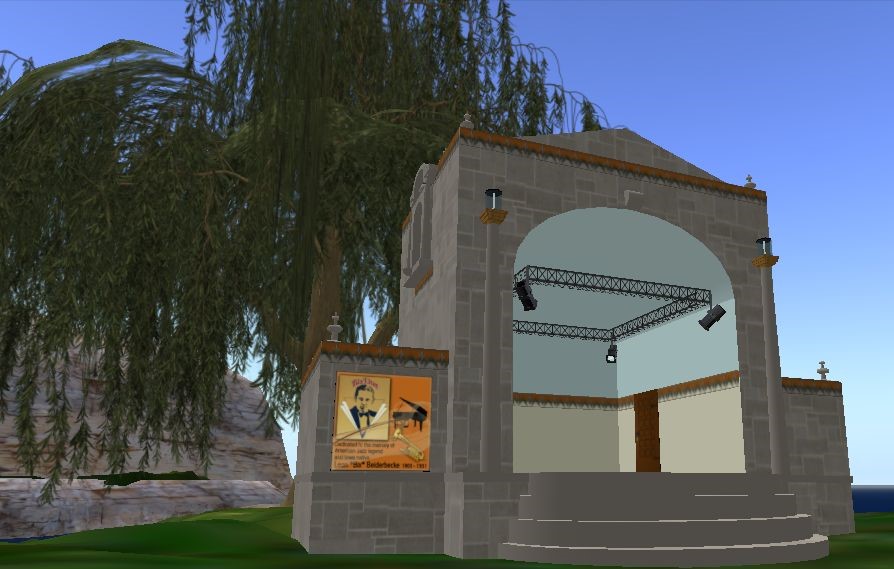 The vIowa band shell, constructed in 2010, was dedicated to Jazz legend, Bix Biederbeck (1903-1931). The venue hosted the Annual Virtual Iowa Bix Biederbecke Jazz Festival held in conjunction with Davenport's Memorial Festival. The virtual festival showcased young jazz musicians, introduced the Iowa music community to broadcast and marketing tools available in the metaverse, and expanded the reach of Davenport's real-world event to visitors from around the world. Crew members from the U.S.S. Carl Vinson tuned in from their location off Haiti to hear a favorite blues performer.