Business
UNI JPEC student making handmade ceramics for 'Our Tomorrow' campaign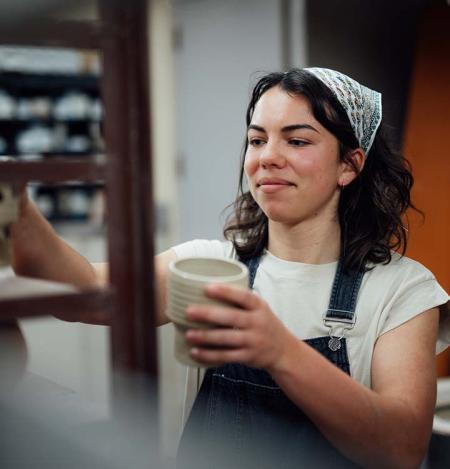 Anna Gilbreath thought it was a joke at first. She was staring at an email from the University of Northern Iowa's UNI Foundation asking if she, under her handmade ceramics business Anna Grace Creates, could make 275 mugs and 50 planters with branding for the "Our Tomorrow" fundraising campaign. She excitedly responded yes.
That was this past summer – she's now hard at work in the campus ceramic studio fulfilling that order while running her business with help from the UNI John Pappajohn Entrepreneurial Center.
"I was so excited. I thought, 'who would want to buy 200 mugs? That's insane,'" Gilbreath said. "At first, I thought it'd be hard. I was terrified, but I had to do this. I'm really excited to be challenged, and it's something that I want to lean into and excel in. They have been so patient and supported me throughout the process. It's been really cool."
Each handmade piece is white with black lettering, showcasing a stamp on the front with "Our Tomorrow" branding and underlined with "UNI." Gilbreath has worked through a prototype and received some feedback from the Alumni Association, which she's incorporating into her next design. Her goal is to finish work early in the second semester.
"I'm going to keep producing them as fast as I can," Gilbreath said. "It's all me, and I'm definitely asking help where I can get it. Things can fluctuate with ceramics, but whenever I finish a batch, I'm delivering it to them. It's been an opportunity for me to showcase my best abilities."
Gilbreath started with an Instagram page in high school to document her progress in pottery class. Although it wasn't an official business, she continued to grow in arts and crafts and eventually joined UNI's entrepreneurship club as a freshman. In the spring of her freshman year, after completing JPEC's Early Founders Program in the winter, Gilbreath opened an Etsy shop and hatched the idea of launching something more official for her work, taking part in a few pop-up shops around Iowa. In 2021, she took part in the JPEC's summer program and eventually got an office in the space.
The JPEC team helped Gilbreath create and sift through the challenges of launching a business. She remembers sitting with Bart Schmitz, JPEC program manager, who helped her outline a plan. Gilbreath said she's a classic overthinker, so sitting down with a mentor helped her put thoughts on paper.
"They really help you nail down what's happening and how to handle some of the day-to-day stuff of running a business," Gilbreath said. "I'm able to communicate with mentors and met up with people or text and call at random times. That's so helpful when someone's just available there for you. The JPEC has been huge."
You can check out Anna Grace Creates progress and creations on Instagram or online.