Business
UNI Phi Beta Lambda members win big at state leadership conference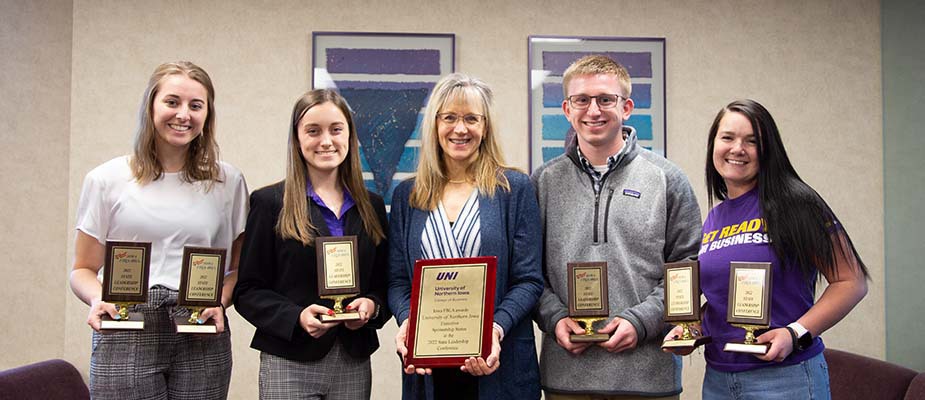 UNI College of Business students in Iowa Phi Beta Lambda, a state organization dedicated to future business leaders, had a big showing at the state leadership conference in Coralville on April 1 and 2. Seven students, competing against schools around the state, either won or placed across 10 categories ranging from Accounting Principles to Future Business Education.  
The two-day conference is held every spring and consists of general sessions, competitive events, seminars, workshops, awards, a career fair and other leadership and educational learning activities.
"It was pretty exciting, knowing that UNI really proved itself against other universities," said Toby Giesemann (finance and real estate, '22), who finished first in both the Financial Concepts and Insurance Concepts categories. "It's a good resume builder. And there were close to 700 students and employers there, so it helps build connections with people from all different industries and from all parts of the state."
Competitions for each category vary. Some, like the categories Giesemann won, were based on multiple-choice questions, testing knowledge on a wide range of topics within that discipline. Others were case competitions, mock interviews or based on past experiences and volunteer work.
Placing provides a nice boost to show to potential employers and is a reminder that hard work pays off.
"I was pretty happy. I've been doing this for a long time," said Madison Kraemer (marketing and organizational leadership, '23), who placed first in the Who's Who in Iowa PBL category. Kraemer has been a part of the organization since middle school. "It's rewarding. You put in a lot of work, whether it be into the competitions or preparing for the conference, and it's great to know that it paid off." 
Kraemer and Giesemann along with UNI business student, Brady Beyer, have been PBL state officers this past year. Being officers meant they played a key role in planning the event, which gave them a new perspective on the gathering. They were in charge of writing scripts, lining up folks to lead workshops and organizing during the two days.
"It was an interesting experience being on the other side of this conference because in the past I've just been an attendee," Kraemer said. "It was a lot of work, but it was really cool."
Winners from UNI included:
Haley Dash: 2nd place, Accounting Principles and Justice Administration
Kaitlin Dammeier: 1st place, Computer Concepts
Mackenzie Trinkle: 1st place, Future Business Educator; 2nd place, Computer Concepts
Toby Giesemann: 1st place, Financial Concepts and Insurance Concepts
Brady Beyer: 1st place, Programming Concepts and Statistical Analysis
Lauren Kraemer: 1st place, Digital Media
Madison Kraemer: 1st place, Who's Who in IA PBL
To learn more about PBL at UNI, check out their Twitter account. You can also find more about the state organization on their website.