Business
UNI professor's research cited in White House economic report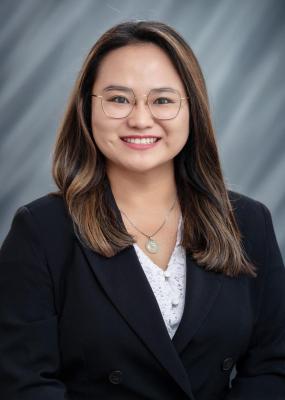 Not many people can say they've received an email from the Executive Office of the President. But, for Assistant Professor of Supply Chain Management Yu (Jade) Chu, PhD, that's exactly what happened in March. It was such an unusual email for her to receive she didn't believe it was real.
"Immediately, I saw it, and I thought it was a phishing email," she said. "To be honest, I completely ignored it."
Eventually, when Chu did follow up on the email, she saw her research had been cited in the Economic Report of the President. The citation speaks volumes to the quality of research Chu conducted while earning her PhD. The study came out in 2022 during Chu's first year of teaching at UNI.
"I didn't envision this level of recognition," she said. "The government is saying, 'Okay, this is good evidence.'"
The cited study is entitled "Supply chain transparency: Consumer reactions to incongruent signals." The study looks at how consumers evaluate organizations based on the transparency of their supply chains, especially when some of the information consumers are receiving is positive and some of it is negative.
"Transparency is a concept we adapted from management literature," said Chu. "It's an action a company takes voluntarily and intentionally to disclose information to the public, stakeholders and outside. It's not a mutual, two-way interaction. It is the company disclosing."
Through the research, Chu and her co-authors discovered that supply chain transparency is positive, as it gives consumers and firms the opportunity to choose to purchase from organizations that are consistent with their values and, thus, "vote with their wallets."Moreover, supply chain transparency works even more effectively as a restorative strategy. 
"I'm happy and hope to see other researchers and practitioners interested in this area be more motivated to keep researching or keep making efforts in disclosing," she said.
Chu didn't always dream of being a professor, but after spending time interning with Walmart Global Sourcing in India, she felt like she could make a bigger difference in academia than with a Fortune 500 company. 
Chu joined UNI in 2021. Before interviewing, she looked into publications of various professors in the College of Business. She was pleased to see the wide range of topics and knew she would make a good fit. She was also impressed by the kindness in the Department of Management.
"I was so overwhelmed with how nice, how warm, how welcoming everyone was even during the interview process," she said.
After earning her bachelor's degree in logistics management in China, Chu came to the United States to pursue an MBA. She then went on to get her PhD in Supply Chain Management from the University of Tennessee. It was there Chu discovered her previous advisor, Diane Mollenkopf had similar research interests and the two joined forces for the study that was recently cited in the White House economic report.
"I'm proud of us, but I'm even more proud of this country," said Chu. "The leading country in the world is recognizing this is an important topic in the business world. The world is looking at the U.S., and this could be the new direction everybody follows."