Business
From UNI to Shanghai and back again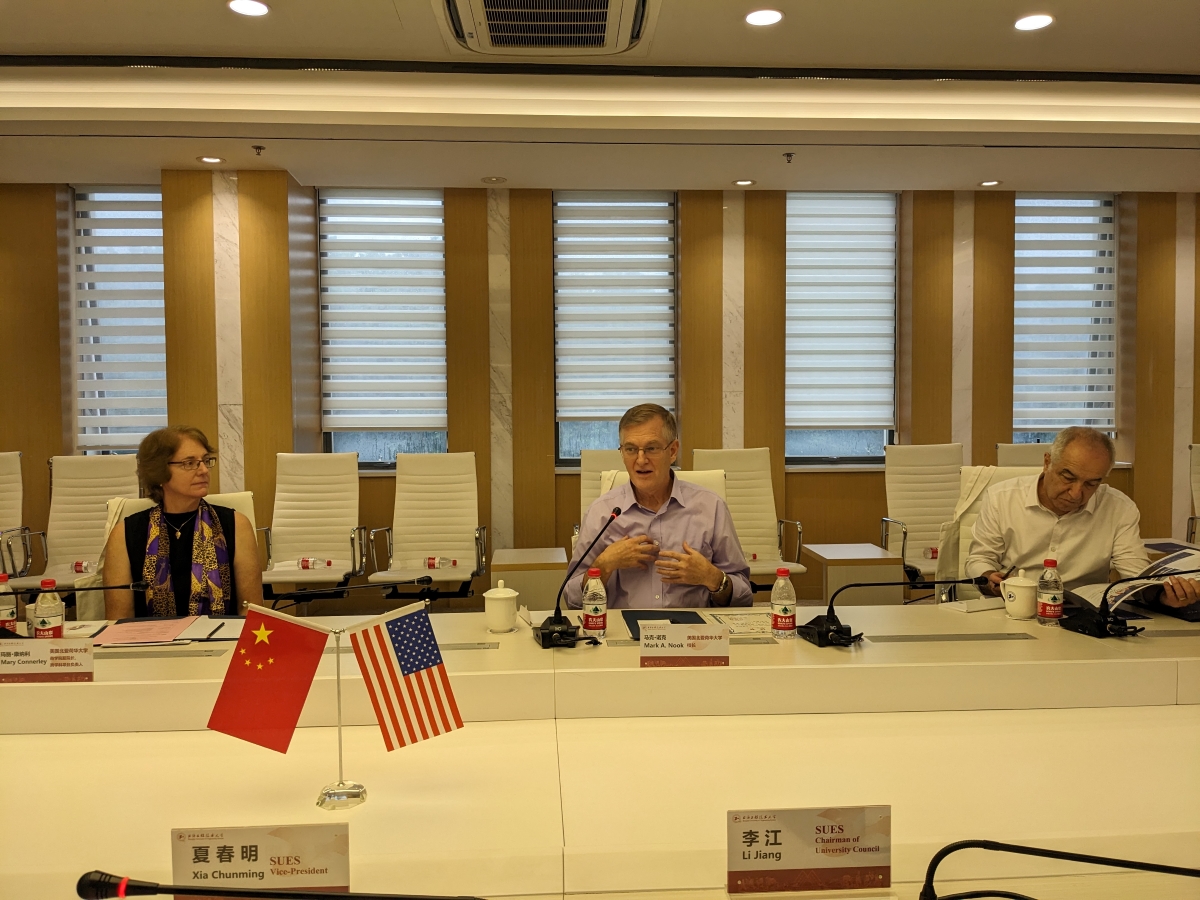 The University of Northern Iowa's impact stretches across the globe. Recently, a delegation from UNI, including President Mark Nook, visited Shanghai, China, to strengthen existing partnerships between UNI and local universities. UNI's College of Business has 2+2 dual degree programs with Shanghai Dianji University and Shanghai University of Engineering Science in which students spend two years in Shanghai and two years at UNI to earn a degree from both universities. UNI also has a standalone MBA program in Shanghai.
"The purpose of the trip was really to put a focus on the partnerships that we have in China that haven't really bounced back since COVID-19," said Mary Connerley, associate dean and director of interdisciplinary programs as well as the Robert & Margaret Bradford Chair in International Business. "We just wanted to show that we still value these partnerships."
All three of these partnerships were started with the former dean of the College of Business, Farzad Moussavi who is now a professor emeritus. Moussavi formed a close relationship with the former president of Shanghai Dianji University — or SDJU — which resulted in the 2+2 program. Started nearly 20 years ago, the partnership with UNI was SDJU's first cooperation. Today, the university has 81 cooperations worldwide, showing just how competitive the landscape is for the UNI 2+2 program.
When the president of Shanghai Dianji University left to work at Shanghai University of Engineering Science, he decided to start a new partnership with UNI. Unfortunately, this was just before the COVID-19 pandemic and, as a result, students haven't been able to go through the 2+2 program just yet. 
During the trip, the UNI group toured the campuses and met about ways to attract more students to the programs. They discussed the possibility of faculty exchanges in the future. Faculty members from both universities have already visited UNI in the past. With the agent who runs the MBA program in Shanghai, the group discussed the current market outlook and new recruiting avenues.
"There wasn't a lot of sightseeing and that type of thing," said Connerley. "It was meeting with the partners, just showing our commitment to the relationship, which I think goes a long way in terms of furthering where we go from here and how we support each other."
In Connerley's opinion, the trip was a major step forward with all three partnerships because it was proof that everyone is on the same page with wanting to continue the partnerships. 
At the height of the partnership between UNI and SDJU, as many 20-30 juniors and 20-30 seniors would be on UNI's campus at once. UNI is hoping to reignite excitement in the 2+2 program and get the numbers back up to pre-pandemic levels.
"It was my pleasure to join Mary and Farzad in representing the University of Northern Iowa on our recent trip to China," said President Nook. "We enjoyed visiting our partner schools. Our hope is that even more students from these institutions will seek to earn an undergraduate degree from UNI or explore graduate opportunities. We were grateful for the continuing dialogue with these schools and their wonderful hospitality during our trip." 
Connerley said the partnership with Shanghai Dianji University has a strong track record of success, with students going on to gainful employment and strong graduate programs. This is something the partner institution plays up when recruiting high school students.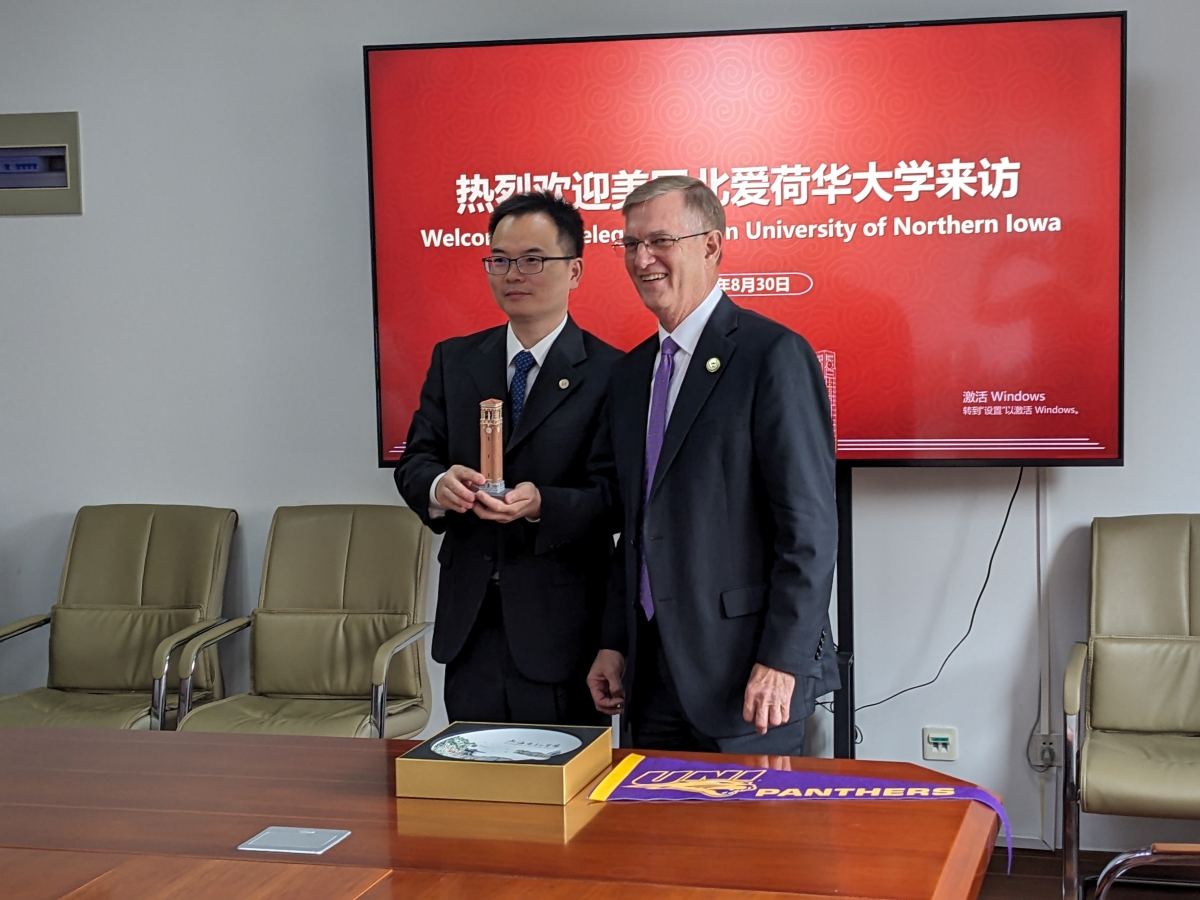 "We want to help the students understand they are going to get a good education here that can lead to even bigger and better things on the other side," she said.
Connerley went on to say that the Office of Professional Distinction at UNI works hard to ensure coursework between the universities not only transfers but also builds on each other. 
"We want to provide these students with the foundational knowledge so they can be successful in the next classes they take," she said. "We want to set people up for success."
The benefits of the 2+2 programs extend to the entire UNI campus community.
"For UNI, when we have an influx of international students, that helps our current students — over 90% of them are from the state of Iowa, and they haven't necessarily been exposed to as much multicultural diversity as maybe students coming from a bigger city," said Connerley. "So we want to have international students on campus, which we think helps benefit everybody in  classes and on-campus activities. Discussions are richer and the understanding of people who are different from ourselves is better."
Connerley, who has been to China numerous times, looks forward to returning to Shanghai for SDJU's 70th anniversary celebration next month. She attended the 60th anniversary celebration nearly a decade ago.
For Connerley, it's the people who make returning to Shanghai such an enjoyable experience.
"They always really really go out of their way to make sure that they're providing you the best possible experience that you can have," she said. "So you come away feeling like it is a place that you want to return to and that you want to talk very positively about."