Business
UNI student, female boom operator defies expectations fueling planes mid-air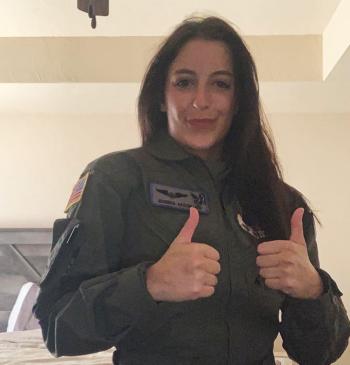 Meleah Johnson (Marketing, '24) comes from a family of National Guard connections. Her father served in the Fort Dodge unit for nine years. Her brother serves with the Sioux City unit. So when Johnson pondered her next step after high school, the National Guard was a comfortable choice.
But from there, Johnson's path was a little more unique, becoming one of the only female boom operators in Iowa. Among other things, boom operators – boom ops, for short – are most well-known for refueling planes while in the air. Yes, you read that right.
"I just fell in love with [the National Guard's] mission," said Johnson, who joined the Sioux City unit in 2018. "I just fell in love with the unit. For that job as a boom op, you definitely have to have a good head on your shoulders. It's a very serious job. There's not a lot of room for error. I do like a good challenge."
Johnson is part of a large group of military and veteran students at the University of Northern Iowa and the Wilson College of Business. UNI was named a Military Friendly School by G.I. Jobs magazine, placing us in the top 20% of schools ensuring veteran student success. In fact, nearly 270 UNI students receive VA benefits, and many receive Post-9/11 GI Bill benefits to help cover college costs.
In May 2022, after four years in a primarily human resources role, Johnson jumped into the boom operator training program. She was interested in the role but was also drawn to the opportunity to travel across the United States and internationally. After completing training in May 2023, she has already gone to the Netherlands, Germany and seven states.
The primary role of a boom operator is aerial refueling, but they also help load cargo on military aircraft, taking into consideration weights and balance. They serve as flight attendants when guests are onboard as well.
In addition to being a female in a male-dominated role, Johnson is also one of the younger boom operators in her unit.
"It is very male-dominated, and I was a little nervous at first because I wasn't used to that, but we're all like a big family and there are some female pilots I work with," Johnson said.
Because the National Guard is a one-week-a-month commitment, and as long as she stays on top of training, Johnson continues full-time schooling and looks forward to starting a full-time career after graduation. Her six-year commitment ends next year, and she plans to reenlist.
But right now, she's just enjoying the ride learning, traveling and having a pretty cool job.
---
"I'm always continuing to learn, whether it's college, as a boom op or in life," Johnson said. "I'm not one who takes a test and moves on to the next one. I'm always continuing to apply the knowledge I'm learning and growing as a person. Being a boom op has really helped with my confidence and has helped me grow into the person I am today."
---
‌