Business
UNI Women in Business hosts leadership event for high school students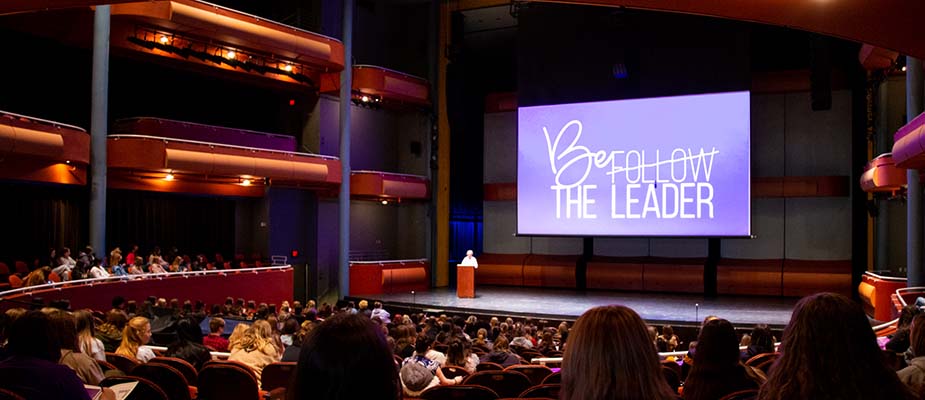 Understanding how to be a strong and effective leader is important for anyone at any age. On March 9, 2022, from 8:30 a.m. to 1 p.m., the Women in Business club hosted its fourth annual Young Women in Leadership Conference at Gallagher Bluedorn, helping high school women build crucial leadership skills. This year's event drew an attendance of over 250 people.
The day included four speakers and a panel of four students talking about a range of topics, including mental health, overcoming adversity, diversity and inclusivity, and the importance of taking initiative. There was also a networking lunch that allowed college students to chat with high schoolers about transitioning to higher education. Students were able to ask questions of speakers and panelists as well.
"We wanted to provide a conference that provided these leadership skills you're expected to have in college earlier on," said Emily Schmidt, president of the Women in Business club. "I think this offers an opportunity to practice interpersonal skills. When you get to college and there are all these new people, you're expected to socialize and this allows them to get a head start."
Mary Neubauer was one of four keynote speakers and discussed the importance of mental health – a key topic the organization wanted to address. Over the past couple years, mental health has come to the forefront with lives upended and isolated, particularly so for high school students, who saw their entire lives put on pause.
Other speakers were:
Renee Hardmann, who focused on self-awareness and inclusion.
Jessie Helms, talking about overcoming adversity as a female athlete.
Kristi Hemmer, who spoke about empowering yourself. 
The student panel also gave high schoolers a group of folks to relate to, and, in many cases, ask important questions.
"One thing that's impactful [for the students] was getting to see their peers in one room," said Macey Spilman, chair of the Young Women in Leadership event. "They saw and heard a lot of different stories they can relate to. They hear about struggles they've had and know that there are other that have gone through similar things. And it's a safe space to take those things back with them and implement them into their own lives."
The event was a success in the eyes of the organizers. High schoolers were able to talk, learn and glean ideas for how to prepare for college and careers.
"I liked seeing how excited everyone was," Spilman said. "For everyone working on this event, to see everything come together, that was great. And for high school students to get out of school for a bit and learn about leadership, it's valuable."