Business
University of Northern Iowa student chapter receives superior merit award from SHRM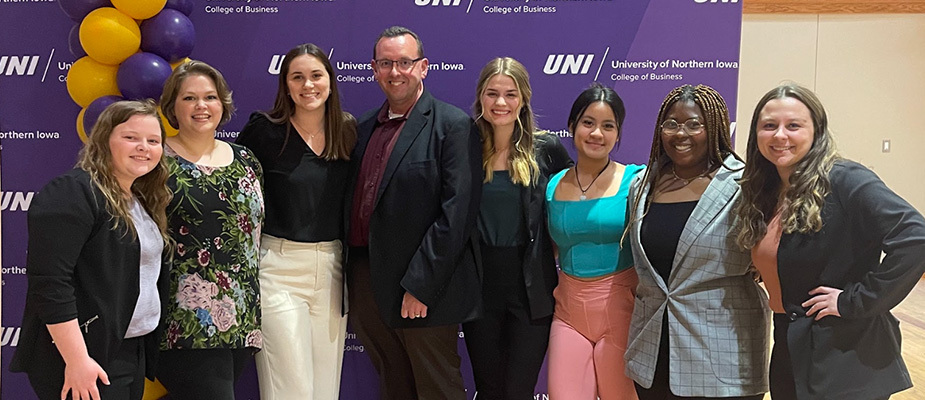 Cedar Falls, IA — The Society for Human Resource Management (SHRM) awarded a 2022-2023 Superior Merit Award designation to the University of Northern Iowa (UNI) SHRM student chapter for providing superior growth and development opportunities to its student members. This marks the fourth consecutive year that the club has received this prestigious award.
The SHRM Student Chapter Merit Award program encourages the development of more effective student chapters and distinguishes outstanding activities and projects. Chapters are recognized based on operations, chapter programming and professional development of members, support of the human resource profession, and SHRM engagement.
"SHRM student chapter members embody the upcoming cohort of HR trailblazers, and it's vital to highlight their achievements." Said Michael P. Aitken, SHRM chief membership officer. "The dedication displayed by the UNI chapter underscores that the future of the profession is in good hands. I commend their achievements and their adeptness in cultivating inventive initiatives, growth, and enthusiasm for HR, especially as we steer through evolving work landscapes."
SHRM student chapters have the opportunity to earn an award based on the number of activities they complete during the merit award cycle, the most recent one of which lasted from May 1, 2022, to April 30, 2023.
"Receiving the Superior Merit Award from SHRM is a great achievement for our chapter," said Ashley Hackett, UNI SHRM chapter president. "It shows our commitment to providing our student members opportunities for growth and development within the HR field. Our group is made up of excellent student leaders and members. This recognition encourages us to keep striving for excellence and to increase our visibility within the HR community. I'm excited to see what the future holds for the UNI SHRM team in 2023–2024!"
The University of Northern Iowa (UNI) SHRM Student Chapter is honored to receive this Superior Merit Award and is committed to continuing its mission of providing exceptional growth and development opportunities to its student members and promoting excellence in the field of human resource management. Founded on September 22, 1981, the UNI SHRM chapter offers a platform for students to network with professionals in the human resources field, visit human resources departments in prominent organizations, and engage in career-enhancing activities.
"The continued recognition of our UNI SHRM student chapter with the Superior Merit Award by SHRM is a testament to the dedication and hard work of our students," said Professor Russell Guay, chapter advisor. "I am incredibly proud of their achievements, and this award serves as a reminder of the bright future that lies ahead for our students in the field of human resource management."
Membership in the UNI SHRM chapter provides opportunities to meet new people, hear from experts, build critical skills applicable to the workforce, and learn from local professionals. Joining the UNI SHRM chapter also fosters valuable experience in human resource activities, develops key leadership skills, facilitates networking opportunities with the Cedar Valley SHRM Chapter, and signals to future employers' active involvement in the human resource community.
For more information about the UNI SHRM Student Chapter or to join, please visit the chapter's website at https://unishrm.wixsite.com/uni-shrm.