Campus & Community
200+ employers looking to hire UNI grads at fall career fair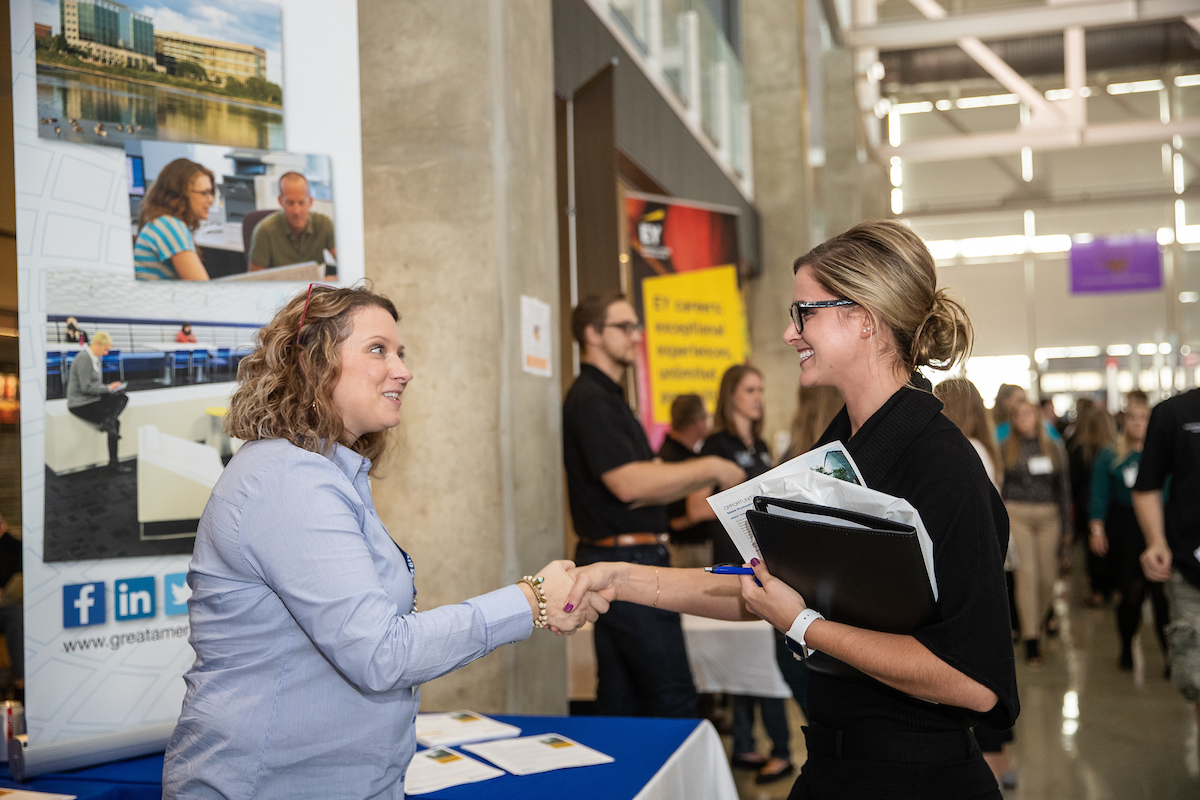 The University of Northern Iowa's fall career fair is just around the corner on Sept. 18 in the McLeod Center. This is a chance for students to look at job and internship opportunities and network with potential employers. More than 200 employers ranging from Deloitte to Dubuque Police Department will be there, ready to engage with students. Typically, over about 1,200 students attend the fall fair.
"The career fair is your pathway to learn more about companies and have meaningful discussions if you have an interest to work with them one day," said Johnathan Langenberg, manager of financial planning and analysis at Collins Aerospace. "It's also an initial impression with the first contact of the hiring process. I recommend students talk to a number of companies — hiring is a mutual fit."
This year's fair is five fairs in one, broken into five unique zones:
Law enforcement and government
Community and health care
Business, finance and IT
Engineering and manufacturing
Grad school
Many employers choose to come back to the fair year after year because the investment they make in UNI students as interns, part-time workers or full-time employees pays off. Collins Aerospace is one of these employers. UNI grads are plentiful among the company's finance professionals, especially at the Cedar Rapids facility where you'll find more graduates of UNI than any other state school. Two of the aerospace supplier's CFOs are UNI graduates.
---
"UNI students have a strong work ethic and natural curiosity to learn and answer complex questions in our business."
---
"UNI students have a strong work ethic and natural curiosity to learn and answer complex questions in our business," said Langenberg.
Matt Bries, cost management manager at John Deere Power Systems, echoes Langenberg's excitement over meeting UNI students.
"We are always excited to see UNI graduates due to the great numbers of UNI grads within Deere," said Bries. "We also love that we have a large factory and John Deere presence in the backyard of Waterloo! We love how big of a tie many UNI graduates have to John Deere and their passion to continue growing in the area they went to school."
Bries said that John Deere hires UNI graduates for supply management, accounting/finance, engineering, human resources, legal, marketing, IT and data analytics positions.
Both Langenberg and Bries are UNI alums — Langenberg earned his degree in accounting in 2015, and Bries earned his degree in business management with an emphasis in human resources in 2009. This makes attending the UNI career fair an extra special occasion.
"Coming back to campus brings me an incredible sense of pride," said Bries. "The administration, the faculty and the student body have taken everything that made UNI sensational and brought it to a whole new level. It's a vibrant community full of incredibly talented students that will become exceptional leaders in the classroom, in the lab, in our communities and in businesses around the world. I cannot wait to see what this generation of Panthers will accomplish!"
"It's great to be back on campus and recruit the next generation of Panthers to influence our company," said Langenberg. "It's fun to reconnect with other UNI grads and professors, but I enjoy helping students find their path. That's one reason I enjoy presenting on campus."
Creative Planning, formerly BerganKDV, is yet another example of an employer with a strong history of recruiting UNI graduates at the career fair. This is especially true of accounting students who are often recruited to tax and audit internships and staff positions. The Waterloo Office of Creative Planning is mostly comprised of UNI grads, according to Crystal Ford, regional leader for tax and audit at Creative Planning.
"The accounting program at UNI is amazing!" said Ford. "UNI graduates come to us so extremely prepared. We love hiring UNI grads!"
While Bries acknowledges that the idea of attending a career fair can be intimidating, he recommends that any student who is curious attend, armed with an up-to-date resume and a couple strong talking points about interests and classroom involvement.
"We find career fairs are the best way for students and employers to learn about what the workforce is looking like," he said. "Students have an opportunity to explore all the different industries of the workforce. When you talk to someone at a career fair, you're not committing to anything but just a conversation. If it's a good fit between the student and the employer, this could open the door to an interview to then open another door to an internship or job."
Langenberg and Ford both encourage students to dress up and look professional at the career fair to make a positive first impression.
"Don't be afraid to say 'hello' and engage with employers," said Ford. "We are excited to meet with all of the students."