Campus & Community
Exploring campuses together: Making the most of college visit days with your teen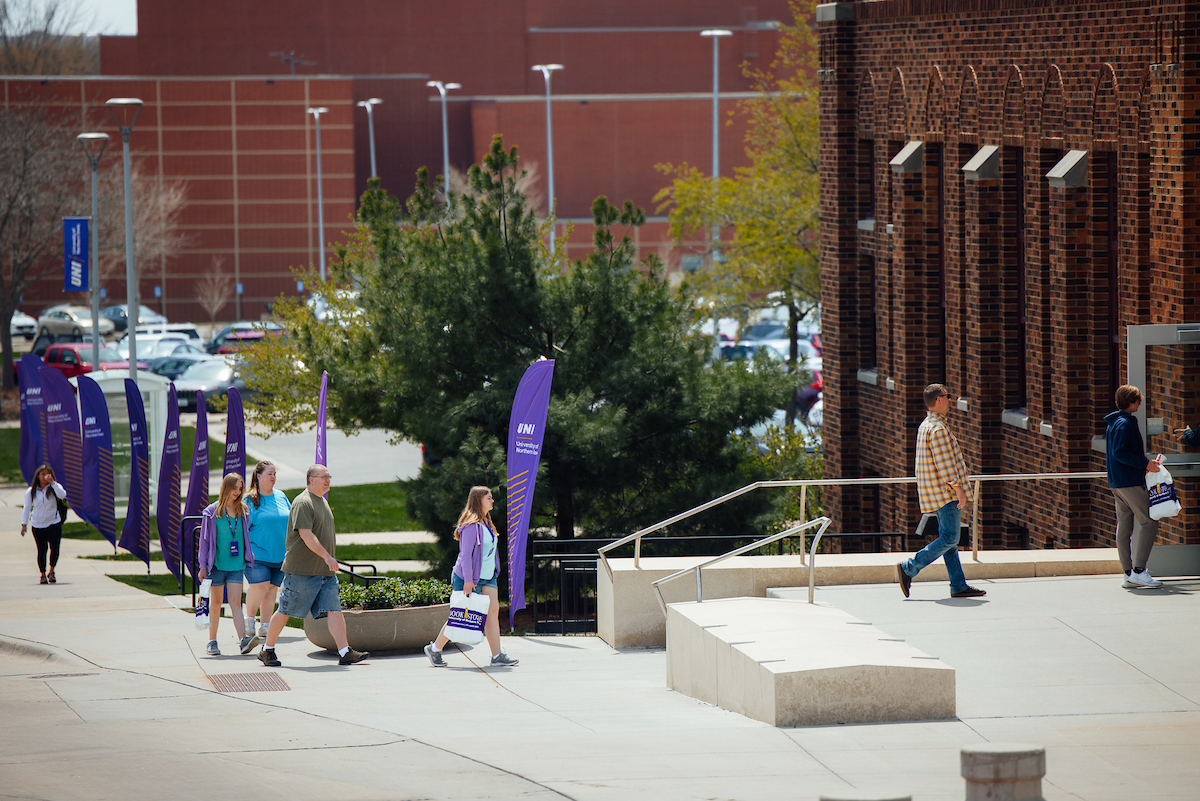 The process of getting your teen ready to attend college is exciting — but it can also be overwhelming. Attending visit days and taking campus tours are a crucial part of helping your high schooler decide what university will be the best fit for them. Here are some tips to help you and your teen get the most out of your campus visits.
Choose between visit days and daily visits
When you're planning your college visit, it's important to note there are generally two different ways you can go about this. Visit days and daily visits are both great ways to get to know a college campus, but it's important to know the difference to help manage your teen's expectations about the experience.
One option is to visit a college on an official visit day. These visits typically draw a larger number of high school students and are longer than the standard daily visits. At the University of Northern Iowa, you'll even find themed visit days like Made to Teach for students interested in going into the teaching profession and Business Visit Day for students who want to attend UNI's renown College of Business. This can be a great way for your teen to meet other prospective students and get their perspectives on the college hunt. These campus visits also tend to be a more comprehensive look at a school and the college experience.
On the other hand, daily visits tend to be smaller and more condensed. Because of this, you and your teenager may get more face time with faculty and staff during the visit. It can also be more personalized to your student's specific concerns about the college experience. 
Intentionally order your college visits
The first college visit will be the hardest. By the time you've done a few, you and your teen will be pros, knowing what to look for and what to ask. Because of this, tour the colleges your teen is most interested in later. Start with the institutions that are lower on their list and work your way up. This will allow you to give your teen's top picks the extra attention they deserve. 
Interact with students
To get the most of your campus tour, see colleges or universities in the fall or spring. This will give you and your child a real sense of what life will be like on campus since current students will actually be around. It's also best to check campuses out Monday through Friday, as those will be the days when you are most likely to see students. When you do see students, it's a great idea to take advantage of those moments and ask them questions. Your tour guide has talking points they are trying to work in. The students you see around campus will have their honest experiences that you can learn from. 
You might even meet students like Tristen Perreault who made their decision to come to a school based on a visit. "The whole reason I ended up choosing UNI honestly was the visit," said Tristen, a music composition theory major. "I came, and I was like, 'This is the vibe.'"
At UNI, a Panther Ambassador will lead your tour. These tour guides are current students who will share their experiences with you as part of a tour. So between Panther Ambassadors and any other students you talk to, you'll have a strong sense of what to expect at UNI. 
Get acquainted with academics 
Academics will play a major role in your teen's college experience. It's always a good idea to meet with a professor or advisor, especially someone who is in your teen's department of interest. Most of UNI's campus visits incorporate an academic appointment with major representatives, who could be advisors or professors. This is a great opportunity to get to know the faculty members who will have a big impact on your student's college career and ask them questions about the program.
Tour twice
There are definitely benefits to going on a guided tour. You'll learn things about various spots on campus that may not be obvious and you'll be able to ask questions. But going on a second unguided tour can also be beneficial. This gives you a chance to take a closer look at places on campus that may interest you, including some that may not have been on your tour. This also allows you to go at your own pace so you don't feel rushed through any part of the campus.
Take notes and photos
Asking questions is a crucial part of the college tour experience. But it's important to think of some questions before you're actually on the tour. Write them in a notebook and bring it along to take notes. You might think you'll be able to clearly remember the differences between schools, but it's easy for various campuses to blend together. It's also a smart idea to ask the same questions on every college visit you take. This will make it easier for you and your teen to compare schools and weigh the pros and cons of each institution. Be sure to take some photos while you're on the visit to help you remember things later.
Grab campus literature
You may be tired of all the college mail your teen gets and this may cause you to shy away from picking up campus literature. But this is a missed opportunity. Grab as many pamphlets and brochures as you can. And don't just stop with what admissions, financial aid, and housing and dining handouts — if you see student organizations passing out flyers, pick them up. If there's a campus newspaper, pick it up. These will all give you a better understanding of what a typical day on campus is like.
Go off campus too
While the campus itself plays a crucial role in your child's college experience, the surrounding area does too. What does the community have to offer in terms of retail, dining, recreation and other areas? Spend a little bit of time off campus to help your teen picture what life will be like at a particular school.
Let your teen take the lead
Your teen may want you involved in the college decision making process, but it's important to know when to take a step back. Don't volunteer how you're feeling about a certain college before you've asked your teen for their thoughts. Ultimately, what college they go to is up to them, and you want them to go somewhere that is truly the right fit.
Start scheduling campus visits
Now that you know how to have a successful campus visit with your teen, it's time to start booking tours. You can book daily visits or your Panther Visit Days right on the UNI website. If you have any questions, our Admissions staff will be more than happy to talk to you. You can also find more tips for your future Panther family at families.uni.edu. 
As Iowa's only regional comprehensive university, we are designed to provide critical coursework with real, practical fieldwork. 
Real, relevant academic excellence for a world that expects future-ready graduates.
94% of UNI grads find success within six months of graduation.
 
UNI graduates more teachers than any other university in Iowa.
 
UNI graduates more CPAs than anywhere in Iowa.
 
UNI is ranked a top regional public university by U.S. News & World Report.