Campus & Community
Final phase of Noehren to reopen this fall, providing gender-inclusive living space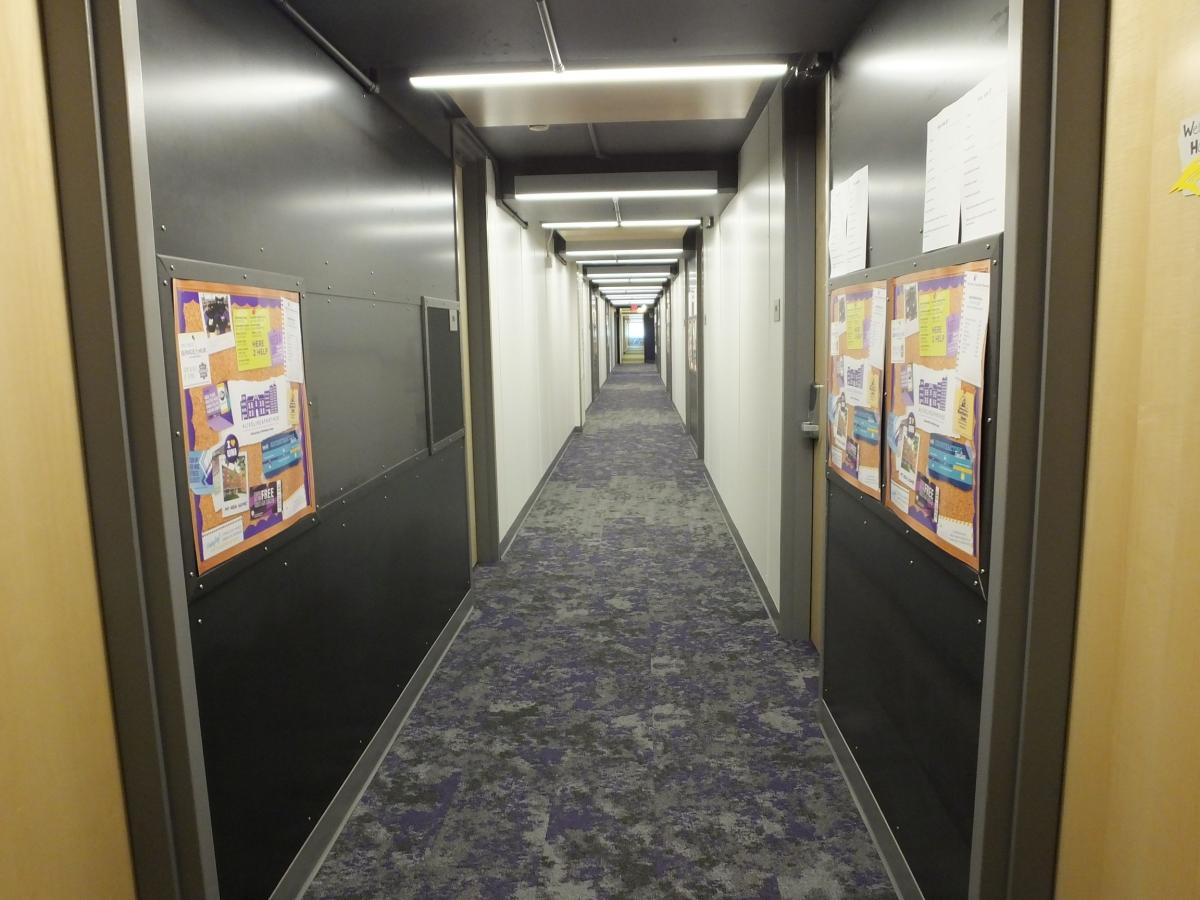 After a three-phase renovation that began in 2018, the final phase of Noehren Hall will be reopening this fall, providing an inclusive living space for all. The residence hall will be the first of its kind on the University of Northern Iowa's campus, allowing people of all genders to live together on every floor of the building.
While part of Noehren was open during the previous academic year, about a third of the building was still being renovated. This fall will be the first time the entire building is open and fully renovated.
"As we continue to see how our students' needs are changing, this was one way we could evolve to show that we have continued to strive to meet the needs of our students," said Assistant Vice President and Executive Director of Housing & Dining Nick Rafanello.
In a departure from the traditional dorms, every floor of Noehren now has pod-style bathrooms. Each pod contains four bathrooms, each with a sink, toilet and shower just like students would be used to having at home, giving them a more private experience. 
All-gender communities already exist in other residence halls at UNI, but Gender & Sexuality Services Coordinator Kalyani Kannan said there's something especially meaningful about an entire building being all-gender inclusive as opposed to just a floor or subset of a space. It further normalizes the idea of gender-inclusive housing. 
A crucial component of making sure the changes worked for students was ensuring the hall could be gender inclusive without expecting LGBTQ residents to out themselves when they signed up for housing. Ultimately, Housing & Dining decided it would be best to allow all students to sign up for the rooms in Noehren, meaning anyone can live in the hall regardless of whether or not they identify as part of the LGBTQ community. Some students may simply want to live with close friends of a different gender, and students are still welcome to live in Noehren with someone of the same gender.
"We made the process as simple and consistent as possible for every student regardless of their identity," said Rafanello.
Both Rafanello and Kannan are quick to emphasize that students will have already experienced gender-inclusive housing at home, and they will continue to experience it in housing outside of college. Because of that, gender-inclusive living helps diminish the dichotomy between college life and "real life," said Kannan.
"It's a pretty easy way for UNI to support our students who are choosing to live on campus, and there are added benefits that come with students living on campus, especially for student success outcomes," said Kannan. "We should want more students to be able to access those benefits by having housing that feels safe and affirming for them."
While the bathrooms are the biggest difference in the Noehren updates, they aren't the only differences. The hallways have new lighting and student rooms have been refreshed with new flooring, cabinetry and paint. Rather than entering their rooms through traditional brass keys, Noehren residents electronically access their rooms using their student IDs.
To gather student feedback about what the new-and-improved Noehren should be like, Rafanello said UHD put together focus groups, relied on consulting work and looked at the answers of their annual student survey. 
"As we went through this, we tried to incorporate as much of the student feedback as we could into making Noehren the building students wanted," he explained.
One way Housing & Dining responded to student feedback when designing Noehren was by creating a clearer separation between study spaces and social spaces. Each lounge will now have a social space with a TV and couch, and there will be two separate study rooms with doors.
Laundry will also be a whole lot easier in Noehren since washers and dryers are dispersed throughout each floor rather than solely in the basement.
"It's refreshed," said Rafanello. "It's new. It's modern. It feels modern. Even though it's an old building, it feels like it's brand-new inside."
Since the hall is almost completely full for fall 2022, it's safe to say students are excited about the updates.
"For the students who live there, I hope Noehren will feel like their home on campus and not just four walls and a roof where they store a few of their belongings for a few months out of the year and never really feel settled," Kannan said. "I hope students are able to feel that sense of home and belonging when they're living in a space that's designed to make them feel that way."