Campus & Community
Free Gallagher Bluedorn Block Party series returns this summer
Free Gallagher Bluedorn Block Party series returns this summer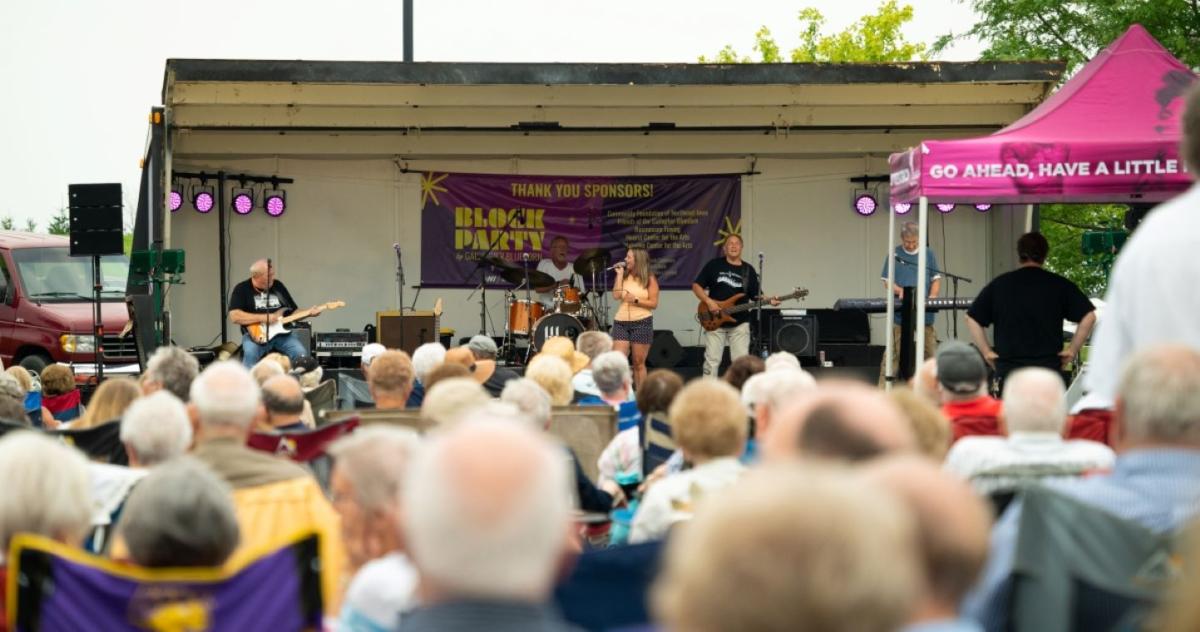 CEDAR FALLS, Iowa - Summer in the Cedar Valley means fun in the sun, time with friends and BLOCK PARTIES!
Gallagher Bluedorn Block Parties are back! For the third summer in a row, Block Party neighborhood concerts will provide an opportunity for neighborhoods to gather, build community and experience great music together.
"Block Parties are one of my favorite things we do during the year," said Jennifer Onuigbo, community relations manager at Gallagher Bluedorn Performing Arts Center. "It's so much fun to bring music into different neighborhoods, listen to diverse local musicians and spend time really talking with our neighbors. Block Parties represent community at its very best. There is no cost or transportation barrier for these events. Everyone can attend and enjoy live music!"  
The series features local artists performing on the Gallagher Bluedorn's portable stage in eight Cedar Valley neighborhoods between May and August. The stage is equipped with state-of-the-art light and sound equipment that you would typically expect at a Gallagher Bluedorn performance. 
Some featured bands are returning favorites, while others are new to the Block Party series. Every neighborhood is able to decide which musical act they feel would work best for their area from a list of vetted artists. 
All events are free and open to the public, and those interested in attending should plan to bring a lawn chair or blanket for seating. Each Block Party is unique as each neighborhood determines what activities and vendors are featured. 
Regardless of whether you choose to attend one event or all eight, one thing is for certain: you're guaranteed to have fun with the Gallagher Bluedorn this summer!
To view the Block Party dates and times, sponsor an event, or learn more about being a featured local band, visit GBPAC.com/BlockParty. Follow the Gallagher Bluedorn on social media for additional information and weather updates. 
Summer 2023 Block Party Schedule: 
Friday, May 26
Milk and Honey
Cedar Falls River Place Plaza
100 E 2nd Street, Cedar Falls
6-8 p.m.

Saturday, June 3
Wonderful Smiths
Alabar Hills Neighborhood
Becker Elementary School, Waterloo
7-9 p.m.

Friday, June 30
Doo Wops
The Ledges Neighborhood
Union and Autumn Ridge Road, Cedar Falls
6-8 p.m.

Saturday, July 8
North End Festival
Ferguson Fields Park, Waterloo
Noon - 6 p.m.

Saturday, July 15
Kevin Burt
New Aldaya Neighborhood
7511 University Avenue, Cedar Falls
6-8 p.m.

Tuesday, August 1
HartSmith
Walnut Neighborhood
E. 4th and Lime Street, Waterloo
6-8 p.m.

Saturday, August 12
Throwback Jack
Staker Athletic Complex, Fredericksburg
6-8 p.m.

Saturday, August 26
Fusion
Audubon Neighborhood
Partridge Lane and Carras Rd, Waterloo
6-8 p.m.