Campus & Community
Gallagher Bluedorn Performing Arts Center's Steve Carignan recognized for contributions to the arts
DES MOINES, Iowa – The University of Northern Iowa's Steve Carignan is one of several individuals being recognized for contributions to the arts in Iowa. The Iowa Arts Council, a division of the Iowa Department of Cultural Affairs, presented the 2023 Governor's Arts Awards on Wednesday, March 1 at the State Historical Museum of Iowa. 
Carignan, who is recognized in the category of Arts Champion, is an associate dean of special programs and executive director of the Gallagher Bluedorn Performing Arts Center. First arriving at UNI in 1999, Carignan is approaching nearly 25 years at Gallagher Bluedorn, and is responsible for overseeing all operations at the center.
"Iowa is blessed with a cultural community of great talent and deep commitment," he said. "It is an honor to be considered in such company."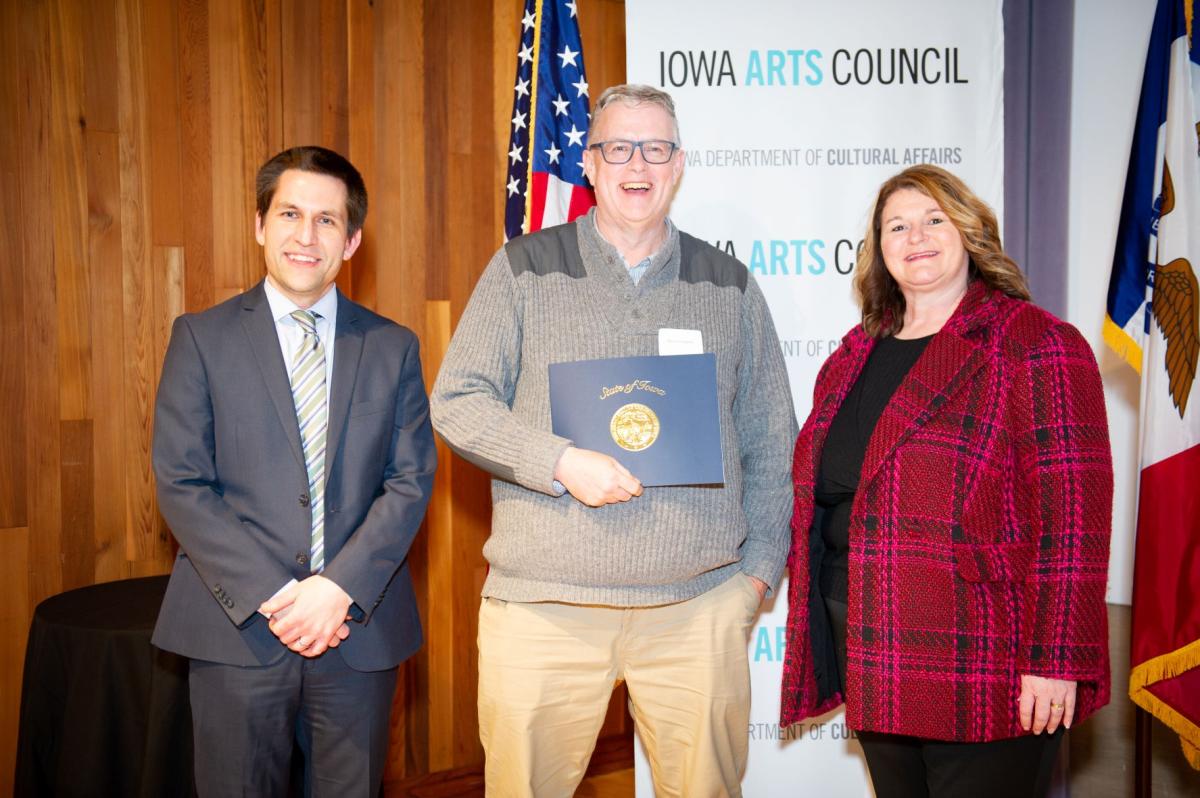 Through Carignan's leadership, Gallagher Bluedorn Performing Arts Center continued to offer virtual performances and arts experiences from its stage during the COVID-19 pandemic – safely bringing performances into the living rooms of audiences across Iowa.
In addition, the center's Kaleidoscope youth program was reworked for virtual performances – bringing unmatched success. In one season, the program reached more than 75,000 children in 16 states and Canada – bringing the program closer to celebrating the one-millionth child to benefit from life-changing educational arts experiences.
"Thanks to Steve's visionary leadership, the Gallagher Bluedorn Performing Arts Center has found new and innovative ways to not only engage its existing audiences, but to build new ones – sharing the power of the arts across the Cedar Valley and Iowa," said John Fritch, Dean of the UNI College of Humanities, Arts and Sciences. "Steve's leadership has been critical to maintaining a thriving arts community locally, and I want to congratulate him on this well-deserved recognition." 
Others receiving recognition for contributions to the arts include three graduates of the University of Northern Iowa.
Alan Greiner of Boone will retire from his position as executive director of the Iowa High School Music Association at the end of June, a position he held for 21 years. Greiner is a 2002 UNI graduate with a degree in Music Education.
Amber Danielson of Marshalltown was recognized as an Emerging Arts Leader. A 2011 UNI graduate with a degree in Marketing, Danielson has transformed the Marshall County Arts & Culture Alliance through managing major public art installations and securing grants for creative community projects. 
Leon Kuehner of Hampton was recognized in the category of Arts Learning. Kuehner has served the Iowa Alliance for Arts Education for 25 years, following decades of service as a high school band director in Hampton and president of the Iowa Bandmasters Association. He holds bachelors and masters degrees in Music Education from the University of Northern Iowa.
Additional information about the 2023 Governor's Arts Awards can be found on IowaCulture.gov