Campus & Community
Global Student Entrepreneurship Awards brings opportunity, visibility to three UNI student businesses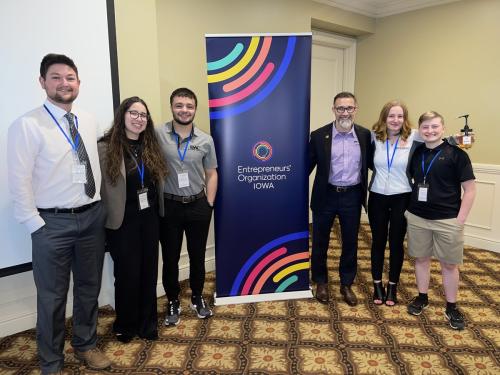 Three University of Northern Iowa Students competed as finalists at EO Iowa's Global Student Entrepreneurship Awards (GSEA) competition in West Des Moines — a pitch contest for college students who own and operate a business. One of them claimed third place.
UNI business majors Garrett Moll, owner of Elite Wrestling Club Apparel; Fatima Rodriguez, owner of Saffron & Ivy and Savannah Rose Warren, owner of Sav's Syrups, competed on behalf of UNI's John Pappajohn Entrepreneurial Center (JPEC). They were among six student entrepreneurs in the state who pitched their startups with hopes to secure funding to fuel the next phase of their business ownership.
Moll, who recently found himself joining UNI's Entrepreneurship Club, jumped at the opportunity to pitch his business at GSEA. His pitch — a scalable business model that recognized the potential in the changing landscape around Name Image Likeness for College Athletes — placed third in the competition.
"As someone who has always been involved in sports, particularly wrestling, competing in the business world was a new and exciting experience," he said. "I would like to extend my gratitude to UNI's John Pappajohn Entrepreneurial Center for the numerous opportunities that have helped me grow both professionally and personally. Being surrounded by like-minded individuals has made my experience as an entrepreneur at UNI unforgettable."
The competition was also a fantastic opportunity for student entrepreneurs to increase the visibility of their businesses.
"This was a great opportunity to get Saffron & Ivy in front of new people," said Rodriguez, who holds an incubation space in the JPEC's R. J. McElroy Student Business Incubator. "It was nerve-racking preparing to present my business but I'm happy with how it turned out."
At UNI, the John Pappajohn Entrepreneurial Center (JPEC) promotes entrepreneurship-focused experiences that have the ability to change the trajectory of a college student's business. Learn more about the UNI JPEC and UNI student entrepreneurs at jpec.uni.edu.