Campus & Community
Hands-on history: Class leads students to museum internships
While some students have to wait until later in their college careers to get hands-on internships, students from the University of Northern Iowa's Department of History get real-world practice early thanks to the Field Experience: Public History class. Through this course, students gain 15 hours of hands-on learning with an Iowa historical society or museum. Their projects range from building museum displays to drafting social media content to promote historical events. 
It's one of the first classes students take when they declare a history or history teaching major. As a service-learning course, the experience is co-created with community partners, intended to expand discipline-specific knowledge and skills, strengthen the community and develop a student's sense of civic responsibility.
"To interact with history more than you typically would in a traditional class definitely made me want to bring my students to a museum when I'm a teacher," said Ross O'Neill, a junior history teaching major from Mason City. "The experience made history seem more human."
O'Neill ranked the Cedar Falls Historical Society as his top pick for a field experience for a unique reason. He was most interested in the Ice House Museum because of a high school writing assignment on ice creepers, the shoes icemen wore to avoid slipping. His interest in these unique shoes drove him to learn more about the ice industry.
"What initially ignited my curiosity about these shoes was, like most people, I didn't even know there was an ice industry," said O'Neill. "Seeing those cleats right in front of me made me think about how I would want something like that if I were working in the industry." 
Becoming embedded with the Cedar Falls Historical Society, O'Neill was able to learn more about the ice industry than his high school self might have ever dreamed. He was tasked with researching and writing a series of articles about the tools at the Ice House for the Cedar Falls Historical Society's Facebook page. The posts will also be turned into podcasts.
"Sometimes history is only through a textbook or just in a lecture hall," said O'Neill. "So if you really want to get out and interact with it, this class is a great avenue to pursue that."
Sophomore and history teaching major Quynci Swales went through the course in spring 2022 at the Edgewood Museum, which is close to her hometown of Strawberry Point. 
Swales' project centered around creating a display on a prominent local family from donated photographs, books and artifacts. She learned how to handle artifacts that can be easily damaged and how to use the computer system to catalog the items.
"The biggest thing I took away from it was learning the database," said Swales. "I'm not the most techie person ever. Oftentimes, it was very frustrating, but in the end, it was very rewarding."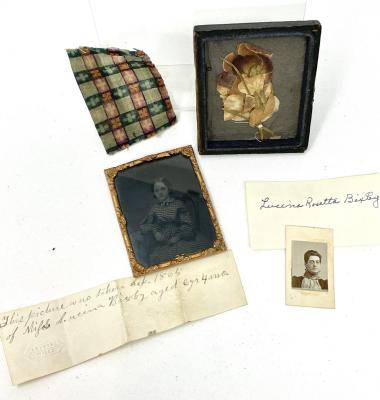 Her favorite artifacts to see up-close and in-person were photo boxes containing black and white images. On the backside of each image was a square of fabric from the clothing the people depicted were wearing, bringing the history in these photographs to life.
Through the experience, Swales learned not to take everyday items for granted as they might eventually become something of historical importance. It also has gotten her thinking about the type of educator she'd like to be in the future.
"Making history enjoyable to my future students is so important to me," she said.
The experience was equally as valuable for museum director Art Johnson. It was his first time partnering with UNI for an internship.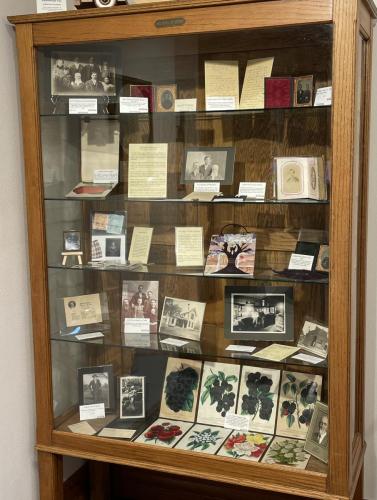 "I thoroughly enjoyed working with her, and the finished product is really nice," he said. "We've had a lot of nice compliments on it from our visitors."
Johnson proudly displays a photo of Swales above the exhibit for all to see. His experience with Swales was so positive he has since worked with a second student and is currently enlisting a third to help him.
While he admits supervising a student does take some work, he appreciates the opportunity to pass these skills along to the next generation, especially because he's a retired educator. He also values the fresh ideas and creativity students bring to his museum.
"History is not going to be as meaningful if you're not getting your hands dirty," he said. "Seeing the kind of work there is and the amount of work there is can be very rewarding. I know Quynci came in every day with a smile and left with a smile. I knew she was enjoying the work, and it was very meaningful to her."
Not only do these experiences help students get the practical, real-world experience employers want, but they also allow students to learn about and preserve Iowa history.
"Most of our students are from Iowa," said Jennifer McNabb, head of the Department of History. "They've learned Iowa history throughout their educational careers, and they still find things to get really curious and excited about. No matter how much Iowa history they know, there's always more."
Each semester, more than 30 students go through the Field Experience: Public History course. UNI has more than 120 partner institutions that work with the students, and they come from all around the state.
"We've got a pretty solid core of people who take UNI students every semester," said McNabb. "We're so thankful for those people because, of course, students are performing a service for the institution, but our supervisors are also acting as great mentors to help students understand a little bit about some of the dimensions of history that maybe they haven't considered before."
Although O'Neill and Swales are both history teaching majors, McNabb loves how this course also shows history majors what they can do beyond teaching.
"Everyone imagines that history majors have limited options if they don't wish to teach, but through this course, the department shows students alternate opportunities and helps them think about a variety of career paths," said McNabb.