Campus & Community
Living the UNI experience starts in the dorms
If you want a rich college experience filled with lifelong friendships and an active social life, you should live on campus at the University of Northern Iowa. There are numerous benefits to the on-campus experience. 
"Living on campus definitely helped me be more involved," said fourth-year student Megan Carlson, who quickly discovered she could make meaningful connections simply by leaving her door open in the dorms. "I met quite a few of my friends through living on campus. One friend that I met in the dorms my freshman year studied abroad with me this past summer. If I'd never met her, I probably wouldn't have studied abroad."
Megan witnessed friendships being formed on her floor in her second and third years as a resident assistant (RA). "Eventually, I saw my residents hanging out in the lounge together every day. Because on campus, there are so many people around you that share the same classes as you, who want to get together and study, or grab dinner, and I think that makes a big difference."
Students who live on campus are active participants in campus events, student clubs and organizations. Which introduces them to a diverse group of people, allowing them to make new friends quickly.
"I've been able to meet people who look and think differently than me, and it's been cool being able to share a space with them," said Liz Clark, a transfer student. "I have made some of my best friends by living on campus who have impacted and encouraged me in so many ways."
While friendships are an important benefit of living on campus, it's far from the only benefit: 
You adjust more quickly to college.
You are close to everything and can get pretty anywhere on campus in 10 minutes or less!
You have an integrated support system with ResLife staff who are available 24/7/365, and can help connect you with other resources around campus.
There is also a link between living on campus and earning better grades. Not only do students who live on campus tend to have higher GPAs, but they are also more likely to graduate on time. UNI Housing & Dining offers the Live 2 Succeed program to support just that. Plus you will receive a $1,000 scholarship in your second year living on campus when you sign up. So if you want your investment in college to pay off, living on campus is definitely worth it.
"Living on campus provides a tremendous opportunity for students to find success and further engage with their peers, the institution and the many resources available to them," said Nick Rafanello, assistant vice president and executive director of UNI Housing & Dining. "At UNI, this opportunity also provides students with a higher likelihood of success. Whether it be achieving their academic goals or their professional goals, even their personal goals, by living on campus students are going to be more successful during their college years."
The University of Northern Iowa has 10 unique places to call home ranging from traditional to suite-style to apartment-style housing options. From Hagemann to Lawther to Panther Village and more, the dorms help students find their community and make UNI feel like home faster. In the heart of it all, you'll find two dining centers and many retail locations throughout campus, with students voting UNI the best college food in Iowa for seven years and counting!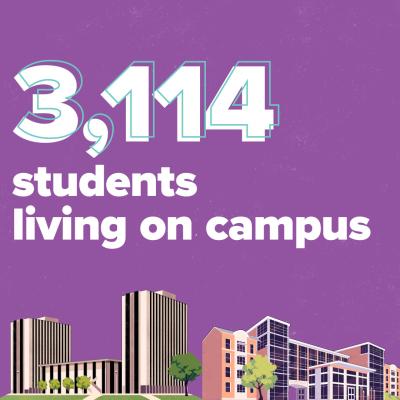 More than 3,100 people are living on campus during the fall 2023 semester, which is 35% of all students and a 7.5% increase from last year. About 60% of students live on campus for at least two years, thanks to the Live 2 Succeed program.
Live like a Panther! Discover more about calling the UNI campus home on our UNI Housing & Dining website.