Campus & Community
Newly-restored Campanile bells return to UNI on May 1
Original bells will be on display for the first time in nearly a century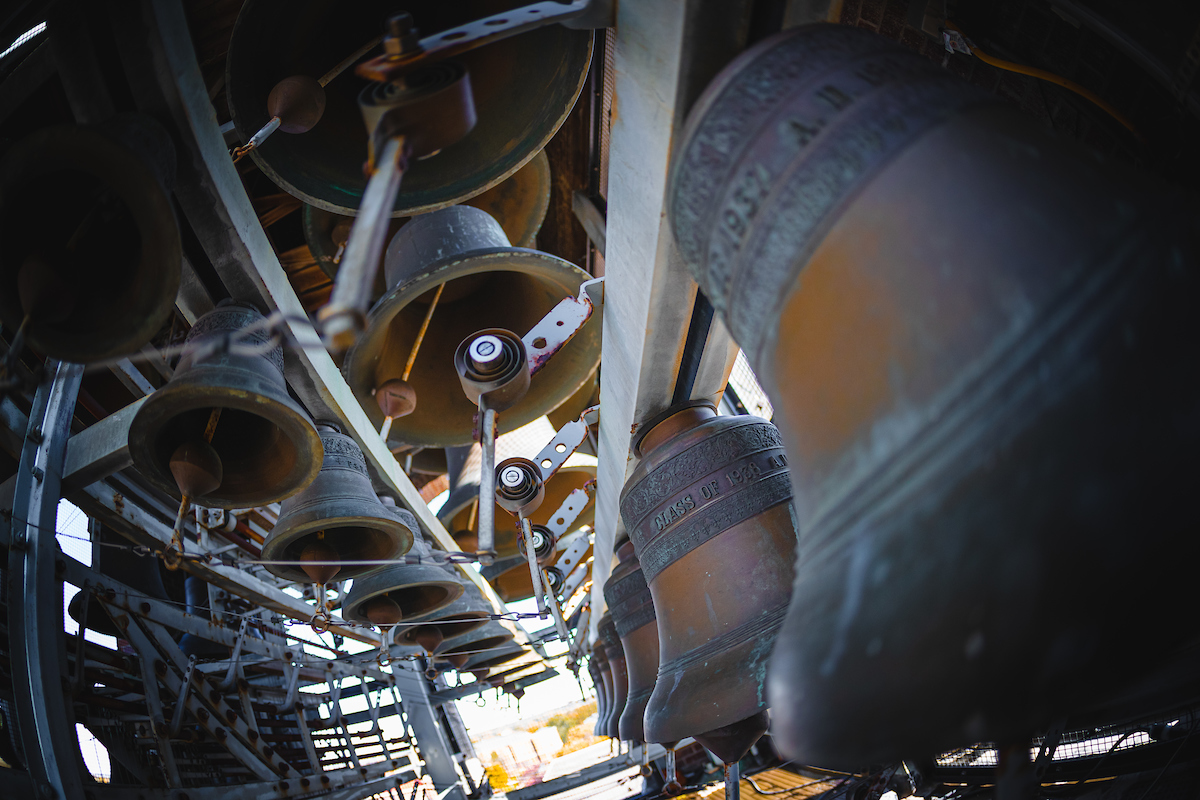 CEDAR FALLS, Iowa — The Campanile, one of the University of Northern Iowa's most iconic structures, will soon ring out with a newly restored set of bells. Refurbished by The Verdin Company of Cincinnati, the set of 46 bells will return to campus on Monday, May 1 along with nine new bells, equipping the Campanile carillon with a vastly expanded musical range.
Beginning at 1 p.m. on May 1, Panther students, alumni and friends in the community are welcome to visit campus and get a once-in-a-lifetime photo with the bells before they are re-installed. The Campanile's first 14 bells will be on display on the ground for the public to see up close, something that hasn't happened since the Campanile was originally built in 1926.
"We are excited to celebrate the return of the bells with our entire campus community in May," said UNI President Mark Nook. "Generations of UNI alums have fond memories and wonderful stories surrounding the Campanile." 
Further investments to preserve the Campanile include infrastructure improvements and a plaza redesign. These renovations are fully funded by generous donations to "Our Tomorrow: The Campaign for UNI," the university's comprehensive $250 million fundraising campaign. Since launched publicly last fall, the campaign has surpassed a milestone of $200 million dollars to invest in all areas of the university, including student access and success, engaged learning, academic programs and faculty, as well as iconic spaces, such as the Campanile.  
Of the $2.2 million goal for Campanile improvements, fundraising has gathered $1.56 million to date. "We are tremendously grateful to the nearly 600 donors who have supported the restoration project thus far," said Nook. "We couldn't be more pleased to help preserve this venerable piece of our campus for decades to come." Donors can make a gift to support the Campanile renovation at ourtomorrow.uni.edu/campanile.
The celebration of the bells' return will kick off with a special practice carillon concert presented by the UNI Guild of Carillonneurs at 5 p.m. Sunday, April 30. The student organization will perform on a unique practice carillon in Jebe Hall at Gallagher Bluedorn Performing Arts Center to build excitement for the bells' return the following morning. 
"We're excited to get back on campus and complete this project," said Tim Verdin, sixth-generation president of The Verdin Company. "It's been a long time coming, and the results of our efforts will be enjoyed by many generations of Panthers to come."
The week will continue with plenty of photo opportunities, a University Archives pop-up exhibit and student-led tours. The Verdin Company will begin installation work on Wednesday, May 3, and remain on campus for several weeks to continue installation of the bells and its infrastructure. You can find more information about all the events planned for the week at ourtomorrow.uni.edu/bells.