Campus & Community
Pack the Dome brings twice the volunteers and double the output
Volunteers at UNI's Pack the Dome event successfully assembled nearly 80,000 backpacks full of food for the Northeast Iowa Food Bank's BackPack program, almost doubling the number of packs put together in 2022.
UNI's Pack the Dome 2023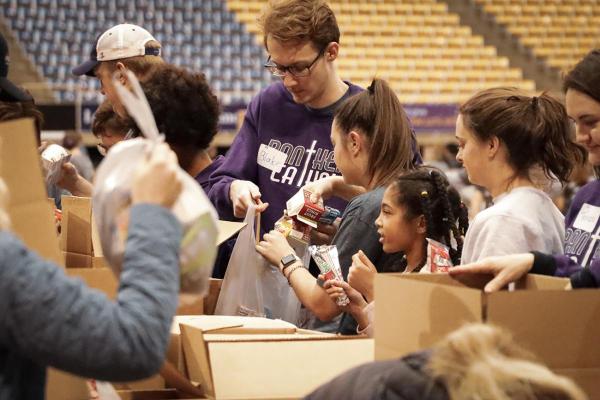 Last year, 1,200 volunteers packed 48,000 bags of food, according to the Northeast Iowa Food Bank. This year, the event drew twice the turnout, successfully filling all available volunteer slots - with nearly 2,500 volunteers rolling up their sleeves and giving more than 3,000 hours to support the BackPack program, which ensures Northeast Iowa children enrolled in 145 schools have enough food to eat when they are not in school or able to rely on school meal programs.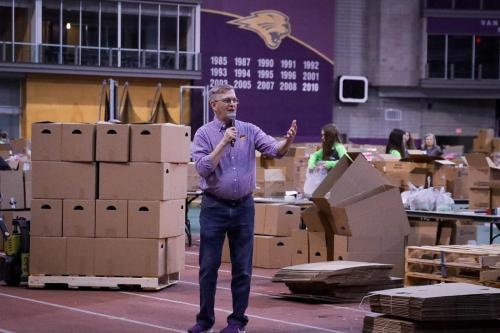 "To see how much Pack the Dome has grown over the past few years is astounding," said Kristina Kofoot, assistant director of community engagement at UNI. "It was incredible to see the many volunteers show up to dedicate their time. I have a renewed love for and appreciation of the commitment to service of those in the Cedar Valley and beyond. This is a truly unique community that is always willing to step up and give back."
The event, which coincides with the Martin Luther King Jr. Day of Service, drew community members, as well as UNI faculty, staff and students to volunteer. Several state, community and university leaders were also in attendance, including Cedar Falls Mayor Rob Green, State Rep. Bob Kressig, U.S. Rep. Ashley Hinson, Cedar Falls City Council member Simon Harding, UNI President Mark Nook and Provost José Herrera. KWWL sports anchor Mark Woodley emceed the event.
UNI leaders say seeing such a strong turnout from the UNI and Cedar Valley communities is a reminder that we are all together in the fight against food insecurity.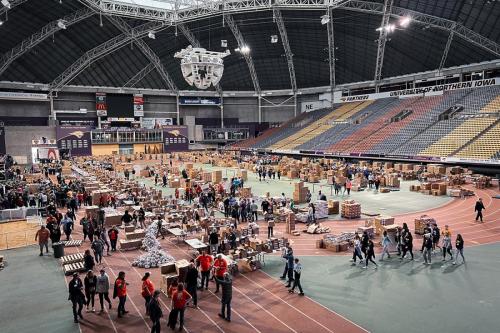 "This year's Pack the Dome event was such a rewarding experience," said Drew Conrad, director of UNI's Institute for Decision Making. "We had volunteers of all ages and so many families, including some that had three generations volunteering. There were also so many Cedar Valley businesses and organizations that had groups of employees volunteering. It truly is a community effort, both from our UNI community and the Cedar Valley community."
The annual day of service is a partnership between UNI, the Office of Community Engagement, Panther Pantry (UNI's food bank for students) and AmeriCorps. All these organizations and groups come together to partner with and support the work started by the Volunteer Center of Cedar Valley and the Northeast Iowa Food Bank.