Campus & Community
Panther Caravan brings message of teamwork, leadership to Iowa middle schools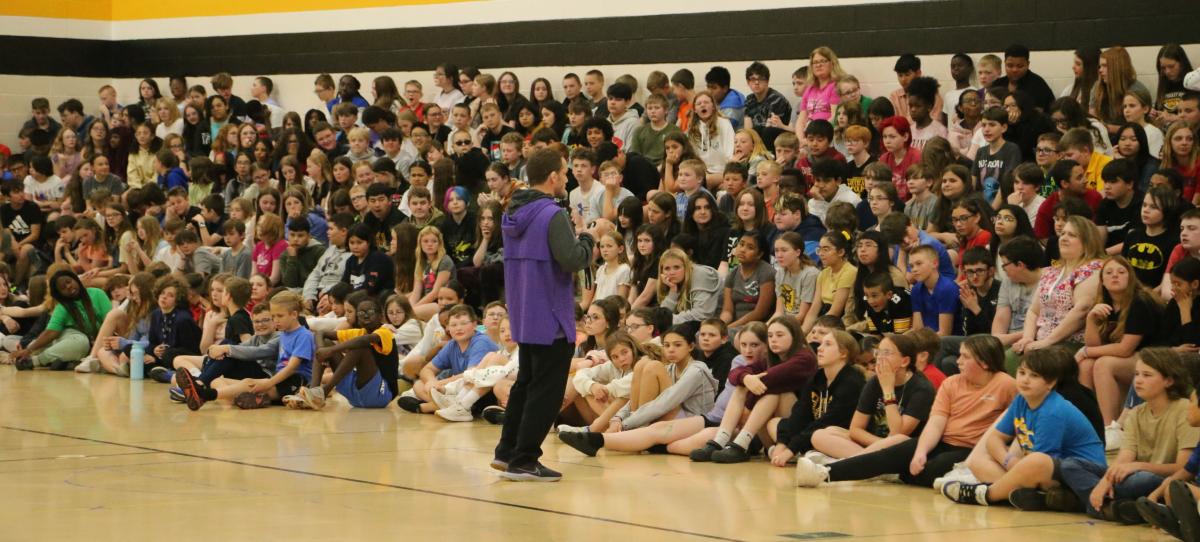 For the past several years, the Panther Caravan has taken the University of Northern Iowa on the road to celebrate all things purple and gold with alumni and their families, prospective students, current students and fans for Panther athletics. The tour also includes visits to the next generation of Panthers through visits to area schools.
In the Waterloo Community Schools district, the Panther Caravan visited hundreds of students at Bunger Middle School, Carver Middle School, Hoover Middle School and Central Middle School. Current and former student-athletes from UNI highlighted the importance of academics, balancing coursework with competition, trust, responsibility and how to stay motivated toward your goals.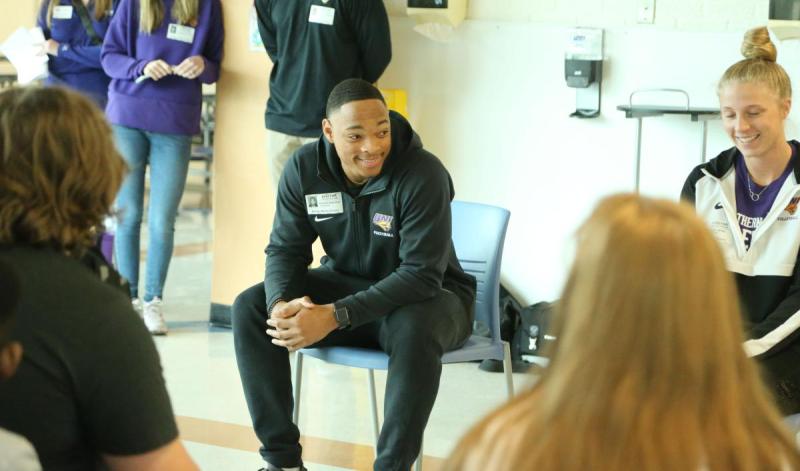 In Central Iowa, more than half of teachers at Southeast Polk Spring Creek 6th Grade Center in Pleasant Hill hold degrees from UNI, including principal Nate Ballagh. The teachers, dressed in purple and gold, joined the more than 600 sixth grade students in the gymnasium to learn about leadership, teamwork and synergy. 
"Be part of something bigger than yourself," encouraged head wrestling coach Doug Schwab. "No matter where you are today, you can achieve greatness by putting in the work for something bigger."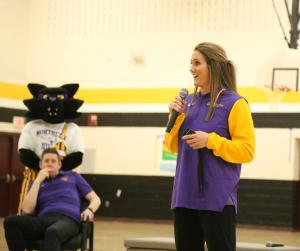 Assistant women's basketball coach Katelin Oney highlighted the traits of leadership, including individualism. "Be yourself and stand out. We don't need 10 point guards — if we did, we'd be pretty short. We need those people in other roles to round out the team."
Head football coach Mark Farley described the importance of working together and how collaboration makes a team successful before calling all the teachers to the front of the room. "Every one of these teachers is here because they believe in you. Make sure to tell them 'Thank you.'"
Panther Caravan 2023 also included family-friendly evening events in Dubuque, Waterloo, Des Moines and LeClaire which featured appearances and a chance for fans to meet J.W. Cox, Mark Farley, athletic director David Harris, men's basketball coach Ben Jacobson, swimming and diving coach Nick Lakin, UNI president Mark Nook, Katelin Oney, volleyball coach Bobbi Petersen, Doug Schwab, cross country and track coach Alex Tuebel, TC and TK.