Campus & Community
Panther Marching Band performs for more than 1.5 million people in Spain
It's not every day you get to perform in front of more than a million people – but for students involved in the University of Northern Iowa's Panther Marching Band, it's a rite of passage.
Every two years, the Panther Marching Band (PMB) hosts an international trip. In the past, students have performed at the St. Patrick's Day Parade in Dublin, in historic cathedrals in Italy and in cities large and small around the globe.
Over winter break this year, around 90 students from the PMB traveled to Madrid, Spain, where they performed in the annual Three Kings Parade.
This parade marks the 12th day of Christmas, called Epiphany or Three Kings Day, when children receive presents. Approximately 1.5 million people watched the parade in person on Jan. 5, with millions more watching on television.
‌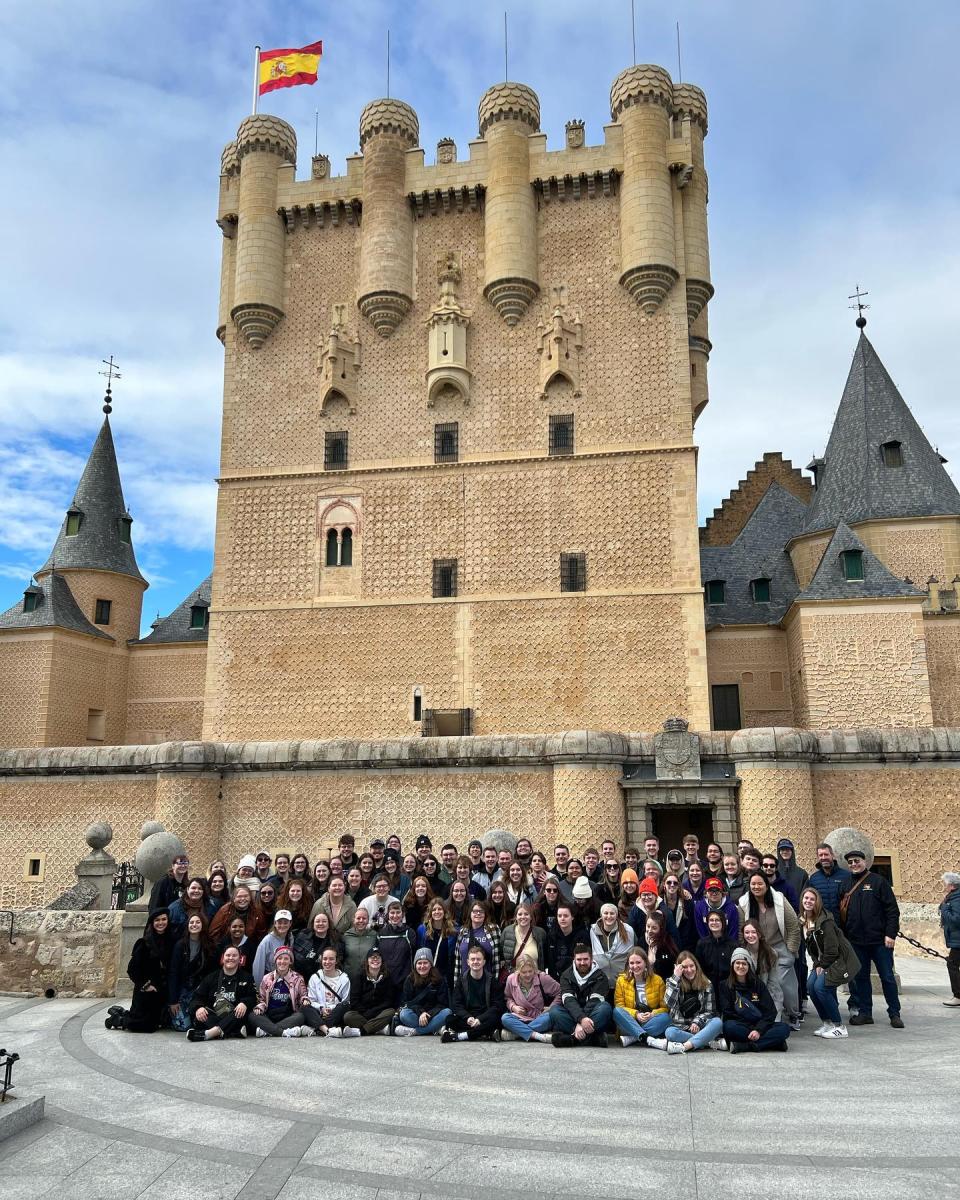 "It was a little overwhelming once we got there," said Emily Carlo, a freshman anthropology major who plays the trumpet in PMB. "You saw all the people, and you saw the insanely decorated floats and some of the attractions they had. But once you got into it, the people just yelling and enjoying the music — it made it all worth it."
"We were practically celebrities there," said Quinlan Manross, a senior movement and exercise science major who plays the mellophone in PMB. "Two separate families came up to us and asked if their kids could get a picture with us."
Manross said marching bands aren't as common in Europe as they are in the U.S. He believes there was only one other marching band — a high school band from California — in the parade.
"A big part of the university band's mission is to be an ambassador for its institution," said Mertz. "Our students did that and more, and I could not be more proud of the work they did and how well they represented our university on a very large international stage."
During the parade route of nearly two miles, Panther Marching Band played "Holiday" by Green Day, "Come Together" by the Beatles and "Ode to Joy" by Beethoven. Carlo said the crowd seemed to respond the most to "Ode to Joy." In fact, the parade coordinators heard PMB rehearsing "Ode to Joy" and invited the band to stop by city hall and perform for the mayor.
"The city hall was gorgeous," said Carlo. "It was all lit up. There were cameras pointed at us, and it was a lot to take in, but we played well."
While being in the parade was the main event for PMB, the students got the chance to sightsee throughout their trip. They visited the cities of Toledo and Segovia, which included a stop at a medieval castle. They shopped at a flea market, toured the Prado Museum of art and watched a flamenco performance. 
Neither Carlo nor Manross had ever been abroad prior to the Spain trip. The prospect of going overseas for the first time was something that drew them both to sign up.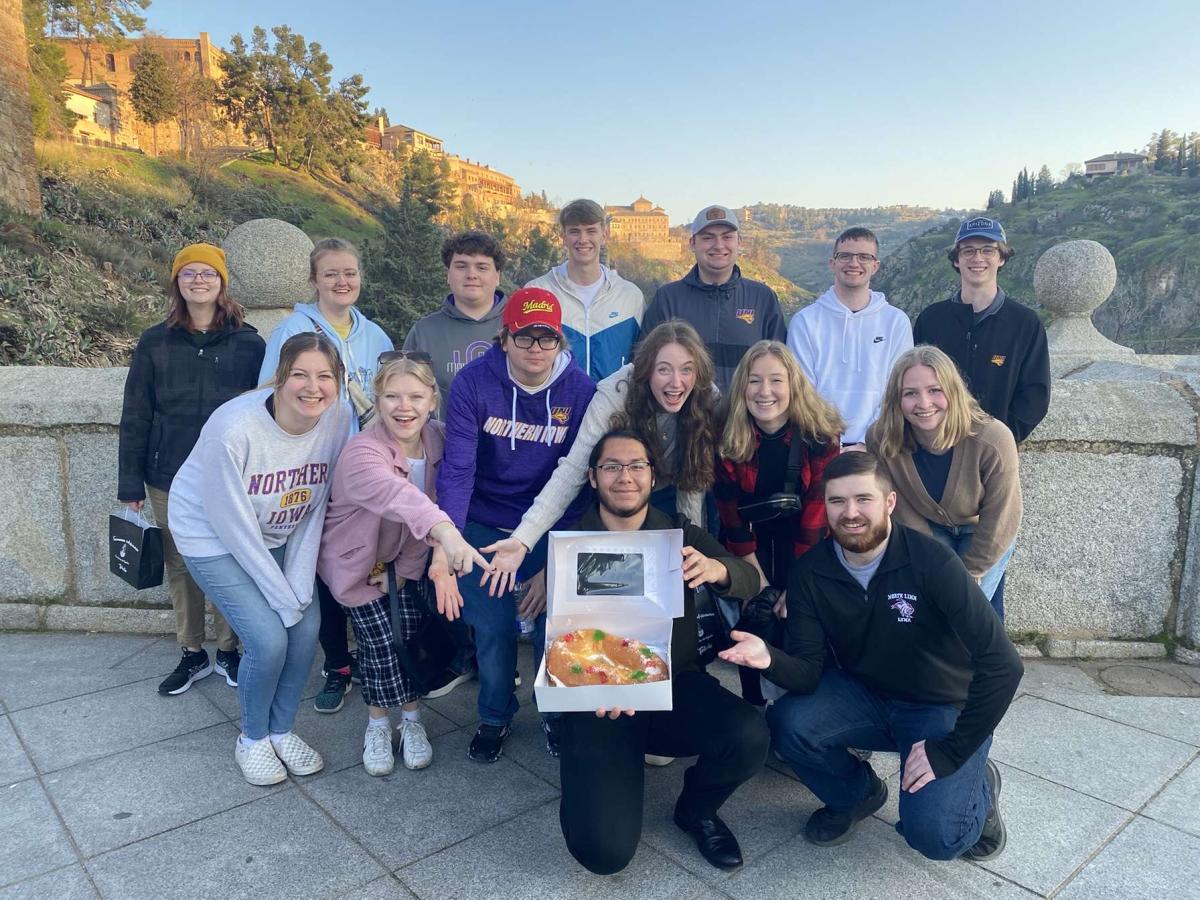 "I think it definitely made me more worldly," said Carlo, a Pella native. "I feel like I was kind of in my own little bubble because I've grown up in Iowa my entire life. So you know, getting to see how different cultures interact is just really something special."
Typically, Panther Marching Band does an international trip every two years, but the initial plan to be in the Three Kings Parade in 2021 was put on hold due to COVID-19.
"The PMB has established a reputation for itself as a great American band that does performances abroad," said Mertz. "Based upon our previous engagements in London, Rome and Dublin, we were invited to the parade in Madrid."
Manross, who is from Denver, Iowa, had been looking forward to the trip for years, ever since he heard about it at a PMB open house as a senior in high school.
Manross eagerly counted down the days to the trip leading up to the flight to Spain.
"I was pretty excited," he said. "I remember the last couple of nights, I was like, 'All right, two more sleeps. One more sleep.'"
For Manross, PMB is the thing that made him decide to come to UNI. Growing up playing in band, he'd always loved the way the activity combined his love of sports with his love of music. It was something he knew he wanted to continue in college.
"I'd been going to games since I was little, and I always wanted to be in a college marching band somewhere," said Manross. "I just loved the atmosphere I saw at games."
A typical week for Panther Marching Band members involves practicing three days a week for two hours per practice. They have an additional practice on the days of home football games, where PMB always performs.
"I'm used to having those big commitments," said Carlo. "So for me, marching band is just another part of my daily life. You're doing a lot of hard work, but you're seeing the results of the hard work, and you get to see people enjoying those results."
Through Panther Marching Band, Carlo has expanded her circle of friends.
"My closest friendships right now are people from PMB," she said. "They've made the transition to college much easier. We're just a giant family. If you want to find a place where you will always be accepted and you always know that you have somebody to go to, PMB is the place."