Campus & Community
Regents Staff Excellence Award winners reflect on successful careers at UNI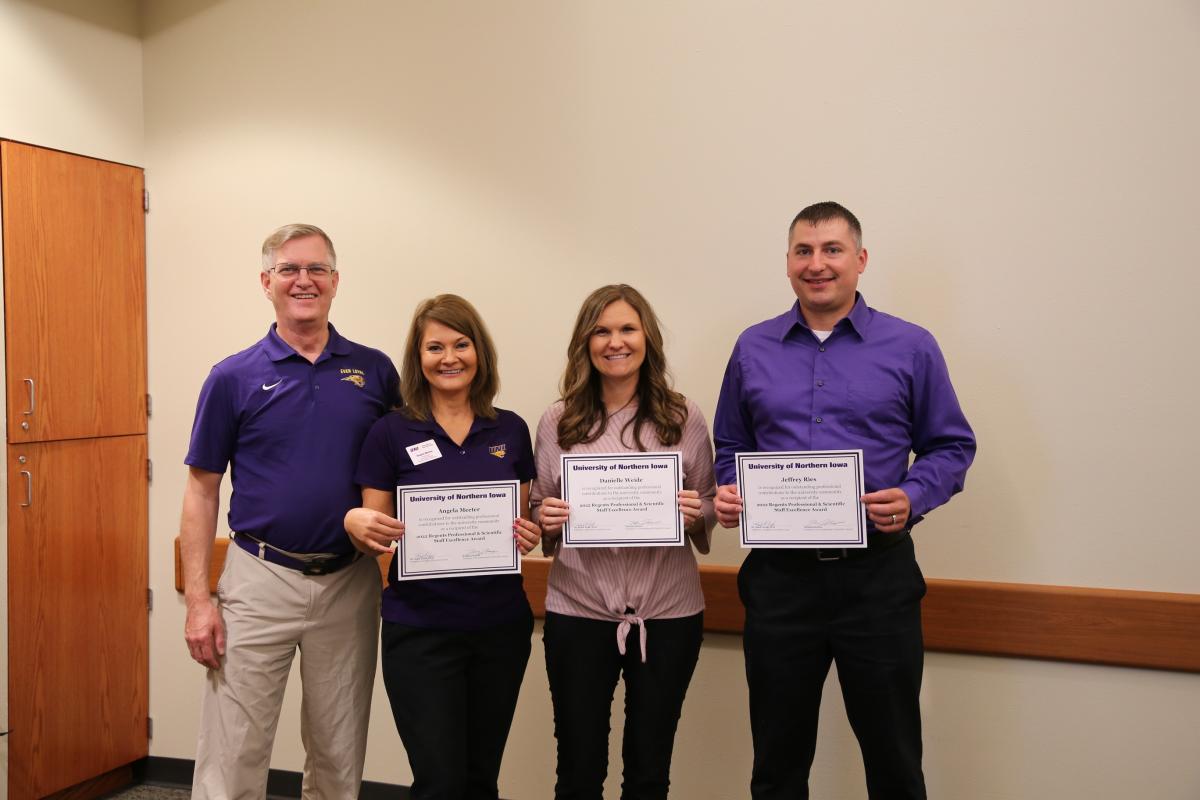 Every year, professional and scientific (P&S) employees at the University of Northern Iowa are recognized for making outstanding professional contributions during their careers. This year's Regents Staff Excellence Award winners are Angela Meeter, Danielle Weide and Jeffrey Ries. Each one works in a very different capacity on UNI campus, yet they all have made a significant impact.
"It's great to be recognized for the work you do because I do so much behind the scenes," said Meeter, who is the associate director of Student Health and Student Wellness. "It's the kind of role that can often be a thankless job, but, working at UNI, it's not. The recognition really does mean so much to me."
Meeter's background is in social work. She earned her bachelor's degree in social work in 1997 from Juniata College in Pennsylvania, where she grew up. 
"I always wanted to help others and be of support to others," said Meeter. "I think I've been a social worker maybe since the day I was born."
In 2000, Meeter went to Cedar Falls to visit one of her best friends who had just moved to the area. What was supposed to be a brief visit ended up becoming a move when Meeter found a local job opportunity she was interested in. Still, Meeter thought the move might only last a year or two. But more than 20 years later, she's still living in the Cedar Valley.
"I just found the people of Cedar Falls to be very nice and the sense of community to be really strong here," said Meeter.
Starting in 2003, Meeter's career as a social worker began shifting toward quality improvement work. Meeter said at first she was interested in this type of work because it was more flexible for her as a parent, but she also discovered she was good at it. This is what eventually led her to apply to the position of quality improvement coordinator at UNI, a role she was hired for in 2015. She's held her current position since 2017.
For Meeter, the most rewarding part of her job is seeing students succeed and how UNI supports their success. 
"I love reading the comments from students about our wellness coaching and how that program enhances various dimensions of wellness," she said. "And as students increase in one dimension, it affects the others and really affects overall quality of life."
Student success is so important to Meeter she is even working toward her Master of Arts in Postsecondary Education: Student Affairs through UNI.
Interim Associate Director of Transfer Recruitment Danielle Weide's journey with UNI began as a student. After earning her degree in marketing, a passion for working with people drew her to working in admissions for her alma mater starting in 2013. At the time, Weide had two small children and wanted a job that offered her flexibility.
"When I interviewed, I remember asking the search committee, 'Is this a good place for families?'" said Weide. "At that time, I had two little kids, so I needed a workplace that was family-friendly."
Nine years later, the family-friendly nature of UNI has been one of the things that has kept her here.
"I've stayed here because it is a good job for working parents," Weide explained. "My three kids are busy! Between sports, dance, band and having a husband that travels for work, I needed a place that understood what it's like to be a working parent. And I found that at UNI. I'm in the middle of one of the busiest times of my life with my kids, and I can still make it to their activities, and that's very important to me as a mom."
Weide also loves the people she works with.
"Many people work here because they truly have a passion for UNI," she explained. "Being able to work in that environment is very rewarding."
Weide's experiences growing up in rural western Iowa help motivate her in her job. Not many people in her hometown had heard of UNI, so raising awareness about what UNI has to offer is important to her.
"I want more people to know what UNI has to offer because I truly believe we are a perfect fit for so many small-town kids like myself," said Weide. "The average Iowan can come here, be successful and get their dream job."
Like Weide, the last winner of the Regents Staff Excellence Awards, Jeffrey Ries, is also a University of Northern Iowa alum. Ries is the senior eLearning systems administrator for IT Educational Technology & Media Services. In his role, he ensures the UNI eLearning systems are running correctly, troubleshoots issues, tests new functionality and more. 
Ries got his first taste of IT as a student working in the same department all four years he was in school.
"I enjoyed the people I worked with and I enjoyed the work, especially the problem-solving aspect," said Ries. 
Ries graduated from UNI in 2004 with a degree in management: business administration. Out of college, he worked in customer service at Lowe's then as a store building specialist at Target. The latter position was in Des Moines where his wife, Danielle, was finishing physical therapy school at Des Moines University. The couple knew they were going to move back to the Cedar Valley once Danielle graduated from school, so they decided to mention their plans in their annual Christmas card in the hopes that someone might reach out with a job opportunity.
"We've always had good longevity in our department," said Ries. "I think only one person left in those three years after I graduated. My previous boss read the Christmas letter and emailed saying it was good timing — they had just made my old student job a full-time position."
Since he began working with many of his co-workers as a student, Ries has known many of the members of his department for more than 20 years. The camaraderie he feels with the people he works with keeps him coming back each day.
"My success is a reflection of the success of the team," said Ries. "I'm just a part of that."
When looking back at his 14 years working at UNI, Ries said one of his greatest achievements is being part of moving Blackboard Learn from being self-hosted to SaaS, Blackboard's cloud solution. Until that point, the Blackboard Learn software and data had been stored and run on UNI servers that were in UNI's data centers on campus. Ries said the migration took years of planning.
"Based on what we'd heard from other universities that had migrated to SaaS, it was pretty common for there to be some hiccups," said Ries. "But our migration went super smoothly. Originally, I think we were planning for a six-day process — but we ended up having it back up in just over two days."
Ries said the timing of this was crucial because navigating eLearning during the pandemic would have been much more challenging had this task not already been done.