Campus & Community
Students experience breathtaking sights of Iceland during study abroad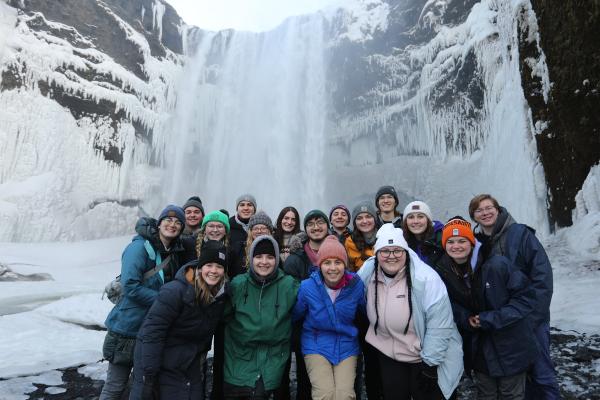 For most students, winter break is a chance to relax, catch up with family and indulge in tasty holiday treats, but for 17 UNI students, winter break meant escaping to one of the most interesting and beautiful countries in the world - Iceland.
Led by University of Northern Iowa earth and environmental sciences professor Chad Heinzel, students spent two weeks climbing volcanoes, lavishing in geothermal hot springs and gazing in awe at the brilliance of the Northern Lights.
"It was such a great experience," said Peyton Paulson, a senior environmental science major with an earth science minor. "I am incredibly happy I got to go and have this experience. Iceland is just beautiful, it's amazing and the people were so friendly and welcoming."
Designed to explore Iceland's history and culture, as well as its unique geological features and deep appreciation of the land and its resources, the trip curriculum combined the study of major geological landmarks with the educational experience of the capital city's cultural and historical museums.
"Iceland is really a fascinating place," Heinzel said. "You have the Viking history and culture and then you have the land itself, which is a geologist's paradise. The landscape is so unique and diverse with volcanoes and glaciers and geothermal pools. There are just a lot of really neat things in a relatively small area."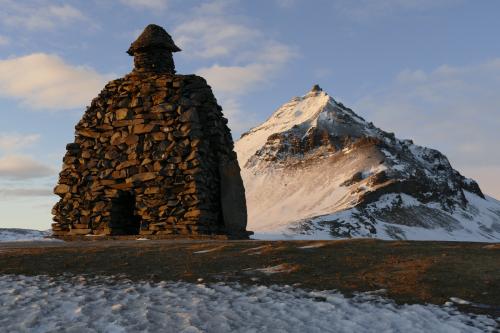 The trip is part of Heinzel's Naturals Resources and Civilizations class. Because it is included in the UNIFI general education curriculum, it is open to students from any major and all grade levels  to participate.
"That was one of the beautiful things about this class," he said. "We had future teachers, we had future scientists, we had future accountants and business professionals and we had communications and public relations students, and they bring all of their interests into our discussions and it's like our own little microcosm of the civilization that UNI is building and contributing to. That's probably my favorite part of  being able to do a class like this."
For Brendan Kath, a supply chain management major in his third year at UNI, the trip to Iceland was an exciting way to fulfill the last of his general education requirements. Kath had previously taken a geology class with Heinzel and recalled the professor had mentioned the possible study abroad opportunity so he decided to look into it.
"I'm really happy it worked out, because it was just a really cool experience," he said. "Being able to experience an entirely different culture and an entirely different environment was just really amazing."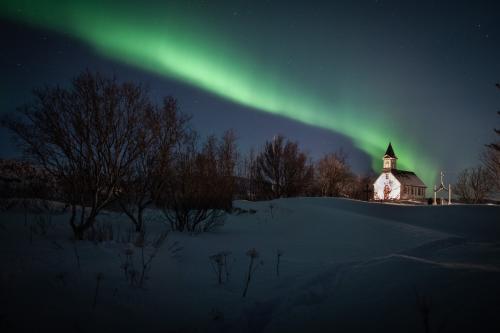 Kath said some of his favorite sights were the black sand beaches and the Northern Lights, which put on a once-in-a-lifetime show for the visiting students.
"We were told we were really lucky to see them that night because they were so vibrant and lasted so long, which is apparently rare," said Abbey Mandick, a freshman majoring in environmental resource management. "I think my favorite part was probably all the hiking we got to do and all the waterfalls we got to see."
A lover of nature, Mandick said Iceland has always been one of the top trips on her wish list and getting to see all the sights in person is a dream come true.
"I was really impressed by the people and how friendly they are," she said. "It was also amazing to learn how aware everyone is of the environment they live in and the resources they have and you can tell they really respect the land and strive to protect the land and its resources and keep them clean."
Iceland's commitment to sustainability and conservation were also things that spoke to Paulson, who hopes to work for the National Park Service once she graduates.
"One of the things I thought was really cool was how waste conscious the people are," she said. "I don't think I saw a single plastic utensil or plastic straw or styrofoam to-go package. Everywhere we went everyone was using real dishes and glasses, and I remember thinking those are habits that would be really great to practice in the U.S."
"The people in Iceland have such a respect for what they have," she added. "They have all these amazing natural resources and features available to them and they don't take it for granted. They know what they have and you can see how grateful they are for it, and that was really nice to see."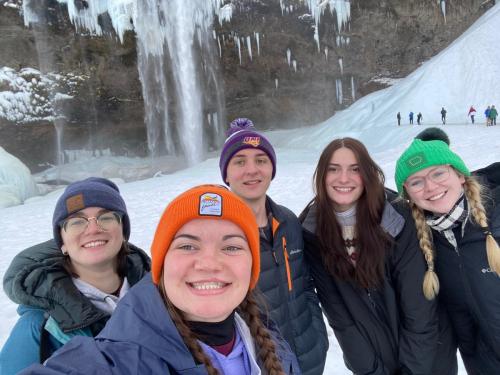 For senior Maddi Graves, it was Iceland's natural beauty that drew her to the class.
A strategic public relations major slated to graduate in May, Graves had hoped to make a study abroad opportunity part of her college experience, but the timing hadn't worked out until now, and the fact that it was Iceland was the icing on the cake. After she graduates, Graves said she is planning to return to UNI to pursue a masters in strategic communications.
"One of the things that I really loved about Icelandic culture is that they are very collectivistic as opposed to the U.S. which is very individualistic," she said. "So that was really a big draw for me - I wanted to see that collectivist society and see what that looked like. Learning about Iceland's culture was also really interesting and seeing how everyone is really focused on sustainability and conservation is also really amazing. They interact a lot differently with their environment than we do."
When asked if they had any advice for their fellow Panthers who might be on the fence about participating in a study abroad experience, all the students agree:
"Definitely take the leap and do it," Kath said. "Getting to experience a different culture and see something totally different from what you're used to can be a really amazing experience. I learned a lot about myself on the trip and I gained confidence in myself. I know the cost can be intimidating for some students, but the financial aid office was really helpful and there is scholarship money available and that helped a lot. It was just a really amazing experience."