Campus & Community
Suitcase of knowledge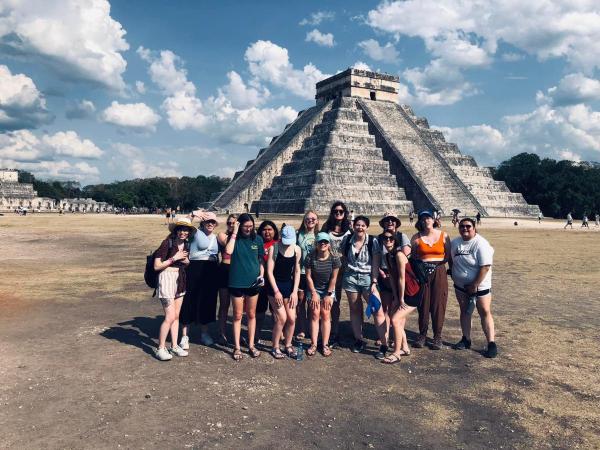 Taking part in a study abroad trip as a college student is often the opportunity of a lifetime.
That was certainly the case for April Vande Voort, a senior in psychology. This past summer, her capstone group from UNI partnered with the Universidad Marista in Mérida, Mexico.
During the two-week trip, students traveled throughout the Yucatan Peninsula and learned about many things, including ancient Mayan culture, past and current social issues, and Spanish colonization.
Their days consisted of attending a Mayan culture or language class in the morning and taking a trip to a significant place in Yucatan in the afternoon. Some of the places the group visited included ancient Mayan ruin sites, colonial cities, cenotes (deep water sinkholes) and museums. Each UNI student was partnered with another student and stayed with a host family for the duration of the trip.
"One very important takeaway for me was recognizing that every place has its own unique history," Vande Voort said. "Before traveling to Mexico, I had little to no knowledge of Mayan history or Spanish colonization. On this trip, I was able to educate myself and gain a better understanding of an area I knew little about."
She also realized the beauty of Mexico.
"The Yucatan Peninsula is covered in forests, which is not something I had expected," Vande Voort said. "Additionally, the Mayans were skilled architects and built indescribable structures. It's almost unbelievable how they were able to do that many years ago."
As a future human resource manager, Vande Voort feels the trip gave her a better understanding of the differences in norms and values of individuals from contrasting cultures.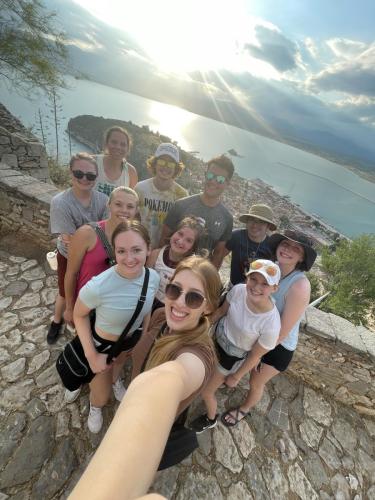 "The culture in Mexico is much different than the United States, but it is equally as important," she said. "I will work hard to make sure all cultures are acknowledged and respected in my future workplace."
Associate Professor of History Fernando Calderón led the trip to Mérida – the first of its kind. He hopes the partnership with the Universidad Marista is a stepping stone to other initiatives, like exchanging visiting professors.
"It was the most amazing experience for me as a professor and course leader," Calderón said.
He also felt the students – about 15 of them – benefited greatly from the trip.
"The camaraderie, the bonding that the students forged, I was so surprised," he said. "Many of them did tell me at the end how this was a life-changing experience because they felt they came back with a suitcase of knowledge."
Another study abroad trip held this past summer was the Capstone in London course, themed "Science and Pseudoscience: Critiquing the World Around You." In this course, students applied critical thinking and scientific analysis to controversial topics (e.g., evolution, psychoanalysis, conspiracy theories and vaccines) from multiple perspectives.
Led by Professor of Psychology Carolyn Hildebrandt, the trip enabled the 18 students to visit museums, research institutes, hospitals and historic sites related to the course.
Highlights included excursions to Stonehenge, Bath, the Bethlem Museum of the Mind, Freud's house in London and Darwin's house in Downe. In addition, students had plenty of free time to visit places of personal and professional interest. One thing that intrigued many of the students was how multicultural London is.
Grace Petrzelka Gage, senior in psychology with a focus on health psychology said, "My time in London helped grow my desire to help the population at large and work with those from all walks of life, seeking out opportunities to learn and grow from cultures all around the world."
She added, "It also helped foster my desire to travel for pleasure and find experiences in everyday life that align with my interests both personally and professionally."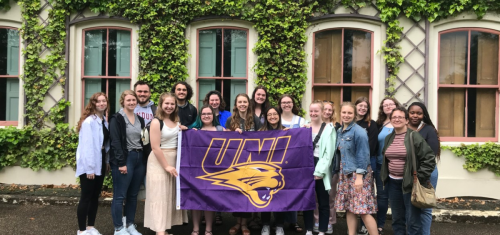 Added fellow participant, senior in biology Joseph Correa, "The London trip was a truly amazing experience with a great group of people where I got to see lots of tourist sites as well as learn a lot about London and other parts of the world."
Also held this summer was a trip led by Gregory Bruess, associate dean of CSBS and associate professor of history, and adjunct history instructor, Isabela Varela, who have been leading trips to Greece since 1999.
Their program allows students the opportunity to visit and experience the "cradle of Western civilization," and then challenges them to re-examine the classical perception from the perspective of Greece's other rich cultural heritages.
Students learned, on site, about various aspects of Greek civilization. They visited notable locations like the Acropolis, Ancient Corinth, Ancient Olympia and Ancient Delphi, explored Byzantine castles and monasteries, visited numerous world-renowned museums, met contemporary Greeks and more.
Perhaps Leah Ingraham, a senior in history and Spanish teaching, who attended the trip to Greece, sums up the benefit of studying abroad best.
"It was amazing," she said. "I made friends that will last me throughout the rest of my college career and most likely afterward. It changed me as a person going on this trip. Culture shock is real but in the best way possible. I tried the best food, met the best people and saw the best places.