Campus & Community
Tradition runs deep at UNI's Iowa State Fair booth
The Iowa State Fair is a tradition for many Iowans, whether it be entering an exhibit, checking out the Grandstand entertainment, trying out the new foods and rides, or staying in the campground. For some, the State Fair tradition comes with working at the University of Northern Iowa's booth in the Varied Industries Building - and each has a reason they keep coming back.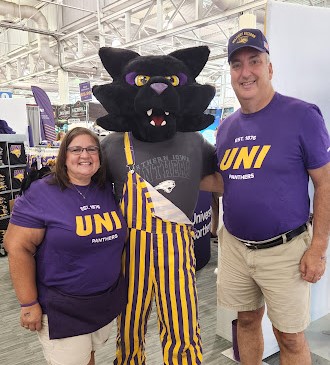 John Walker's family has become regulars at the UNI booth. They started volunteering there in 2015. 
"It's always great to represent the purple and gold," said Walker. "I take a lot of pride when I tell people I went to UNI, and it's cool to share that in a fun atmosphere! Plus, the free shirts are a bonus!" 
The UNI tradition runs deep with the Walker family. John's grandmother graduated from  the Iowa State Teachers College and went on to teach in a one-room schoolhouse in Bremer County. Walker himself graduated from UNI in 1994 with a Bachelor of Science in History and secondary teaching endorsement. Two of his daughters, Kylie and Kaitlyn, have graduated from UNI with a psychology degree and elementary education degree, respectively. His son Nicholas is a junior at UNI, studying to become a physical education teacher. His youngest daughter, Kara, will be going into her senior year of high school this fall, but she's already made up her mind to carry on her family's legacy and attend UNI to study elementary education.
"I am proud to be a Panther because UNI was the springboard in me becoming successful in my career," Walker said. "I can't say enough about the professors and advisors who helped me in my college journey. I am most proud that my children have chosen the path to attend UNI. The Purple and Gold will continue to run deep within our family for many years to come."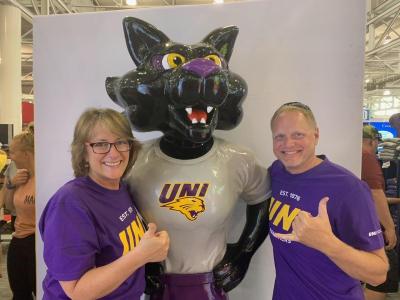 For 1995 finance alum Jesse Bawek, volunteering at the booth has been a tradition for more than 20 years. For the last decade, he's coordinated volunteer shifts with friends to represent UNI together.
"I look forward to reconnecting with fellow alum friends who have been former coworkers, neighbors or classmates," he said. "I absolutely love the Iowa State Fair and being able to greet fellow Panthers, Panthers at heart or potential future Panthers. All are welcome in Panther nation!"
Shanae Tucker is one volunteer who may be starting a brand-new tradition for herself. While she's not a Panther herself, her daughter will be coming to UNI in the fall. She chose to volunteer at the booth to get more involved with the school her daughter will attend.
"I'm proud to be part of the Panther family because this is the school where my daughter chose to further her education in nursing, so I'm here for the support," she said.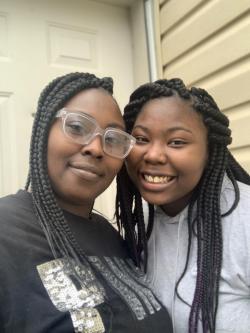 This year's booth will feature unique programming for just about every day of the fair, giving visitors a chance to learn about alumni entrepreneurs, the Public Art Incubator, research being conducted at Wind Cave National Park and more.
Other visitors to the UNI booth in the Varied Industries building may cross paths with UNI President Mark Nook, coaches from UNI athletics, TC and TK, and a number of past, present and future UNI Panthers!