Campus & Community
UNI's annual RA conference to bring 500+ attendees from across the Midwest to Cedar Falls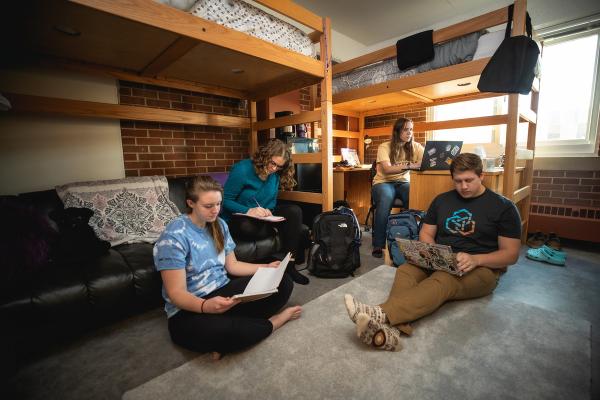 More than 500 resident assistants from 45 schools across 10 states will flock to the Cedar Falls area for the University of Northern Iowa's annual RA Conference this weekend, Jan 27-29. Resident assistants from Iowa, Illinois, Indiana, Kansas, Minnesota, Missouri, Nebraska, North Dakota, South Dakota and Wisconsin will be attending.
Now in its 32nd year, the conference is designed to provide RAs the opportunity to experience a variety of programming typically focused on personal growth and professional development. Guests are also encouraged to network and connect with one another, as well as to venture out and explore and support the community.
"Overall, the goal of the conference is to create stronger RAs, not only for our university, but for colleges all around the Midwest," said Jordan Rockwell, assistant director of residence life engagement at UNI. "Being an RA, you're working and living in a unique set of circumstances and challenges that not a lot of people get to experience. So the conference provides the opportunity for RAs to really connect, share some really great ideas and inevitably take that experience with them back to their colleges, so their campus communities are also positively impacted."
First held in 1991, the UNI RA Conference has consistently grown each year, building a reputation as a great opportunity for RAs and full-time staff to gather and share their experiences with each other.
Programming typically touches on a wide variety of topics such as self care, community building and engagement, inclusion, professional development, life skills and mental health among other areas that may help an RA better do their job and support their residents.
RAs play a vital role in the student support network and campus life, Rockwell said, often seeing students in the "home environment," where they are more apt to be themselves. In addition to administrative tasks like managing the dorm space and submitting maintenance requests when needed, RAs are often trusted guides for students and play a major role in student development.
"My mantra when I was an RA was 'We comfort the challenged and we challenge the comfortable,'" Rockwell said. "And really, what that boils down to is how can we better comfort and support the students who may be struggling, whether that be academically or personally, and then how can we challenge those who are a bit more comfortable and encourage growth, and we try to provide them both learning and programmatic opportunities to make them better people as a whole."
Most of 500 individuals attending the conference will stay on campus, with the remainder in local hotels in Cedar Falls for two nights.
On top of custodial and facilities staff in the dorms where attendees will be housed, and dining and catering who work extra to provide meals for guests, there are nearly an additional 80 UNI staff who assist with various facets of the weekend.