Campus & Community
UNI achieves record graduation rates, growth in transfer students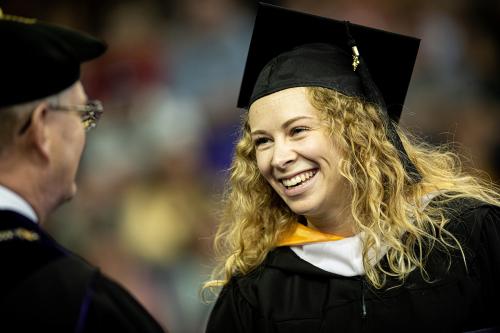 The University of Northern Iowa welcomed an incoming class of 2,200 freshmen and transfer students this fall. This new student cohort includes 764 transfer students, an increase of 23 percent over last year. UNI's updated general education program, implemented this fall, opened new and accelerated pathways to four-year degrees for community college transfer students.
Graduation rates for UNI students stand at record high levels for the second year in a row. The four-year graduation rate increased by five percent over last year, and is nearly 20 percentage points above similar universities. One in 12 UNI students graduate in only three years.
The university's total fall enrollment is 8,949, which includes students from all 99 Iowa counties, 43 U.S. states and 51 countries across the globe.
The fall 2022 incoming class reflects the increasing diversity of the state, with a 24 percent increase in students from ethnic and racial minority groups. Iowa residents comprise 92 percent of UNI's undergraduate enrollment and 91 percent of total enrollment.
"These statistics highlight UNI's continued commitment to student access and success," said UNI President Mark A. Nook. "UNI has the lowest net cost for Iowa residents, and its graduates hold the lowest average student loan debt of all public universities in Iowa. Overall, four of five UNI graduates and nine of 10 UNI transfer student graduates stay in Iowa to live and work after completing their degrees. These strong student outcomes, paired with affordability, lead to exceptional value for UNI students and for the state of Iowa."
UNI's fall 2022 enrollments include several growing programs that address Iowa's workforce needs. Already the number one supplier of future educators, UNI introduced its Purple Pathways for Paraeducators Program this fall — a flexible, online program that provides an easily accessible option for placebound paraeducators currently working in schools across the state. Sixty-eight paraeducators started in the inaugural cohort of this program in August.
In an effort to increase accessibility for placebound learners, UNI launched UNI at Iowa Community Colleges (UNI@IACC) this year. UNI@IACC allows Iowans with an associate degree from any of the state's community college districts to earn a bachelor's degree online in high-demand areas for Iowa's workforce, including: managing business and organizations, management: business administration, criminal justice, elementary education, human services and technology management.
Contact: 
Pete Moris, director, University Relations, pete.moris@uni.edu, 319-273-2761.