Campus & Community
UNI alum a finalist for Inspiring Women of Iowa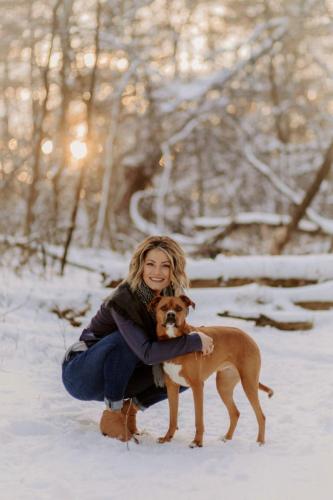 Riley Schreder inspires others by sharing her story. She's a speech-language pathologist for Des Moines public schools. She's a DIYer who's in the process of flipping her house. But the thing she is most proud of is being a mom to her son, Eli, who tragically passed away shortly after his birth.
"I've already lived through the worst possible thing anybody could ever have to live through, so no bad day is ever that bad," she said.
Back in 2020, Schreder's pregnancy seemed normal and healthy until she went into labor a month early. Her liver and kidneys were failing, and her blood platelets were dangerously low. She would later find out she had a rare condition called acute fatty liver of pregnancy (AFLP). 
When Schreder got to the hospital, her son's heart was still beating. But when he was born, doctors administered CPR for 20 minutes. Eli never took his first breath. To this day, it's unclear why he didn't make it.
"I think the quote from the doctor was, 'Your son dying was a mystery, and you living was a miracle,'" said Schreder. "So I better make this worthwhile. I don't want to waste my life because he doesn't get that opportunity."
From the beginning, those around Schreder have been in awe of how she's handled her grief.
"The weeks after that I saw [Riley] for what she was really made of, strength and courage. The type of strength only a mother could have," Schreder's former neighbor wrote in a letter nominating her for the Courage Award, one of the honors at the annual event, Inspiring Women of Iowa.
Schreder, a self-proclaimed "over-sharer," loves to tell others of the impact Eli made. She hopes by sharing her story she can offer others the gift of perspective. She is even writing a book about her experiences.
"I love telling my story," said Schreder. "I love talking about my son. He's really, really special to me. So he is my 'why' for sure."
Not long after she lost Eli, Schreder also went through a divorce. As she's navigated the two losses, Schreder has found healing in renovation projects. So when the time came to purchase her next home, Schreder opted for something she could flip all on her own. She is documenting the experience on Instagram.
"Once I had a house, I took a lot of pride in it and wanted to always leave things better than I found them," she said. "It's been a huge part of my healing journey to keep myself busy."
Schreder learned how to fix and make things better from her dad. While she was growing up, the two could often be found in the family garage in Mount Vernon, Iowa working on projects together.
Both Schreder's parents are UNI alums, so she often thought she would end up a Panther. She decided to pursue speech-language pathology based upon the suggestion of her mom, who has worked for an area education agency. Schreder's mom told her they were always hiring SLPs, and her daughter was drawn to the prospect of ample job opportunities. Schreder went on to receive her Bachelor of Arts in Communication Sciences and Disorders and her Master of Arts in Speech-Language Pathology at UNI. She notes a special appreciation of Dr. Kenneth Bleile for the opportunities and skills he's exposed her to. 
"Being at UNI shaped me because I still felt like I mattered," she said. "It was a small enough school where you feel like you can be vulnerable, share your experiences and you're not just a number in a huge class. That really helped me flourish. Now being connected to other staff members and my students is a real big passion of mine and probably why I'm still in the field."
This work as a speech-language pathologist is yet another way that Schreder has been able to inspire others — both her students and her colleagues.
"I have worked for Des Moines Public Schools for 20 years, and I have 24 years of experience as an SLP, and I often look to Riley for ideas," one of Schreder's co-workers wrote in a nomination letter. "She is an innovative thinker; she comes up with ways to [use] curriculum and [work] in the classroom that are outstanding and copied throughout the district." She's recently received a financial donation in which she's used to design and print communication boards that will be mounted at a few elementary school playgrounds.
Schreder will be recognized at the Inspiring Women of Iowa event on May 5. One thing is clear: Schreder wouldn't have been able to endure the events of the last two and a half years without courage and resilience. For that, she is certainly an inspiration.