Campus & Community
UNI art gallery to showcase student artists with 2022 Fall BFA Group Exhibition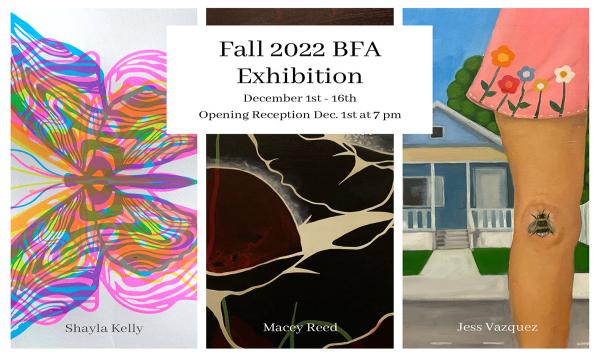 The University of Northern Iowa Gallery of Art will present the fall 2022 BFA Group Exhibition, from Dec. 1 to 16. An opening reception will take place at 7 p.m. Dec. 1 in the Kamerick Art Building (KAB) South lobby. The exhibit features artworks from UNI students who are pursuing their Bachelor of Fine Arts degrees.
Featured artists will include Macey Reed of Marion, Shayla Kelly of Cedar Rapids and Jess Vasquez of Osceola. 
Reed's exhibition is titled "Fat," and uses multi-layered painting and screen printing techniques to explore growing up as a heavyset child.
"My art questions the differences between societal ideals of beauty and the pressures of growing up as a young fat girl," she said. "The exhibition is a series of multi-layered paintings that involve screen printing techniques and ominous color strategies."
Kelly, whose exhibition is titled "Never Enough," works primarily in printmaking and performance art. The work consists of neon colors and references societal and personal views from the feminist mindset including those who suffer from a mental diagnosis.
Vazquez is an award-winning artist who explores her life experiences as well as the nuances of the English language from her perspective as a child of immigrant parents.
Her exhibit, titled "Bay Street," will feature paintings and sculptures that use bright colors, cartoon imagery and scenes from her memories.
The gallery will also continue presenting "Glamours, Illusions, and Apparitions." Located in the Mary Haskell-Hansen Room of the Gallery, this UNI Permanent Art Collection exhibition was curated by Gallery Director Darrell Taylor and features art by Salvador Dali, Philippe Halsman, Odilon Redon, Dieter Roth, Joe Tilson and Conny Walther, among others.
All events are free and open to the public. Located on the main floor of KAB South, the gallery is open from 10 a.m. to 5 p.m., Monday through Friday, as well as by appointment.