Campus & Community
UNI augmented reality tool awarded $150,000 NEH grant
Funding supports a major historical photo geolocation project based at UNI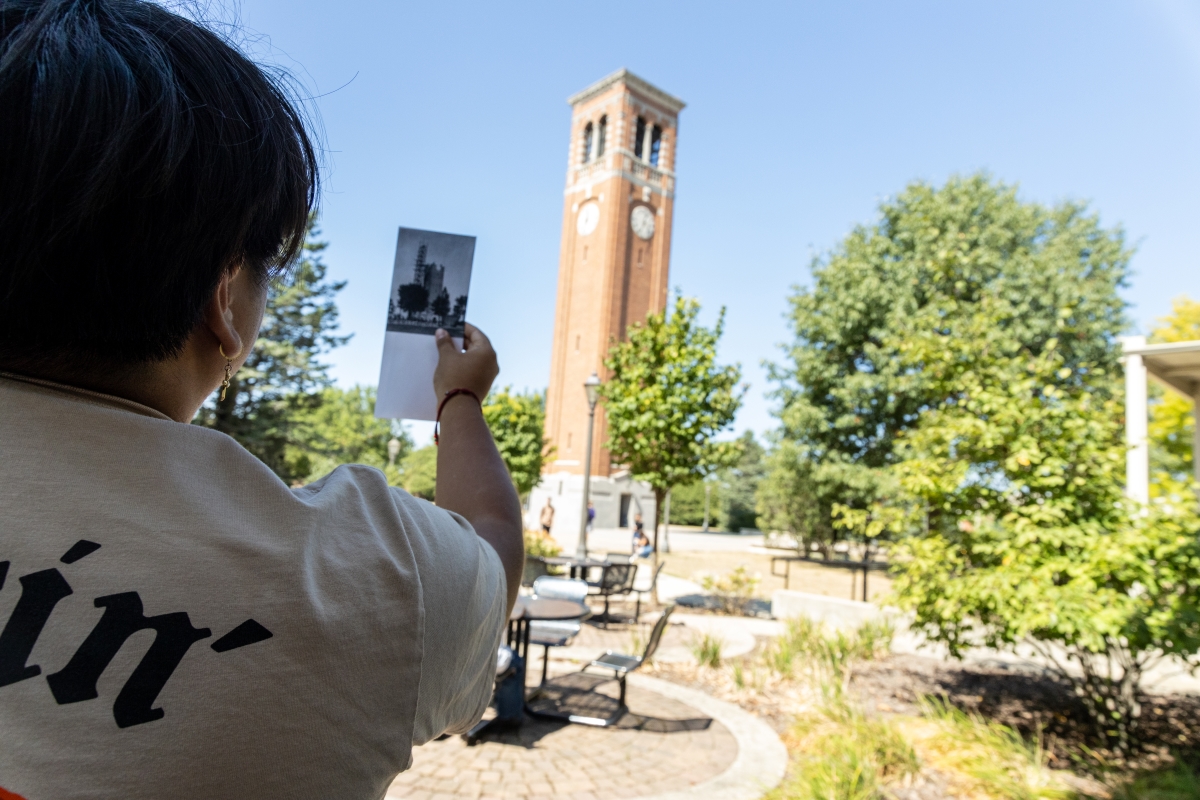 CEDAR FALLS, Iowa – University of Northern Iowa faculty members Bettina Fabos, PhD, and John DeGroote have received a National Endowment for the Humanities (NEH) Digital Humanities Advancement Grant of $150,000 to build augmented reality environments for the UNI campus and the city of Ottumwa, Iowa.
The project, called Mainstreet 360º, is a 360-degree street view mapping application that is part of the Fortepan IA photo history portal, also based at UNI. The team, which includes backend developer Jonathan Voss and designer Dana Potter, is developing a platform that will help cultural institutions upload and display superimposed geolocated historical photos onto a modern-day 360° streetscape. 
"The final project will look something like Google Street View, but with historical images superimposed in the exact position of what is there today," said Fabos, a professor of interactive digital studies at UNI. "For example, a photo of UNI's campus in the 1940s might reveal where tennis courts were once located near the Campanile." 
The intent is to match many historical photos of college campuses and American main streets to the very place and perspective from which the photographer captured the original photograph. Users can "walk through" each historical decade and inhabit a customized historical street view. The tool will also include text to interpret each decade of this augmented reality experience, a timelapse feature for locations with photos from multiple decades, and the ability to add unique details in certain photographs. 
The first Mainstreet 360º experience will be developed for UNI's campus, which has an abundant source of already-scanned campus photographs throughout the 19th and 20th centuries. The second environment will be the southeast Iowa town of Ottumwa.
"We have an impressive number of main street photos from Ottumwa already integrated into the Fortepan IA archive," said Fabos. "We aim to demonstrate the power of the Mainstreet 360° augmented reality application for these two different locations to illustrate the application's potential for visualization and historical interpretation."
Fortepan IA (located at fortepan.us/ia) is an open source digital photo archival platform based at the University of Northern Iowa. The platform prototype features photos of everyday Iowa life, and was built by UNI faculty and staff (who drew inspiration from the pioneering Fortepan Hungary platform, Fortepan.hu). Currently, Fortepan IA chronologically displays nearly 20,000 historical photos from Iowa families and participating Iowa museums, libraries and historical societies. The UNI team is expanding the portal beyond Iowa, and building Fortepan US, which will serve every U.S. state. Fortepan CT (fortepan.us/ct) will launch in 2024. 
‌