Campus & Community
UNI to be featured on Amazon Prime series "The College Tour," premiere watch party set Feb. 8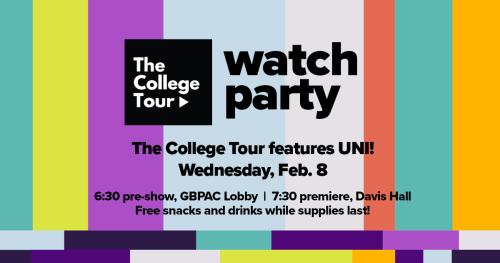 CEDAR FALLS, Iowa – The University of Northern Iowa is rolling out the purple carpet to celebrate an upcoming episode of "The College Tour," which is featured on Amazon Prime.
Created by Emmy-nominated and multi-award-winning producers, "The College Tour" gives viewers an up-close look at colleges and universities all around the country. UNI's episode features 10 current students sharing their experiences across campus on topics like academics, housing, career preparation, campus life and more. The segments were filmed on the UNI campus in fall 2022.
UNI will be hosting a special launch party to premiere UNI's episode on Feb. 8. The event will be held in the Gallagher Bluedorn Performing Arts Center, with a pre-premiere party in the lobby at 6:30 p.m. and the premiere viewing in Davis Hall at 7:30 p.m. Attendees will have the opportunity to meet the cast and enjoy special treats while supplies last. The event is free and open to the public.
Following the launch party premiere, look for the 10 individual segments to start dropping on official UNI web and social media platforms. 
"Our 10 current students did a phenomenal job sharing their unique UNI stories and our team can't wait to showcase them," said UNI director of University Relations Pete Moris. "'The College Tour' host Alex Boylan, along with the production team, as well as Jess Betts, Sean O'Neal and other members of our staff developed a finished product that should make Panthers everywhere proud. I'm excited for prospective UNI students and their families to hear first-hand why our campus community is such a special place." 
"The idea for 'The College Tour' TV series came to me from my 16-year-old niece," said Boylan. "Because of the pandemic and finances, she wasn't able to travel to tour colleges. So using our skills as executive producers, we created a series inspired by her and millions of other young people who are interested in attending college. This series is so fun to produce!"
The eighth season of "The College Tour," which includes the full-length episode featuring UNI, will premiere on Amazon Prime on May 23. People attending the early premiere event are encouraged to wear their UNI gear.
Find out more at thecollegetour.com.
For those who are unable to attend the premiere event, there will be a live stream of the episode.
Individuals with disabilities are encouraged to attend all UNI-sponsored events.  If you are a person with a disability who requires a reasonable accommodation in order to participate in this program, please contact University Relations at 319-273-2761 or by emailing ur@uni.edu.