Campus & Community
UNI graduate counseling students host first series of support groups for dementia caregivers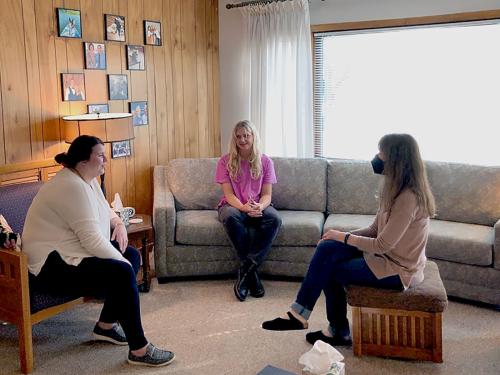 This semester, University of Northern Iowa students in the clinical mental health counseling graduate program had the opportunity to put their skills to work by facilitating support groups for caregivers of people with dementia. 
For six weeks, students in Eran Hanke's advanced psychopathology class facilitated two support groups — one for caregivers of partners with dementia and one for caregivers of parents with dementia. About nine students participated in guiding the groups, which met every Tuesday at the Dementia Simulation House.
"It's been quite an amazing experience for both those who are attending as well as us as the facilitators," said Jessie Harder, a clinical mental health student and group facilitator.
Harder has been assisting in the group for individuals who are caring for partners with dementia, which has drawn anywhere from three to 10 participants each session, with a lot of repeat attendees.
"I think to some extent we are all learning about each other — the facilitators and the participants — and learning a lot about what the participants are experiencing and what they need in ways of support," Harder said. "And I think we have created a safe place where those caregivers can form a sense of community from their shared experiences."
"Dementia can be challenging, unpredictable and isolating, not only for those living with dementia, but also for their caregivers," Hanke said. "These individuals are emotionally tied to the person they are caring for —  spouses or partners or adult children caring for their parents or loved one — which can make the situation even more challenging because no one wants to see their loved ones go through something like that."
Filling a need
A new endeavor for Hanke and her students, the dementia support groups were conceived to give students hands-on experience working with a challenging and isolating illness, while addressing a significant gap in gerontological and mental health services.
"It really started when I came to UNI in 2019," Hanke said. "Elaine Eshbaugh (director of UNI's Dementia Simulation House and a professor of gerontology) and I were discussing gaps in the health care and mental health care industry, and we identified a significant gap in the care and support systems for older adults, in general, as well as those with dementia and their caregivers."
Those conversations, plus her involvement with the Dementia Simulation House prompted an idea.
"Time and time again, we saw caring, compassionate caregivers come to the simulation house searching for any type of information they could find and who might benefit from connection points," Hanke said. "So I thought, we have my class of second-year graduate students who are taking their last classes before going into their practicums — why not bring these two groups together?"
Hanke hoped forming the support groups would give students the chance to practice their skills and connect with people in need of support, and those coming to the groups would find a community of shared experience.
"It's really powerful to sit with people where you don't necessarily have a fix or an answer or a solution, and all you have to give is your presence, your desire to help and your willingness to listen," Hanke said. "And I think that is what the students and the participants are realizing."
With Eshbaugh's blessing Hanke and her students began facilitating the groups as a sort of pilot program, but the groups have been so successful that Hanke hopes to see them continue and become a part of the curriculum.
About dementia
According to the Alzheimer's Association, more than 6.5 million Americans, aged 65 or older, are living with dementia, and that number is consistently rising.
Dementia is an umbrella term for numerous conditions that affect aging individuals' ability to remember, make decisions, think or perform daily tasks, according to the Centers for Disease Control and Prevention. Alzheimer's disease is the most common and well known form of dementia.
Most commonly known as a memory disorder, dementia can actually manifest in a wide variety of symptoms, including:
Inability to focus or pay attention
Difficulty communicating and/or recalling words
Reasoning, judgment and problem solving
Visual perception beyond typical age-related changes in vision
Changes in tactile sensation
Confusion and/or unpredictable emotions or moods
"Dementia is an incredibly challenging condition for the whole family," Hanke said. "When we talk about dementia, we are really talking about multiple losses. People are losing their memories and their cognitive ability and are essentially losing themselves. And the loved ones who care for them, whether it be an adult child, a spouse, a sibling or a partner, are losing a person they love — because that person will never exist in their lives the same way again. It's heartbreaking and it's stressful and it can be very difficult for people to understand."
More than 11 million Americans provide "unpaid care" for people with Alzheimer's or other types of dementia, according to the Alzheimer's Association. A majority of those individuals are likely spouses, partners, siblings or relatives, adult children or friends.
Though rewarding, and often done as an act of love, caring for a loved one with dementia can take an unforeseen toll on the caregiver, Hanke said. Not only has the relationship with their loved one changed, but the role of caregiver can also take a toll on family connections, friendships, professional relationships and others. And many of the people who sought out the student support groups are experiencing similar challenges.
Finding community
For Harder, witnessing these groups come together to support one another has been the most rewarding experience.
"I never expected to be doing anything like this, but it really has been an amazing experience for me, my classmates and I think for the participants," she said.
Harder hasn't decided yet what mental health field she will pursue professionally, but she said her experiences facilitating the support groups and working with the participants will benefit her no matter what type of practice she chooses.
"I haven't had a family member who has dementia or anything like that, so I hadn't really been exposed to dementia and the impact it can have," she said. "So this has been a huge learning process for me. I'm learning about symptoms and experiences that both people with dementia as well as the caregivers go through, and after going through the weeks with them, I'm so moved by those people who have come to our groups and shared their experiences. I've surprisingly found that I am actually interested in possibly continuing this work."
And that, said Hanke, is the goal.
"My hope when coming up with these groups was not only to give the students some hands-on experience and create this space for caregivers to find support and community, I was also hoping some of the students would decide this was work they wanted to keep doing."
The last support group for this semester ended on Nov. 8, but Hanke hopes they can continue to provide this support to the community.
"That's what we are looking at now, is how can our program and the gerontology program continue to collaborate so we can meet this need," she said. "I think from what we've seen this semester, the students and the community have benefited from these groups, and I think finding a way to continue goes to the heart of the university's mission to be of service to others and to the community."
Hanke said she expects she and Eshbaugh will collect feedback, regroup and discuss, and figure out how they can continue to collaborate.
"It's been really nice to see people utilizing the opportunity to come to the groups, and that they have found it beneficial enough to want to come back again and engage with others who are sharing similar experiences," Harder said. "It's been wonderful to see them engage and make new connections with people and share their experiences with others. And, it's been nice for me to build relationships with them through a facilitator and caregiver lens."