Campus & Community
UNI hosts Waterloo eighth graders for LifeLab program
The number of students at UNI grew for a time this week when hundreds of eighth graders from Waterloo's Bunger and Hoover middle schools visited campus as part of the district's LifeLab program.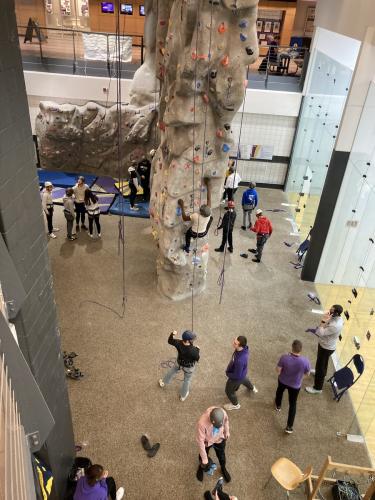 The middle schoolers had the opportunity to learn more about college life, tour campus, take part in a variety of academic workshops and enjoy lunch in Rialto.
"We're excited to partner with the Waterloo Schools LifeLab program and middle school educators to provide these Waterloo students an early engagement opportunity at UNI," said Kristin Woods, UNI's senior associate vice president for enrollment management and student success. "During this annual event, faculty and staff across campus come together to offer hands-on activities designed to help students engage with the university experience and learn more about their options in higher education."
Waterloo Schools' LifeLab program provides students with out-of-the-classroom experiences based on grade level to give students the opportunity to explore new environments. By the end of March, all 800 Waterloo eighth graders will visit UNI. This is the second year UNI has partnered with Waterloo Schools as a host.