Campus & Community
UNI President Nook, others visit Indian Hills Community College for UNI@IACC initiative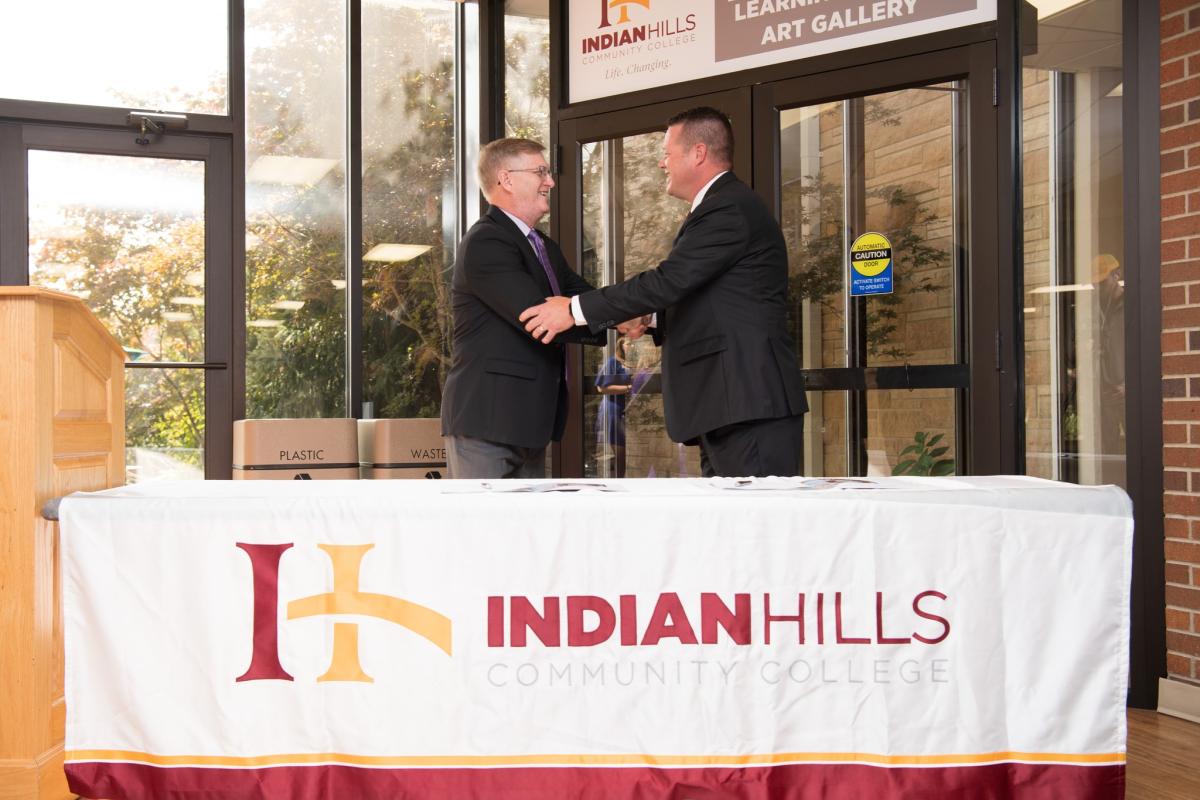 University of Northern Iowa President Mark A. Nook and Provost José Herrera were among a UNI contingent that visited Indian Hills Community College (IHCC) in Ottumwa, Iowa, on Sept. 13 to solidify the partnership between the two institutions. The relationship between the two institutions is part of the broader UNI at Iowa Community Colleges (UNI@IACC) initiative announced this summer. This cooperative effort allows Iowans who have earned an associate's degree from any Iowa community college to get a bachelor's degree from UNI online without having to leave their hometowns. 
Not only does this initiative increase access to a four-year degree for adult and place-bound learners, but it also reduces the cost thanks to the Future Ready Scholarship program, which is available to eligible Indian Hills students and made possible by Governor Kim Reynolds' authorization of $4.166 million in American Rescue Plan funding. These scholarships cover the difference between UNI tuition and IHCC tuition. 
"This partnership will provide tremendous opportunities for our future students and our current students to enroll in Indian Hills Community College and to have a smooth and seamless transition to the University of Northern Iowa," said Matt Thompson, president of Indian Hills Community College.
While students who obtain their UNI degree through Indian Hills won't be on the UNI campus, UNI is committed to helping these students feel like they are still part of the Panther family. One way UNI is ensuring Indian Hills students get the high-touch personal sense of community that is the hallmark of a UNI education is by hiring a student support specialist who will be at Indian Hills Community College full-time. This support specialist will start in spring 2023 and be able to answer student questions and connect them with helpful resources.
"We really are looking for a partnership," said Nook. "This isn't about us offering courses. It's about us being able to partner with Indian Hills, meet the needs of the workforce here, meet the needs of the students here and develop a true partnership with Indian Hills to better support the students that are in this community."
Nook's visit gave him the chance to connect with IHCC faculty, staff and students who all play a vital role in this partnership. He also spent time out in the community with Ottumwa residents who will benefit since this program equips students with degrees in seven high-demand areas: managing business and organizations, management: business administration, criminal justice, elementary education, human services, technology management and the Bachelor of Liberal Studies.
Contact:
Pete Moris, director, University Relations, pete.moris@uni.edu, 319-273-3158
Paul Sapp, Interim UNI@IACC Director, paul.sapp@uni.edu, 319-273-2864