Campus & Community
UNI rugby team creates community for players of all skill levels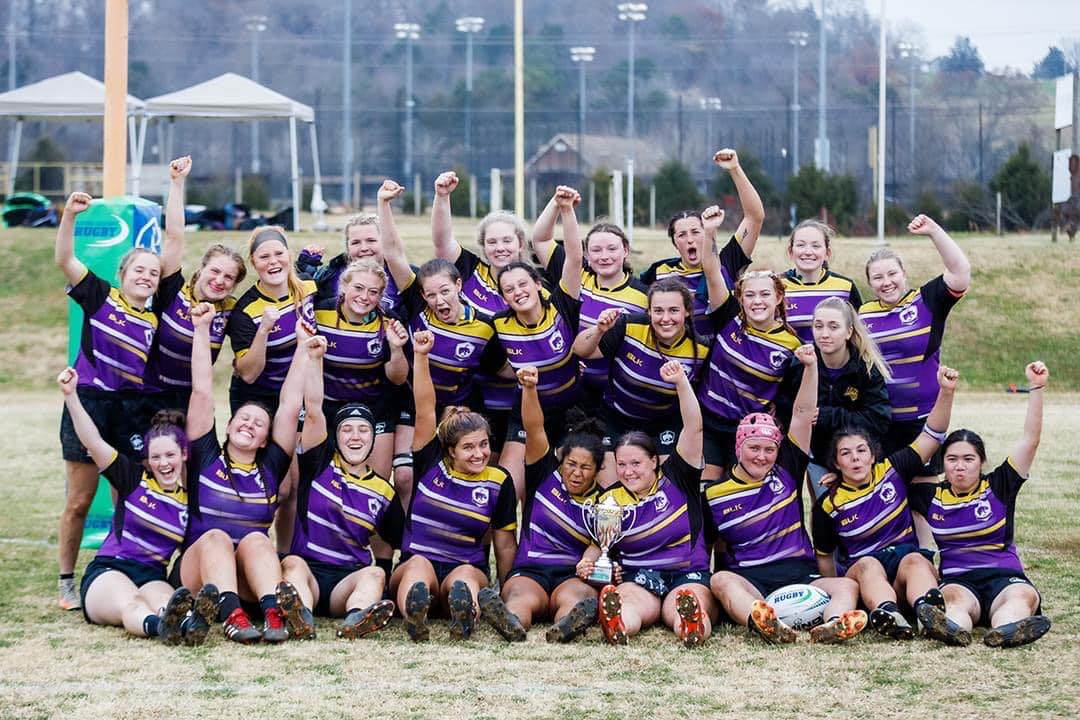 During the school year, every Tuesday and Thursday night from 4:30 to 6:30, you can find University of Northern Iowa students who are united not by a major or a career aspiration but by a love for sport: rugby. Interestingly enough, many members of the UNI Women's Rugby team had never played a game before joining the club. The team members have grown to love the sport in part for the community it provides.
"College is hard sometimes," said Aubrey Buresh, a UNI Women's Rugby team captain who is a senior majoring in early childhood and elementary education. "So having a team and a community that I can always go back to and tell them how I'm feeling has been really, really helpful. I'm very grateful for the team, and I think a lot of the girls can say the same."
Buresh learned about the team her freshman year from sidewalk chalk advertisements around campus. She attended Team Camp, which is a recruiting event held by UNI Women's Rugby, and was instantly hooked.
"I just had a gut feeling that rugby was just going to be full of some really amazing strong women," Buresh explained. "That's always who I want to surround myself with. I grew up with three sisters and my mother, so I love being around other women."
Like Buresh, Tatyana Reed, another team captain, knew next to nothing about the sport before joining UNI Women's Rugby. But now, four years later, it's become her favorite thing about being a UNI student.
One of Reed's close friends attended a practice and enjoyed it, which made her urge Reed to try another practice with her. While Reed left that initial practice enjoying rugby, she didn't immediately commit to joining the club.
"For people that don't really know what rugby is, it is a pretty tough sport," said Reed who is a senior majoring in graphic design. "What we say is you have to play at least one game to know if you love it or hate it. After that first game, that's when I was really like, 'Okay, I actually do really enjoy this.'"
Since the team is a club sport, Reed was able to join right away.
"The cool thing about it being a club sport is that you don't have to try out," said Reed. "We will take honestly anybody that wants to walk on our pitch, and if you like it, you stick it out."
Adjusting to the game did take time since Reed was still learning the rules. However, the relationships she quickly started building with her teammates made the decision to stay easy.
"This is the team that I felt the most at home on," said Reed. "A lot of the times when we're trying to get people to join the team, we say, 'You make 30 new friends instantly.' That's very much how it is. We're always accepting with our hands open. It's a family that we create."
Reed describes her rugby teammates as her biggest friend group. She even lives with three of her teammates. 
"Once you're with us, it's very hard to get rid of us," said Reed.
Buresh agrees that the dynamic of the UNI Women's Rugby team is something special.
"The culture of it all is so unique," said Buresh. "It's just a very accepting group. We just accept anybody that wants to play, even all skill levels."
UNI Women's Rugby has taken Reed and Buresh to games in Michigan, Tennessee and Louisiana. During spring 2022, the UNI Women's Rugby team even put themselves in the Premier Bracket, which meant they were competing against not only other club teams but also varsity programs that are school-sponsored. The UNI Women's Rugby team ended up winning the Plate Championship and placed fifth out of 16 teams from across the nation.
"There were people that basically told us we couldn't do it," said Reed. "To just get as high as we did was crazy."
UNI Women's Rugby has not only created opportunities for the team but also for the individual players. Multiple players from the UNI team including Buresh and Reed have joined forces with players from other states to play on a midwest rugby team. Following this experience, Buresh was even selected to play with Team USA on the Women's Junior National team against two different Canadian teams. 
"I hope to be invited back, but if not, I'm happy just focusing on my UNI career for now," she said.
While the players will begin practicing rugby right when school starts, their first pre-season match will be September 10 and their first home match will be October 8. 
Both Buresh and Reed are looking forward to seeing how the addition of 13 incoming freshmen will impact the team. All 13 of these students played rugby in high school, which typically isn't the case for new players.
A torn ACL may keep Reed from playing in the upcoming season, but it won't stop her from supporting her teammates, likely in more of a coaching role. Buresh, on the other hand, will still be playing and has her sights set on leading the team through a victorious season.
"We just want to win the whole thing," said Buresh. "I think that's something we've been wanting for a really long time, and oftentimes we come up with second or third place. I have a good feeling that this year is our year and that we're really going to step it up."