Campus & Community
UNI staff members pack and organize donations for Northeast Iowa Food Bank
Building on the University of Northern Iowa's dedication to serving the Cedar Valley and northeast Iowa, members of UNI's University Relations team rolled up their sleeves Monday to volunteer at the Northeast Iowa Food Bank.
UR Staff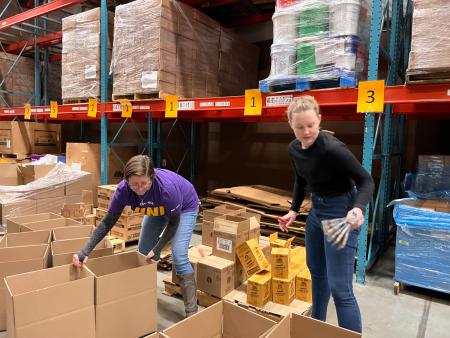 While at the food bank, the team of 14 formed an assembly line to pack 200 boxes of food, each including breakfast, lunch and dinner items, plus snacks and coffee. The group also sorted donations to the food bank, dividing them into boxes for distribution to mobile food pantries in the region.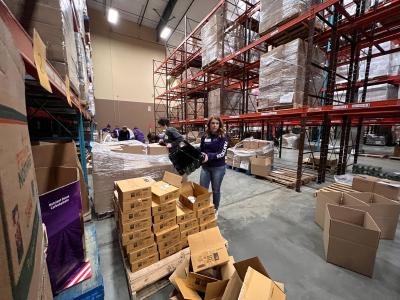 "It was our pleasure to volunteer at the Northeast Iowa Food Bank as a University Relations team-building event in lieu of a holiday party," said Pete Moris, director of University Relations. "Barbara Prather (executive director of the Northeast Iowa Food Bank) and her staff are doing important work serving our community. We would encourage other folks in the Waterloo-Cedar Falls area to consider a contribution to the Food Bank or lend their time to help their efforts."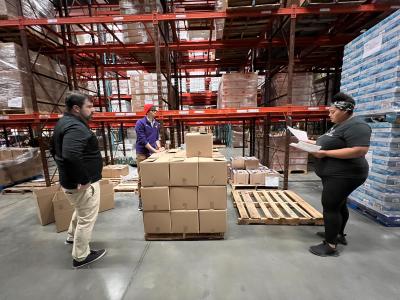 One upcoming opportunity for community members to volunteer is UNI's upcoming Pack the Dome event, where more than 2,500 people will be needed to help pack 80,000 bags of food on the Martin Luther King, Jr. Day of Service, observed on Monday, Jan. 16.
Serving a 16-county area in northeast Iowa, the Northeast Iowa Food Bank distributes nutritious food and grocery products to 153 nonprofit organizations and programs that help families and individuals dealing with food insecurity. Last year, the Food Bank distributed more than 6.63 million meals within a 16 county service area.