Campus & Community
UNI strengthens Kosovo connection with two new 2+2 partnerships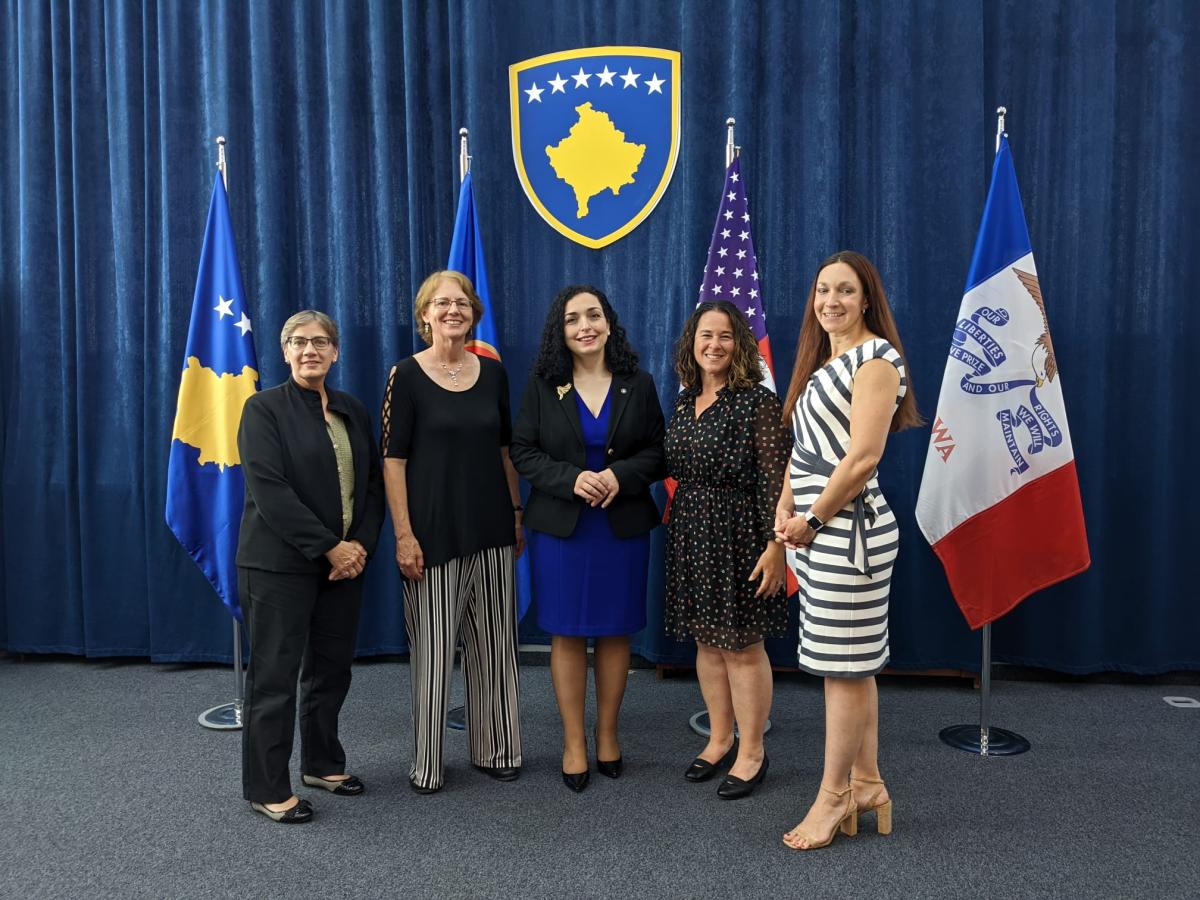 Following a successful trip to Kosovo in July, the University of Northern Iowa has signed two new 2+2 partnerships allowing Kosovar students to earn bachelor's degrees by studying for two years at a Kosovo university and two years at UNI.
The first of these partnerships is between the University for Business and Technology (UBT) in Kosovo and UNI's College of Business and Department of Applied Engineering & Technical Management (AETM). It applies to any bachelor's degree from the College of Business as well as the automation engineering technology and technology management degrees from AETM. 
"UBT is very forward-thinking," said Mary Connerley, associate dean & director of interdisciplinary programs at UNI and Robert P. and Margaret C. Bradford Chair in International Business. "They're very much into innovation and technology. Their faculty are doing research in areas that overlap with our faculty. Overall, there are a lot of synergies between the two schools that make me really excited about this partnership."
The second 2+2 partnership is between Kolegji Universum and UNI's Department of Computer Science. Students who participate in this 2+2 program can get either a BA or BS in computer science from UNI.
"From looking at their courses, I realized the Kosovar students are going to bring some skills with them that our students don't get in our program, due to the different sort of courses they take at Universum," said Eugene Wallingford who is the head of UNI's Department of Computer Science. "Even though our students won't have taken some of the courses that the Kosovar students have taken, our students will be working with them on projects. It's a nice way for our students to experience things they wouldn't otherwise see in the classroom."
Both of the partnerships will open up brand-new opportunities for the people of Kosovo, which has only been a country since 2008.
"There are a lot of barriers to students from Kosovo being able to study here, one of those being an economic challenge, just because Kosovo is a very new country," said Kristi Marchesani, director of international recruitment and admissions. "They are not that far removed from the conflict in that region. They're still rebuilding their country, but the interest in U.S. education is obviously very high."
Not only do 2+2 partnerships reduce the cost of studying in the U.S., but UNI also offers Sister State scholarships to further reduce the cost of studying at UNI for students who come from regions Iowa has forged special international partnerships with, like Kosovo.
Although these partnerships will help the people of Kosovo on an individual level, they will also benefit the country as a whole.
"People are excited about this because they know if students are able to come and get a U.S. degree and have the experience of studying here, they can go back to Kosovo and really contribute to society there," said Marchesani. "They need young, educated, innovative people to help lead their country forward."
The benefits don't stop there — they extend to the UNI campus community as well.
"Many of our students come from smaller towns, and they often don't have the same opportunity to be exposed to a lot of cultural diversity compared to students from more urban areas," said Connerley. "So I love the benefit for our faculty and students in classes where you have perspectives coming in from different cultures. It just enriches the conversation to a much deeper level and is more interesting for everyone."
UNI has similar 2+2 partnerships with other universities in other countries such as China and France. One aspect of the 2 + 2 partnership with the Kosovo universities is that students who complete the 2 + 2 programs will not only earn their UNI degree but can also apply to qualify for a second bachelor's degree from their Kosovar university.
The 2+2 partnerships with the Kosovar universities are also special because of Kosovo's status as one of Iowa's sister states. Kosovo was named one of Iowa's nine Sister States back in 2013. In 2016, Kosovo even opened a consulate in Des Moines, which remains the only foreign diplomatic office in the state. 
"We started to get to know and work with the Kosovo consulate on initiatives that might support students from Kosovo studying at UNI," Marchesani explained.
In 2018, Marchesani traveled to Kosovo for the first time with a delegation from Iowa to start conversations about educational initiatives including the idea of Kosovar students coming to study at UNI. After comparing coursework and meeting many times over Zoom, the two 2+2 partnerships were finally signed during the most recent trip to Kosovo.
Marchesani said that the trip ignited more interest in 2+2 partnerships from other schools and that UNI is currently assessing those possibilities. It also highlighted the welcoming nature of the Kosovo people.
"What I didn't realize when I was going to Kosovo for the second time was that as soon as I arrived, I would start getting messages from people I'd met before, welcoming me back and wanting to take me for coffee or dinner," said Marchesani. "It makes you realize you're part of something bigger than just being there to do your job.."
In fact, the initiative is such a big deal that Marchesani and other members of the 40-person delegation from Iowa to Kosovo met the president of the country, something that Marchesani has never experienced in her visits to over 100 countries around the world. The group had the chance to present to the president and tell her about these exciting new 2+2 programs.
In addition to more 2+2 partnerships, there are a wide variety of other projects being explored with universities in Kosovo.
"For schools that can't do a full-blown 2+2, we're looking at other opportunities for them like certificates in entrepreneurship or sustainability or other types of exchanges," said Connerley. "We were able to make so many connections and now it's time to follow up and build on the momentum from our visit."
UNI will start accepting students who have completed two years of school through the Kosovar programs in fall 2023. 
"What we've seen from this relationship has been very positive," said Marchesani. "What we've seen from students from Kosovo here on our campus has been amazing. So I'm very optimistic that whatever happens from here will be a good thing."
Wallingford echoed her excitement about the future of these partnerships.
"We definitely would like to do more of this kind of partnership," he said. "It's good for our students. It's good for their students. And in this case, it actually strengthens the state of Iowa's relationship with Kosovo as well, so it's even bigger than UNI."