Campus & Community
UNI students reflect on summer study abroad experiences
While a new school year is about to begin, some University of Northern Iowa students are still dreaming about the study abroad experiences they had this summer. UNI offers many options for students who are looking to see the world and learn along the way — and these opportunities don't stop in the summertime.
Finding her love for France 
For Emily Mae Wilding, a junior who is completing UNI's 2+2 French Program, participating in the capstone in France in May was far from her first experience abroad. It was her third visit to the country, and she will be living in France for the last two years of her undergraduate program starting this fall. Because of this, the capstone wasn't really an introduction to France or French culture but more of an opportunity to reconnect with a place she's already grown to love.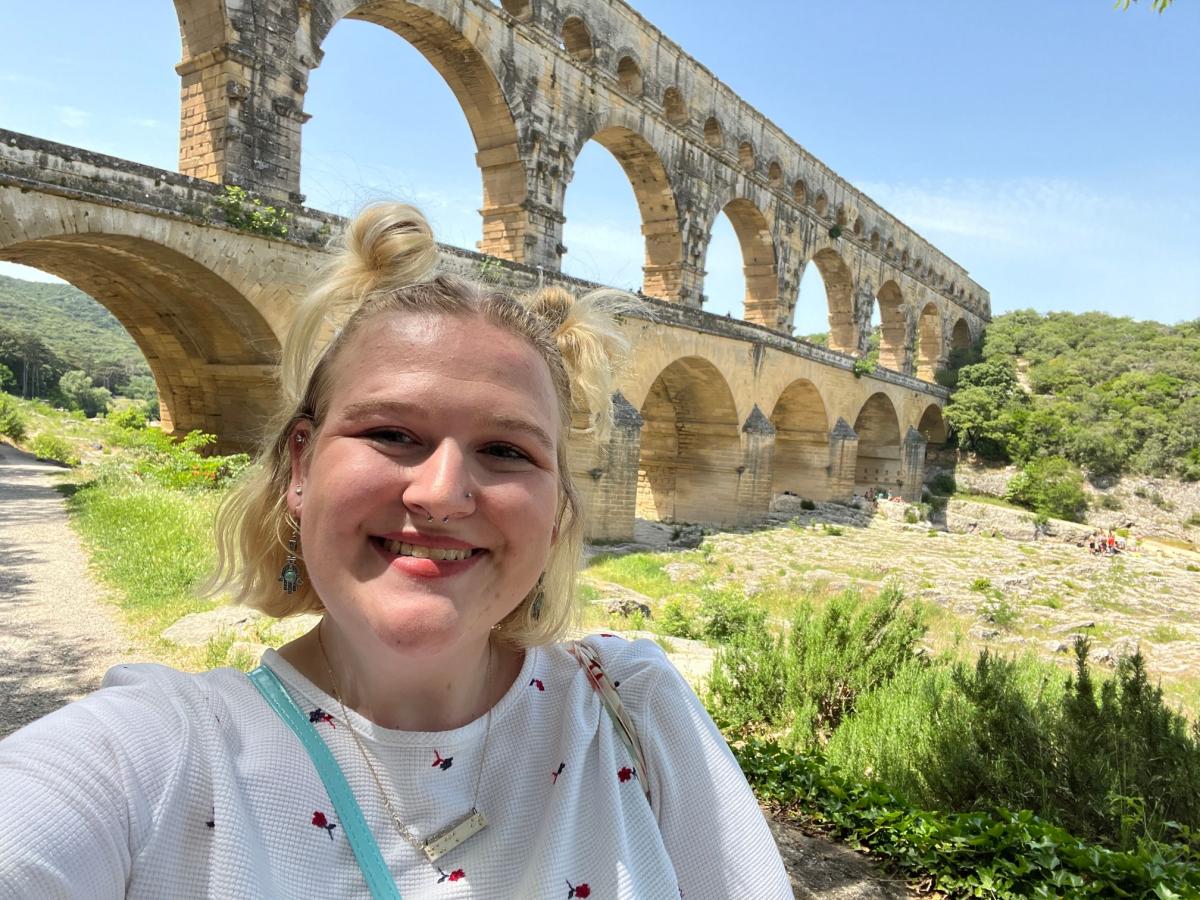 "I have loved French my whole life," said Wilding. "At least for as far as I can remember, I've been obsessed with Paris and that kind of stuff. I started speaking French my freshman year of high school, and it was just the obvious choice for a major. It's what I have to do with my life."
Wilding was so excited for the capstone that she applied for it the day applications opened. Even with her many past trips to the country, she describes the most recent experience in France as her best trip yet.
"It definitely solidified that, yes, France is what I want to do for the rest of my life, and it also solidified those feelings that I am capable of living in France for the next two years," said Wilding.
Although the capstone primarily took place in Paris, Wilding and other students also got the chance to visit Avignon, Nîmes and Marseille. For sightseeing, the students visited museums, ancient and medieval sites, cathedrals, cafés and, of course, the Eiffel Tower.
"It's so eye-opening to see how other people live across the world and get to know their stories," said Wilding. "Seeing things that you only see in photos on the internet is just an amazing experience. I definitely recommend every single person have a passport."
Glee Club goes to Greece
While Wilding was using her passport in France, the UNI Glee Club was in Greece on their choir tour, which they take every other year. Emily Clouser, who is a junior majoring in choral music education, saw the trip as a nice bonus to the experience she has been able to get as the Glee Club's accompanist. 
"We did a bunch of performances over there and got to immerse ourselves in Greek culture," said Clouser. "We met some Greek collegiate choirs and got to talk to them and figure out what their experience was and how their view of the world differs from ours, which was pretty interesting."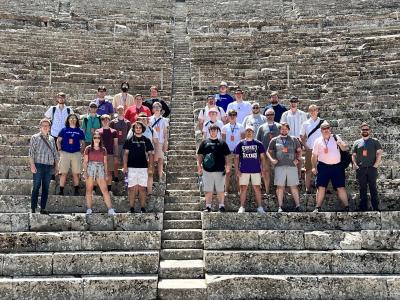 In between performances, the group visited historical sites such as the Temple of Poseidon and the Acropolis of Athens.
The trip and time spent with other choirs was a fantastic learning experience, Clouser said, which ultimately made her feel even more connected to members of the Glee Club.
"This trip really solidified how much of a brotherhood the Glee Club is and how I instantly got dozens of older brothers when I became their accompanist," said Clouser. "At the end of the trip, when we did our final song, all the seniors were in tears because the Glee Club is such a big part of them, and I was in tears because I realized how big of a part it has been for me and my life. I'll always remember that."
Discovering the Galápagos 
While Clouser and the Glee Club were performing some of their favorite songs in Greece, another group of UNI students was taking in the scenic views of the Galápagos for a capstone class.
For Carly Baker, a senior majoring in biology with minors in chemistry and business, the capstone was easily the best part of her UNI experience thus far. The highlight of the trip was a hike up to volcano Cotopaxi, which brought the students through wind, rain and hail.
"We all really pushed ourselves to get up there," said Baker. "We hiked up to about 16,000 feet, which was the highest I've ever been in my life. The feeling at the top was just amazing."
While on mainland Ecuador, the group went to another volcano called Quilotoa, which Baker describes as something you'd see as a Windows computer wallpaper.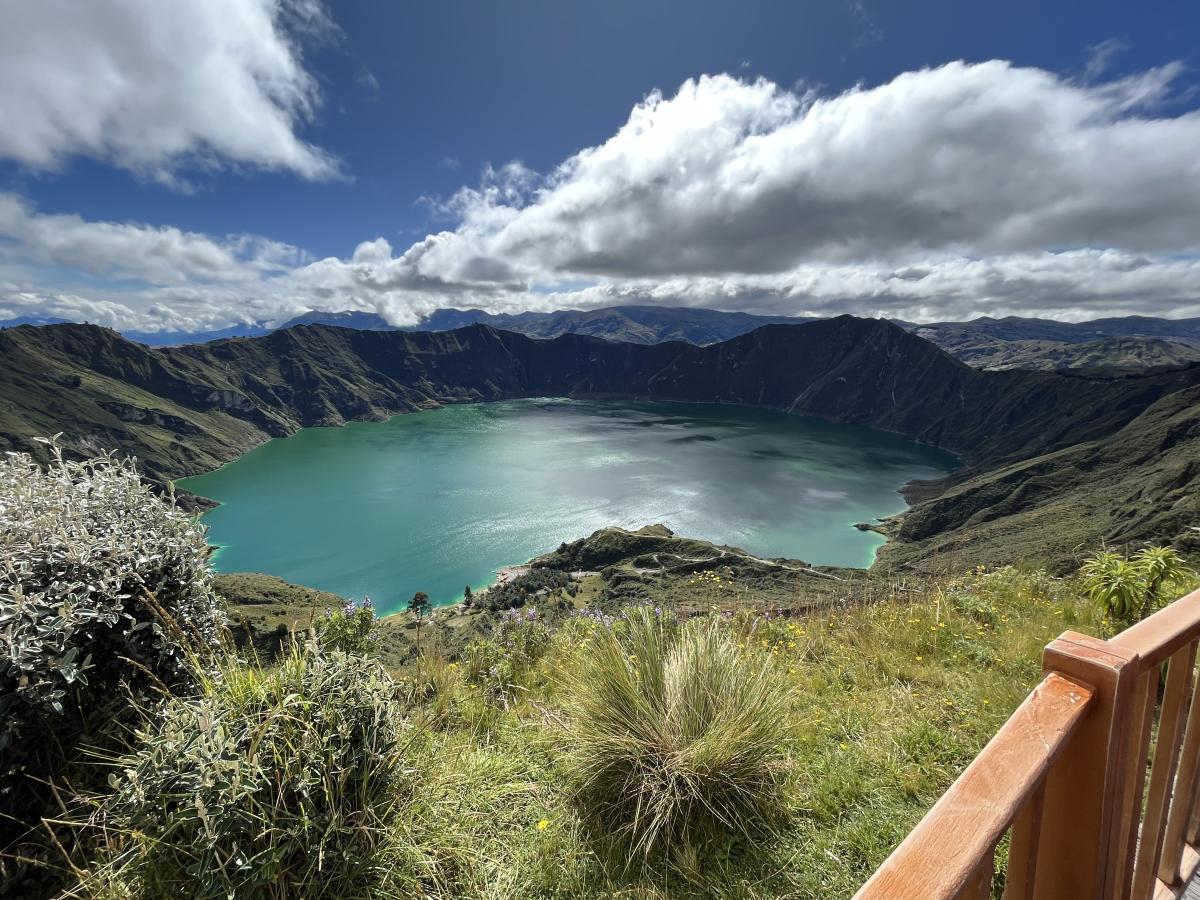 "My eyes could not believe what I was seeing," said Baker. "It was just so stunning."
For Baker, who graduates in the fall 2022 semester, it was the perfect way to round off her time at UNI. It was so impactful that she hopes to go back someday and hopefully bring her own family.
"The Galápagos are kind of famous for biology students for Charles Darwin doing his research there," said Baker. "So I think every biology student should go and visit."
Jessica Haugen, a senior majoring in biology and minoring in chemistry who was also on the trip, echoed how impactful it was to go somewhere she had heard about extensively in class.
"I had learned a lot about the Galápagos already in my classes, but being there in person is just a different experience," said Haugen. "You learn a lot just being out in the culture."
Haugen, who is on the pre-veterinary track at UNI, enjoyed the snorkeling experience the most as it gave her the opportunity to see penguins, sharks, sea turtles and other marine creatures.
On the trip, Haugen said she learned lots of facts about the animals they observed, which she documented in a notebook and on her phone. Recording her experiences on the trip in a notebook was required to get credit for the capstone.
"It was a great way to reflect back on the trip while we were there and just really process what we learned during the trip," she said. "I think it'll be an even greater thing to have in the years to come when the trip's not as fresh in my mind, and I can go back and read and remember everything we did."
While each student had a unique study abroad experience, they all would highly recommend taking advantage of the chance to see the world with UNI.
"Going out and immersing yourself into somewhere new is important on its own, but if you get an opportunity to learn about something that you're passionate about, that's even better and you should definitely go for it," said Baker.