Campus & Community
What a fabulous week at UNI!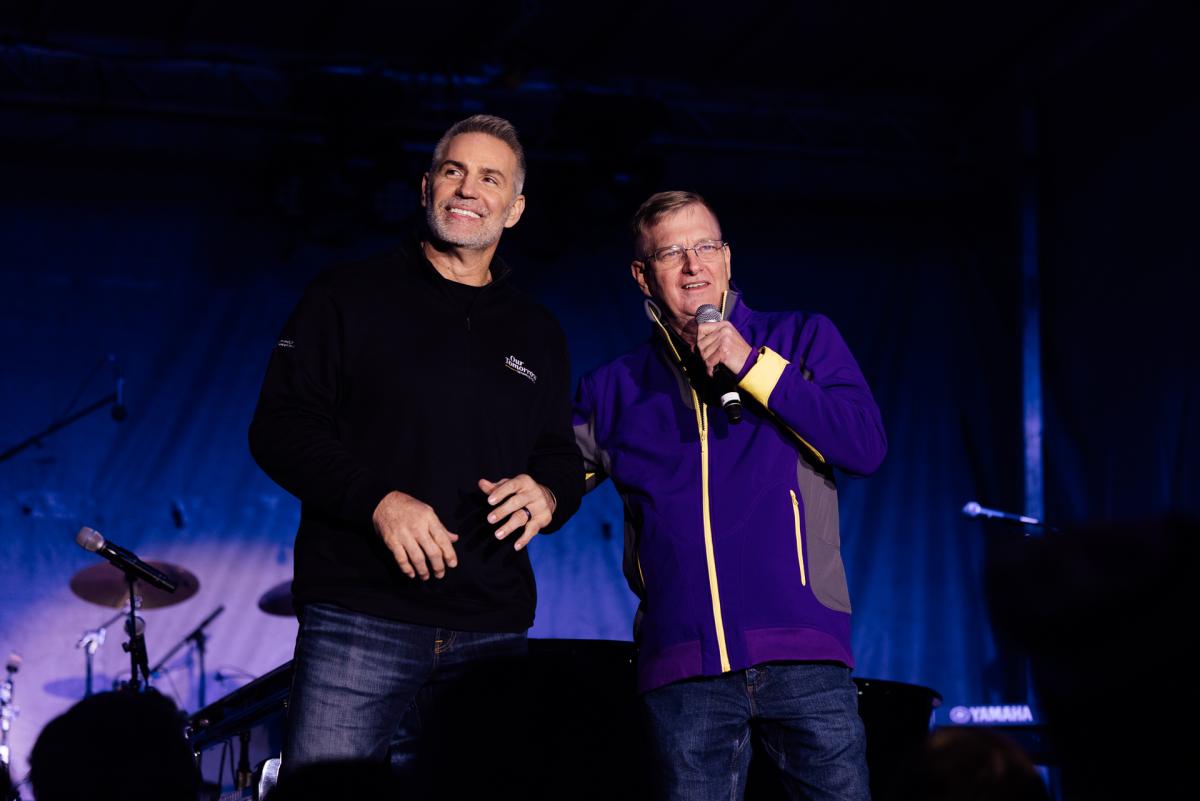 If you've noticed a palpable buzz, as well as a sense of excitement on the University of Northern Iowa campus and in Cedar Falls over the past week, you're not alone! UNI's Homecoming Week and Our Tomorrow campaign kickoff are still the talk of the town. And, in case you missed it, there was a Hall of Fame quarterback back in town, too! 
For more information on the Our Tomorrow campaign visit ourtomorrow.uni.edu.
While there were a plethora of events taking place on campus, here's a quick look at some highlights of what has transpired at UNI over the past few days . . .
Thursday, Oct. 6 
The university picnic was capped off by the ceremonial passing of bronze ingots that were eventually melted and poured into casts for seven new bells to be added to the UNI Campanile. 
The Verdin Company from Cincinnati, Ohio has spent over 175 years crafting custom bells and other carillon pieces for colleges, churches, businesses and other organizations across the country. The Verdin Company's one-of-a-kind mobile foundry drew a large crowd to Campanile Plaza following a formal Our Tomorrow campaign dinner event at Maucker Union. 
Friday, Oct. 7 
Pro Football Hall of Fame QB Kurt Warner arrived on campus, along with his wife, Brenda, and daughter, Sienna. The two-time NFL Most Valuable Player addressed the UNI Football team and was able to give Sienna a tour of the UNI-Dome, where he earned Gateway Conference Player of the Year honors as a senior for the Panthers. Kurt and Brenda's journey of perseverance was recently chronicled in the 2021 movie "American Underdog." 
The Our Tomorrow campaign officially kicked off its public phase amidst a festive atmosphere on campus Friday evening. Tony-nominated performer Michael Cavanaugh and his band played a variety of hits from Billy Joel, Elton John and other acclaimed artists, while the Campanile basked in the glow of purple and gold illumination, as well as other special effects. 
UNI students, alums, faculty and community members enjoyed a fun-filled evening accompanied by fire pits, food and drink, as well as several notable on-stage speakers that included Warner, President Mark Nook and notable alums. 
The UNI Volleyball squad capped off the evening with a 3-0 victory vs. Bradley.  
Saturday, Oct. 8
The UNI Homecoming Parade rolled down Main Street in downtown Cedar Falls as the streets were packed with Purple and Gold clad revelers. The Panther Marching Band, as well as members of the UNI Cheer and Dance teams brought energy and excitement to go along with decorated golf carts, floats and a variety of other entries. And, of course, Panther fans were excited to see T.C and T.K., as well as the Warner family. 
A formal ribbon-cutting ceremony for the Van G. Miller Family Charitable Foundation Team Meeting Room took place in the UNI-Dome with Director of Athletics David Harris and UNI Football Head Coach Mark Farley celebrating the occasion with representatives of the foundation and other VIPs. 
The UNI-Dome was rocking for a football clash with Illinois State. While the Panthers narrowly lost on the gridiron, once again the UNI Volleyball squad was victorious, this time with a 3-1 win vs. Illinois State. 
Monday, Oct. 10 
Director of Athletics David Harris capped an exciting stretch at UNI by officially unveiling renovation plans for the UNI-Dome, which will celebrate its 50th anniversary in 2026. For more information on this portion of the Our Tomorrow campaign and conceptual renderings of potential improvements to this iconic UNI facility, visit unidomerenovation.com.