Campus & Community
Why you should consider earning an online master's degree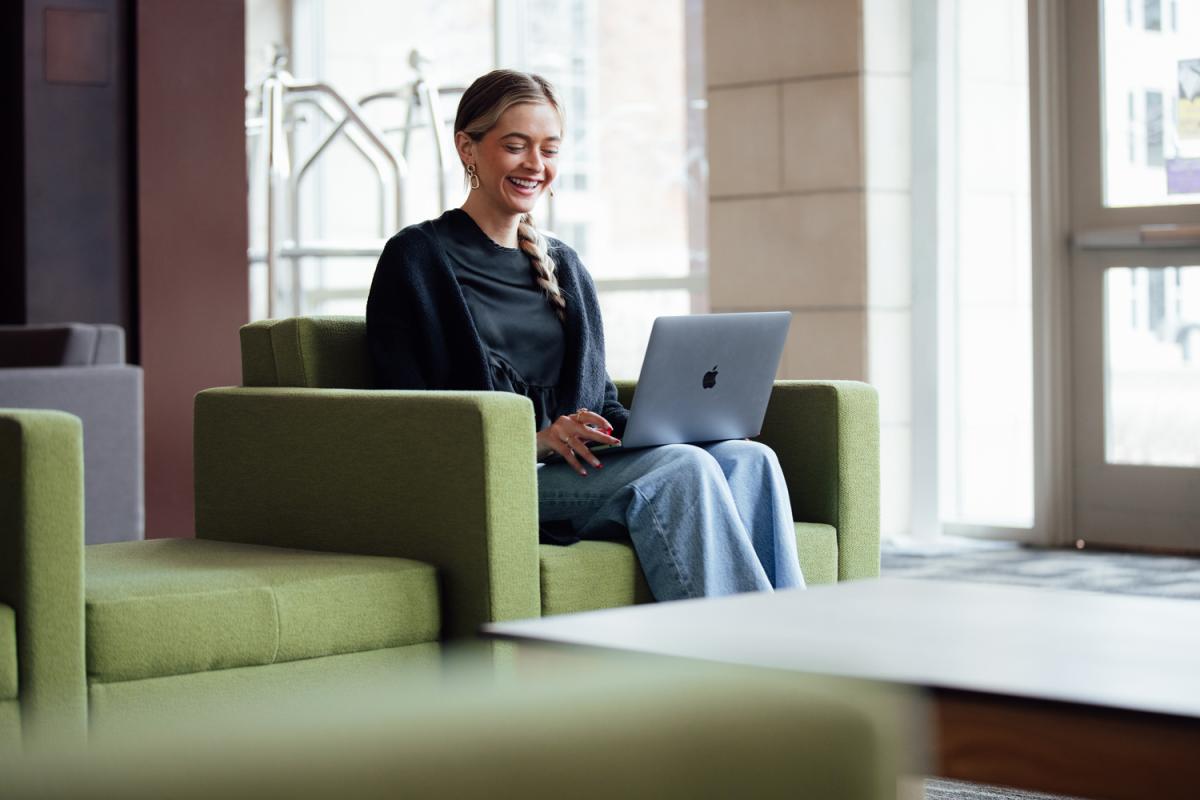 Are you considering going back to school to earn a master's degree? While choosing the perfect program can be complex, it could be the best decision you ever make! Here are some signs that indicate getting an online master's degree is the right move for you.
You're ready to start a new chapter in your career
If you've been feeling like your career has gone stale, enrolling in an online master's degree program could be exactly what you're looking for. A master's degree will enhance your skills and content knowledge, while increasing your earning potential, elevating your credentials and helping you achieve your career goals. According to a study done by the Iowa Board of Regents (FY 2021-2022) someone with a master's degree from UNI earns an average of $16,100 per year more than those without a master's degree. So, although there is an initial investment in earning a master's, it's an investment that carries a strong return.
"This program has inspired me to keep finding information to promote our field, and to use that information to benefit my students," said Mykel Carlson, a 2021 Master of Arts in Physical Education - Pedagogy graduate.
You want to challenge yourself
It's always a positive stride when you can make room in your life to learn something new. With an online master's degree, there will be no shortage of learning opportunities. You'll feel an immense sense of pride and accomplishment when you reach the end of your studies and can say you earned a graduate degree. Getting an advanced degree shows that you're a strong, determined person who is capable of accomplishing anything you put your mind to. It won't always be easy — but it will be worth it!
You don't want geography to limit your program options
With most traditional graduate programs, you are only able to choose from those that are close to your home, work or personal commitments. But once you've decided on an online setting, that opens up your options to a host of graduate programs - unlocking opportunities to work with expert faculty, and seeking out the specialized degree you are looking for.
The University of Northern Iowa offers more than 25 online graduate programs. Nearly half of these are online master's in education programs like the Master of Arts in Education in elementary education and literacy, and Master of Arts in science and math. Other options outside of education include the Master of Public Policy, Master of Social Work and Master of Arts in Philanthropy & Nonprofit Development.
You need flexibility
A large benefit in earning an online master's degree is the flexibility that comes with it. In most cases, you can keep your full-time job and commit to online learning at the same time. Online learning gives you more flexibility over your schedule, allowing you to balance work, family, and school with greater ease compared to traditional programs.
UNI's online graduate programs are designed for working professionals - part-time delivery options with class meetings in the evening via Zoom. Some coursework is also completed independently through an online learning platform, allowing ultimate flexibility.
"UNI's distance education model was a great fit for my life," said Anna Warner, who earned her Master of Arts in Philanthropy and Nonprofit Development. "I was pleased that I didn't need to commute to classes and could still have access to the experts I needed to teach me. My professors also each understood the life that we were leading and provided flexibility." 
You want personalized support
You don't have to complete your master's program on your own. Personalized support from across the university still exists!
UNI's Office of Online & Distance Education has dedicated support staff who are ready to assist adult learners throughout every step of the program. In addition, you'll have access to UNI services in financial aid, career services, the Rod Library, student accessibility services and technical support to ensure you reach your academic and professional goals. All the people you come in contact with want to see you succeed!
Take the next step with an online master's degree from UNI
If you're ready for the next step, check out any of the 25+ online master's degree programs available at the University of Northern Iowa. Complete an online interest form for the program you're interested in and, if you're ready, submit your application. 
Choosing to earn your master's online through UNI is a smart investment that pays off. UNI is in the top three best online colleges in Iowa based on 2022 rankings from College Choice and also ranked among the top 15% nationally in U.S. News & World Report's "Best Online Master's in Education Programs."
As Iowa's only regional comprehensive university, we are designed to provide critical coursework with real, practical fieldwork. 
Real, relevant academic excellence for a world that expects future-ready graduates.
94% of UNI grads find success within six months of graduation.
 
UNI graduates more teachers than any other university in Iowa.
 
UNI graduates more CPAs than anywhere in Iowa.
 
UNI is ranked a top regional public university by U.S. News & World Report.