Languages & Communications
Partnership between UNI and university in Yucatán, Mexico benefits students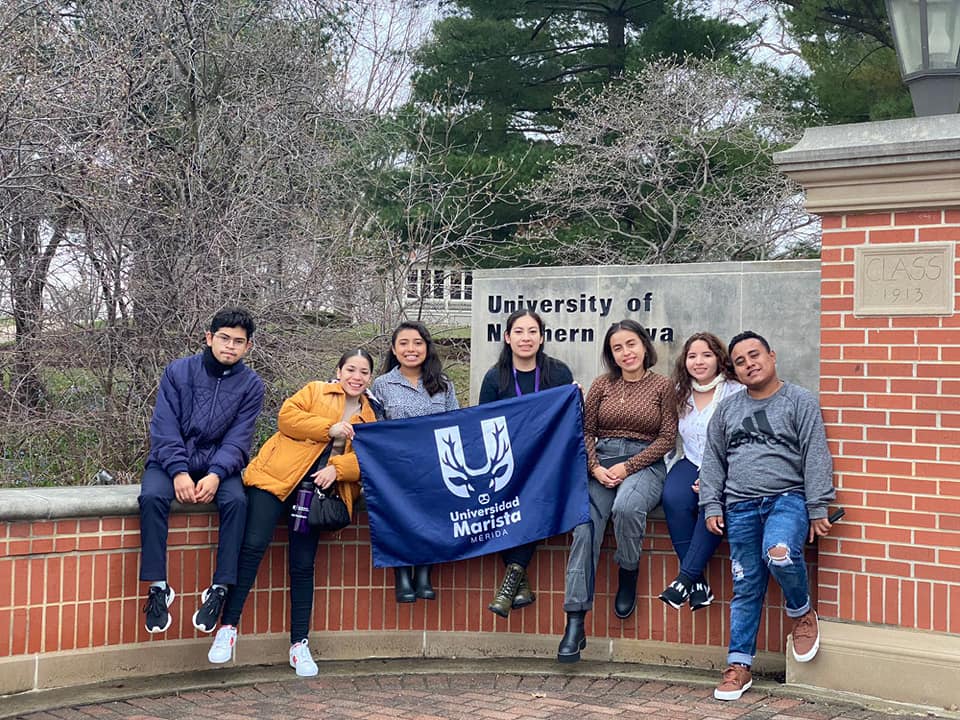 As international travel opens back up, students at the University of Northern Iowa are getting to enjoy numerous educational opportunities that had been put on hold due to COVID-19, including a blossoming partnership with the Universidad Marista de Mérida (UMM) in Yucatán, Mexico. 
From April 10 to 24, UNI hosted a group of seven students from UMM as part of a hybrid language program led by UNI's Culture and Intensive English Program (CIEP) which offers international students intensive academic English language instruction and a cultural and social introduction to the U.S. The experience allowed students who had been studying English virtually with CIEP from March 23 to April 8 to fully immerse themselves in the English language and American culture. This is the first short-term exchange program for UMM where a group of students has left the university. 
"Being here is totally different from the online experience. They get to see the people that they're studying with, and they get to see their teachers," Victoria Albertos Gonzalez, the coordinator of the language center at UMM and chaperone for the UMM students, said while at UNI. "Every time I see the students enjoying the experience, it makes me so happy that I want to cry."
Albertos Gonzalez reflected on how many of the students began their English classes at CIEP unable to understand their instructors, but by the time they were nearing the end of their studies, their understanding of English had dramatically increased, as had their enjoyment of the experience. 
The CIEP courses fulfill the requirement for UMM students to take English courses. This particular class included students from other countries such as China, Saudi Arabia and the Democratic Republic of Congo. During cultural events and field trips, the group interacted with CIEP students from over 10 countries.
The partnership between the two universities has been made possible by a 2019 grant called the Innovation Fund from the Partners of the Americas Foundation, the Jenkins Foundation and 100,000 Strong in the Americas. The award supported eight new partnerships between 16 universities and colleges in the U.S. and Mexico. Each of these new partnerships helped create new exchange opportunities and training programs for students in both countries in areas like the humanities and anthropology.
Initially, the group of students from UMM was supposed to come to UNI in April 2020 but this was canceled due to COVID. After a one-year delay, the two universities started an online program that included a language exchange in spring 2021.
As borders started reopening in 2022, it became apparent that this would finally be the year the students from Yucatán would get to visit UNI.
For Albertos Gonzalez, the experience was well worth the wait.
"I love it!" she said of UNI. "I particularly love the [Center for Multicultural Education]. It's not only interesting that you have a building like that but also the place it represents — like a safe space."
Albertos Gonzalez said when she goes home she will miss the people at UNI but also, much to the surprise of the average Iowan, she will miss having to check the weather daily. In Yucatan, she knows to always expect hot weather.
"While we've been here, we've had the four seasons in one week," she said. 
One of the students Albertos Gonzalez accompanied to UNI was Eduardo Lopez Solis, who not only participated in the semester's hybrid program but also was involved in the online program in spring 2021. While visiting UNI, one of the highlights for Lopez Solis was getting to catch up with the two conversation partners he'd been paired with during his two semesters in the program. 
"My conversation partners make me feel comfortable and not afraid," said Lopez Solis. "Now I have two new friends."
Meeting with a conversation partner weekly is a requirement for CIEP students. It gives them a chance to improve their English skills, learn about American culture and share about their own culture.
After experiencing CIEP both in person and online, Lopez Solis saw the advantages of learning English in an English-speaking environment.
"You can practice all the time," Lopez explained. "When you go to breakfast, lunch or dinner, you need to speak [in English] with the other people here. In Mexico, it's different. When you take classes, you start the class and end the class and then you go home and speak to everybody in Spanish, so you can't practice."
As part of this partnership between the two universities, a group of 15 UNI students will get their own taste of UMM when they travel to the university later in May with Associate Professor of History Fernando Calderón for a capstone course. The trip, which will be done in coordination with the UNI Study Abroad Center, will expose students to the history, anthropology and cultural heritage of Mérida and Yucatán.
The UNI-UMM partnership goes beyond the two groups of traveling students. Another way the two institutions have made a connection is through a Spanish class taught by Associate Professor of Spanish Linguistics Elise DuBord which includes a virtual conversation partner component. This is how Lopez Solis got connected with his first conversation partner.
Spring 2022 is the third semester that DuBord has used conversation partners from UMM as an integral part of one of her classes. She has no plans to stop doing it for the foreseeable future. 
"It's been so positive for students on both ends and from the instructor perspective, it's pretty easy to do," she said.
Students are in pairs or a group of three depending on class size, with at least one student being from UNI and at least one from UMM. The partners meet five times over the course of the semester which is usually about every other week. DuBord gives the groups assigned questions to discuss, and they speak for 30 minutes in English and 30 minutes in Spanish to give each person a chance to practice the language they are learning. The questions they are given are in both languages — some in English and others in Spanish — so they are not having the same conversation twice, said DuBord.
With topics ranging from recycling to college life, the conversations help the students not only practice their language skills but also to better understand their partner's culture.
All these conversations happen outside of the classroom. DuBord requires her students to give her a screenshot of their conversation and a short video reflection. At the end of the semester, they also write a short reflection on the overall experience. 
"Their Spanish is getting better — without a doubt — but they're also so much more confident," DuBord explained. "A huge part of that is a lot of students have never had the opportunity to just sit down and have a conversation with a peer in Spanish. So it's just really valuable."