Community
The first in her family to go to college, Heather Harbach is UNI's new VP for Student Life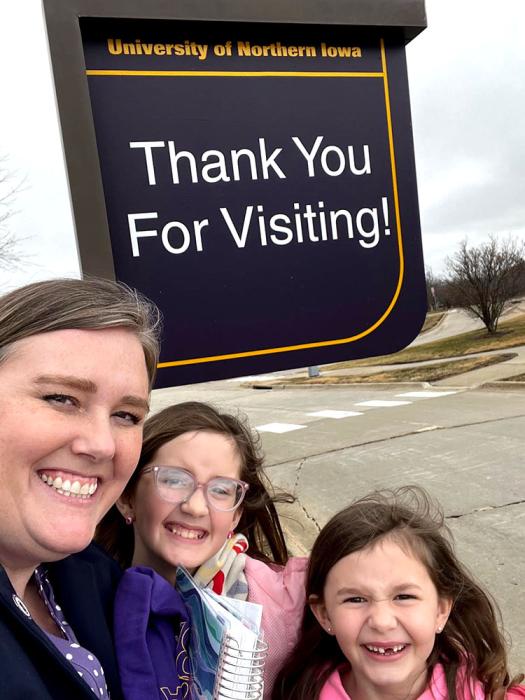 As the first in her family to earn a college degree, Heather Harbach – the new vice president for student life – understands some of the obstacles students can face when embarking on their academic journey.
"I was a first-generation college student from rural Arkansas," she said. "I grew up on a hog farm and my dad had been a truck driver and then became a farmer, and my mom was a stay-at-home mom. They very much were supportive of me going to college, and in fact, they really encouraged me to go in that direction. You know, they told me, 'This is what you've got to do.'"
Harbach took that advice to heart, earning a Bachelor of Science in Political Science from the University of Arkansas in 2001, followed by a master's degree in counseling and student personnel services from Oklahoma State University in 2004. She later completed a doctorate in educational leadership at Edgewood College in 2017.
This past month, Harbach was named as University of Northern Iowa's new vice president for student life and will start in the role on April 25.
Harbach currently lives in Wisconsin with her husband Ben and her daughters Hazel, 6, and Reagan, 9. She'll be commuting between her home and UNI until her daughters' school year ends and the family can relocate to Cedar Falls.
"We are really excited to become part of the Panther Family and the Cedar Falls community," she said. "We are a family that wants to fully engage in the community we're a part of, and we're all really excited to go to sporting events and music and theater events and participate in all the different campus activities. And, everyone is going to see and meet my girls, because they are going to be around and spending time on campus, and that's really important to me. Coming from a family and a culture where higher education wasn't really seen as an option for many people, I want my daughters to never question that they belong on a university campus."
Throughout her academic career, Harbach said she faced obstacles, experienced doubts and at times found the collegiate system challenging to navigate, but always found support and guidance in the resident assistants  (RAs), academic advisors, hall directors and other admissions and student life professionals.
"When my parents and my two younger siblings moved me into my first on-campus housing for my first year of college, we had no idea what to expect," she said. "We didn't know anyone who had gone to college – not even in our extended family. I truly was the first, so it was something that was new for all of us."
It was the student affairs professionals who advised, supported and guided Harbach as she navigated an entirely new world – a favor she chose to pay forward to the new students who came after her.
"The RAs and the student affairs professionals really helped me figure out my journey and supported me along the way," she said. "And, as I continued on my academic path and now in my work, that's really been a central focus for me – giving back to new professionals and students and supporting them in the way that I was supported, because I know that without education and without their help, I would not be sitting here today."
During her school years, Harbach served as a resident assistant for three years at University of Arkansas and then as a hall director at Oklahoma State University while she completed her master's degree. Her involvement in campus life and student support services still have a profound impact on the work she does today.
"I look at students today and they're students who are like me, walking around campus and trying to figure things out," she said. "And now that I am on this side of the desk, I truly believe that it is our job to make sure that we're there to help and support those students, and to be a friendly face that is there to answer their questions."
Before joining the Panther Family, Harbach worked in a series of student-facing roles at other Midwestern institutions, including Marquette University, Mount Mary University and the University of Wisconsin - Milwaukee, all in Milwaukee, Wisconsin, and Edgewood College in Madison, Wisconsin.
Each role, Harbach said, has taught her something new about how to better serve student populations and make sure their academic and support needs are met.
"Quite often I think about this question: 'What can you do for one person today?' At Edgewood College, we referred to it as a 'plus one initiative.' And basically, what that meant was instead of thinking about this 80 percent retention rate we were trying to achieve in our first second year students, we were thinking every day about 'What can I do to help one person?'"
Harbach continues to hold that philosophy close and allows it to guide her day-to-day actions.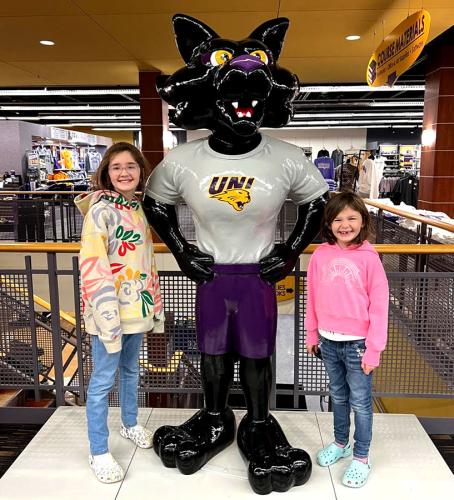 "I think about: 'What did I need to do to show up today? Did I put more good into the world than I took out?' and 'What can I do to help one person today?' That philosophy has very much become intertwined with who I am as a person, who I am as a mother and who I am as a professional, and  that's what I try to do as a leader – 'What are we doing to make sure that we are helping students navigate through all these academic and administrative channels, when students today are facing more challenges than I ever could have imagined when I was a freshman in 1997 at U of A."
Harbach said that same philosophy and those same questions are some of the things that will guide her in her work at UNI.
"I'm not bringing a set expectation to the table - I'm going to lean into the experiences I've had throughout my career," she said. "I've been lucky enough to gain experiences at large public institutions, small private and midsize institutions, flagships, regionals and regional comprehensives, and I think that is a strength of mine – having such varied experiences and perspectives."
Harbach said her primary mission will be to ensure the Division of Student Life continues to support students in that full student experience - "supporting what happens outside of the classroom and that then supports the work that students are doing in the classroom."
"I truly believe our job is to make sure that students' experiences are deep and encouraging and support the students so they can achieve the goal they came here to achieve. We need to make sure that we're inclusive, that we're accessible, that we're equitable in our decision making, and that we're really thinking about all of the students - not just the traditional students - that are present in the UNI community."
Harbach said she is very excited to start meeting and talking with students, faculty and staff and hear what they have to say about how her division can better support the student experience while studying at UNI.