Community
Gallagher Bluedorn Block Party Series makes the performing arts accessible to all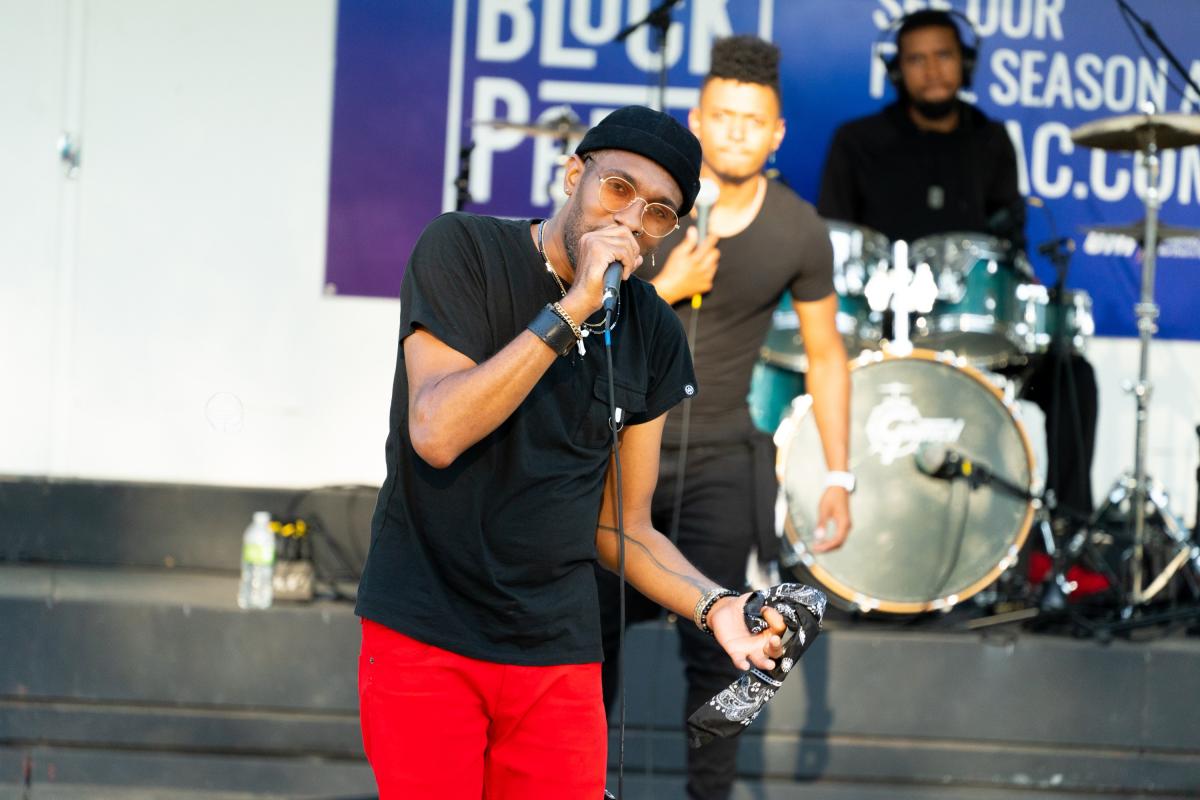 After a successful initial run in 2021, the Gallagher Bluedorn Block Party Series is back by popular demand. These free events feature live music in neighborhoods throughout the Cedar Valley, starting June 4 and concluding on September 18.
"With the Block Party Series last year, we found we were able to reach new audiences, including people who maybe haven't been to the Gallagher before," said Jennifer Onuigbo, the community relations manager at the Gallagher Bluedorn Performing Arts Center (GBPAC). "We also get to reengage with some audience members who maybe haven't been back to the Gallagher in a while. They've been here before, but because of the pandemic and just uncertainty, they may not have been back recently."
The concept for the Block Party Series was conceived during the pandemic as a way to bring the performing arts to the community when it wasn't safe to gather indoors. It was also the perfect way to help keep local bands busy.
The Block Party Series is unique because of the work the Gallagher Bluedorn Performing Arts Center does to make it accessible to everyone. GBPAC brings its portable stage, also known as "the show mobile," directly into the community so eight neighborhoods can experience the thrill of the performing arts for free in their own backyards. Because the show mobile includes GBPAC's light and sound setup, the experience is very similar to a Gallagher Bluedorn show, but guests are out enjoying the summer weather on blankets and lawn chairs rather than inside in an auditorium.
This year, there will be four block parties in Waterloo, three in Cedar Falls and one in Waverly, which is a new addition. 
"I think Gallagher's dedication to extending its arm to the community and saying, 'This is for everyone!' is a great way to honor music," said Felicia Smith-Nalls, who is a Block Party organizer and performer with her band HartSmith. 
All the neighborhoods are able to choose their own band, Onuigbo explained. GBPAC provided each neighborhood with a list of local bands, complete with links to their performances and the genre of music they play. While some bands performed last year, others will be performing at their first block party this year. 
"Every band that I asked was very eager to do the block parties," Onuigbo said.
The performers will be playing a wide variety of genres, including pop, classic rock, country and R&B. Smith-Nalls describes HartSmith as "festival music that's R&B leading," performing everything from Steely Dan to Bruno Mars.
For Smith-Nalls, who is also the lead singer of the Cedar Valley Big Band, performing at a Gallagher Bluedorn event is a bit of a full-circle moment. As a child, the excitement of watching "Dream Girls" live at GBPAC made her want to be a performer.
"I remember looking at that going, 'I'm doing that!'" she explained.
In addition to the musical performances, each neighborhood is free to add its own activities and vendors. The Hearst Center and Waterloo Center for the Arts are partners with most of the block parties to provide kid-friendly activities.
The June 18 block party will be a Juneteenth celebration.
"In other parts of the country, Juneteenth is huge, but here it's just starting to pick up traction," said Smith-Nalls. "So I'm excited Gallagher is part of getting that word out."
The July 9 block party will be part of the North End Arts & Music Festival, which will include vendors and performances from the local drill team as well as drill teams from across the country.
Smith-Nalls thinks one of the biggest benefits of the Block Party Series is it gives attendees a chance to relax and experience, as she puts it, the "respite care" the arts provide. Onuigbo agrees.
"Times are tough right now," Onuigbo said. "A community-building event is a great time to get to know your neighbors and just enjoy something fun together." 
For more information on the Block Party Series, visit GBPAC.com/BlockParty.
The Gallagher Bluedorn will also be announcing its new season on June 20, and the public will be able to purchase tickets starting July 28.