Community
UNI admissions professionals earn coveted awards for their impact on students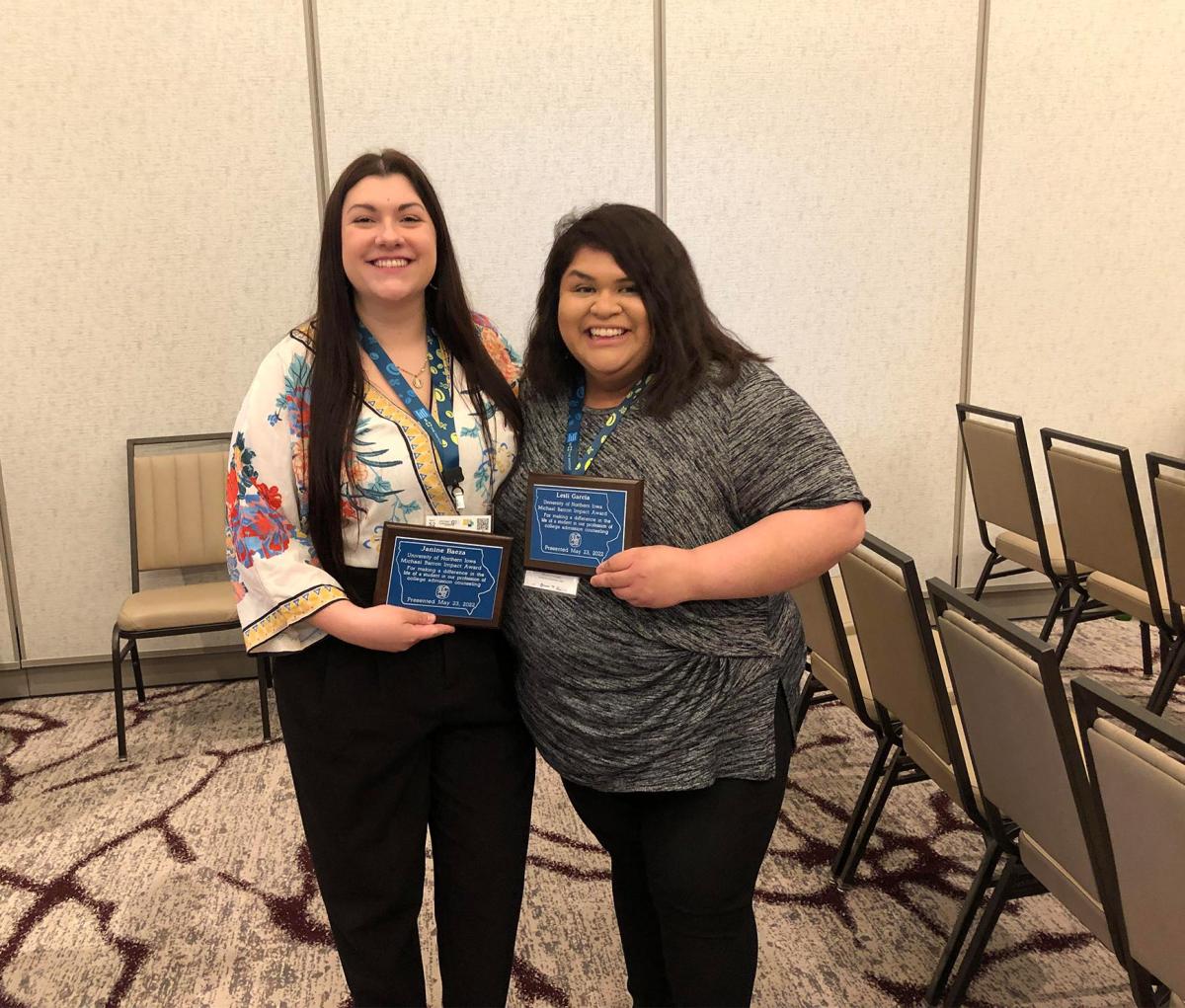 When two University of Northern Iowa admissions professionals attended a college admissions conference in May, they walked away with two of five coveted Michael Barron Impact Awards.
Before attending the Midwest Association for College Admission Counseling Conference, neither Janine Baeza, assistant director of diversity recruitment, nor Lesli Garcia, senior admissions counselor, knew much about the award, which recognizes the way admissions staff have impacted college students through relationships. But the experience of winning the awards together was incredibly meaningful for both Baeza and Garcia.
"I was really happy that I won with Lesli, knowing the caliber of work she does," Baeza said. "She is one of the sweetest and funniest people. Everyone that she meets — they love her."
"I've seen Janine as a mentor," said Garcia. "I came here straight out of college, and this was my first job. So I think receiving the award next to her was awesome. It's so great being able to celebrate with her."
Jesús Lizárraga Estrada, director of student success and retention, nominated both Baeza and Garcia for their awards based on feedback from students as well as the work he observed from both women. In his nomination, Lizárraga Estrada reflected on how within just a few months of Garcia starting her role at UNI, he knew he was going to nominate her for this award.
"Lesli goes above and beyond her admissions duties and connects with students once they are on campus as well," Lizárraga Estrada said in his nomination. "Not only does she assist in the recruitment of students to campus, but through her work, she also assists in the transition and retention of students on campus."
In his nomination for Baeza, Lizárraga Estrada wrote about how she not only excels in her role as assistant director of diversity recruitment but also as the advisor for UNIdos and UNI's ambassador program.
"Janine is the definition of an advocate and a trailblazer," Lizárraga Estrada wrote. "She is truly one of the most caring and selfless people I have encountered and it is a true joy to be in her presence."
Both Garcia and Baeza are also alumni of the University of Northern Iowa. Baeza graduated in 2017 with a degree in psychology before earning her master's in philanthropy and nonprofit development in 2021, and Garcia received her degree in criminology in 2020.
During their time as students, Baeza and Garcia got their first taste of what it was like to work with admissions through Ethnic Student Promoters. Both of them said this was impactful in their decisions to work in admissions after college.
"I think that's also where my enjoyment for helping and working with students came from," said Garcia. "Overall, as a student, I think I had a really good experience, and that's why I'm still here."
For Baeza, coming back to work at her alma mater was an easy choice. The community was what drew her to UNI first as a transfer student and then as a professional.
"At UNI, we really try our best to serve students the best we can and that's throughout the university, not just in one office," she said. " I feel like we all try to stay connected. So I like the people."
Garcia's transition from UNI student to UNI employee came with some unprecedented challenges since it was at the height of the pandemic when recruitment looked a lot different from the norm. Because she had just graduated, she also struggled with the parents of students thinking she was younger than she actually was. But, with time, her confidence grew, helping her overcome some of those challenges.
"When I was a student, I was super quiet," said Garcia, who was a first-generation college student. "Now, I will literally go up to you if I don't know you. UNI is all about community, and students like to see friendly faces. So I think it's helped me build my confidence.
While Garcia said her greatest piece of advice to students is to not be afraid to try new things, Baeza tells her students to ask "a million and one questions." Baeza's advice may stem from her own challenges when she was a new transfer student. The thing she said she wanted the most as a student was for people to "over-explain."
"Now in my role, I just like to really thoroughly lay out all of a student's options," she said. "I will over-explain to them. I will walk them through our financial aid package. I've had students show me packages from other institutions, and I'm happy to walk them through their out-of-pocket here versus there."
Baeza, who was the first person in her family to go to college, also places a huge emphasis on making students' families feel included in the process. Since she gets to know both the students and their families, it's no wonder she's found herself getting emotional during commencement as she sees students she helped counsel as freshmen go on to their next chapter.
"The best part is actually seeing them graduate, knowing they'll go into the world and make change," she said.