Education
UNI grads sweep Art Educators of Iowa awards
The four Iowa art teachers awarded best-in-state status last year all had one thing in common—they all were graduates of the University of Northern Iowa. 
The 2021 Art Educators of Iowa (AEI) awards reaffirmed UNI's status as one of the state's premier institutions for preparing teachers to be successful in the classroom. Three of the four award recipients even completed UNI's Master's of Art Education program together last year.
"All UNI alumni winning these awards speaks volumes to the quality of the people that work in our department and the quality of teachers that we're shaping," said UNI assistant professor of art education Samantha Goss. "I've always known what an amazing job we're doing here, but Art Educators of Iowa recognizing it is a chance for everyone on the outside to see that as well."
The AEI is a nonprofit professional organization linked to the National Art Education Association which creates opportunities for members to connect with their fellow art teachers. Every year, both the state and national organizations recognize the best art educators with awards in four categories.
According to Goss, one of the greatest forces behind the success of UNI's art education program is art education professor Wendy Miller, who has been with the department for over 13 years. Together, they nominated a teacher in each category. 
Here are the 2021 AEI award winners: 
Amanda Olberding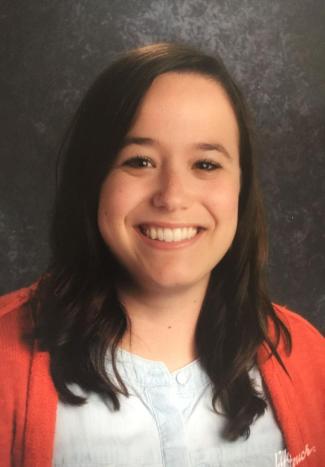 While each award-winning art teacher took a different path to get to the UNI, they all ended up with a purple and gold diploma. Amanda Olberding, who won Outstanding Iowa Art Educator of the Year, was inspired by the principal at her school in St. Charles, Illinois, who just so happened to be a UNI alum. Olberding always knew she wanted to be a teacher and while she says she loved Illinois, she knew she was ready for something different, making attending school in Cedar Falls, Iowa that much more appealing.
"When I came out to visit UNI for the first time, I instantly fell in love with it," Olberding explained. "I ended up giving tours in SAA [Student Admissions Ambassadors] as a student. So I love, love, love UNI."
Olberding started out majoring in elementary education. When she took a visual perceptions class, her love for art further ignited and she decided to add art education as a second major. In 2021, she further solidified her love of art education by earning her master's degree in this area from UNI. 
Currently, Olberding teaches at the highly-rated Brookview Elementary School in Waukee which is a fast-growing Des Moines suburb. Although it's been 10 years since she first started teaching, Olberding says she continues to have UNI professors reach out and support her which she describes as a "blessing." It's a favor she's returned many times.
"She's always willing to help everyone," Goss said of Olberding. "I could ask her to mentor a teacher over the phone and she would say 'yes' even if she shouldn't because she's so busy."
For Olberding, the decision to help UNI students is an easy one given her belief that UNI is one of the top sources for great art educators. 
"The student teachers from UNI that I've worked with have all been tremendous people," Olberding explained. "I am 100% confident in the abilities of anyone coming from UNI."
Hanna Thuesen 
Hanna Thuesen, who won Outstanding Iowa Elementary Art Educator of the Year, has had a lifelong passion for the arts. Becoming an art teacher seemed like the perfect fit, and she knew UNI would be the best spot to go for teaching, especially since she had a high school art teacher who had also attended UNI.
Thuesen believes the greatest thing about the art education program at UNI is just how much classroom experience students get. During her 13 years as an art educator at Southdale Elementary in Cedar Falls, she's had ample opportunities to pass on her knowledge to student teachers coming from UNI. 
"Although it's scary, I think most people learn the best when they're just tossed into that classroom environment," Thuesen said. "I hope that when they see me teach, they see you can have fun even as a teacher."
Goss is grateful for what an asset Thuesen has been to UNI's art education program.
"Our field experience students go to her a lot," said Goss. "A lot of the next generation of successful art educators will have been greatly influenced by her. So not only is she doing great things for her own students, but she's doing great things for ours as well."
While Thuesen loves seeing how making art positively impacts her students and helps them process their emotions, she also sees many ways that her students have influenced her. 
"I love making art with kids. They have such a vision," said Thuesen. "Seeing the world through their eyes is pretty amazing."
Katie Christensen 
Unlike the other winners, Outstanding Iowa Middle Level Art Educator of the Year Katie Christensen earned her bachelor's degree from Iowa State University in art education. However, she always knew she wanted to continue her education and earn her master's degree in the same area. As her three children got older and became more independent, Christensen knew the timing was right to add a second degree to her resume and to do it through UNI. 
"One of my friends had done the UNI grad program," Christensen explained. "She thought that I would learn a lot and while I wouldn't love every minute of it, I would grow as an educator.
Christensen currently teaches art at Denison Middle School in the west-central Iowa city of Denison where she has worked for nearly a decade. Goss applauds Christensen for utilizing online tools to engage with students even before the pandemic and for exploring a flipped classroom model where students spend more time hands-on learning activities in the classroom rather than listening to a lecture. 
Being recognized by the Art Educators of Iowa organization has been a welcome reward for the hard work of this UNI alum, but it's far from the main reason why she's stayed in the profession for 20 years.
"I'm just a teacher who loves to come to work," Christensen explained. "I have the most fabulous job of watching students grow right before my eyes and helping them to succeed. It's fun to see students really become their own artist."
Kelli Gartman 
Although Outstanding Iowa High School Art Educator of the Year Kelli Gartman grew up surrounded by educators including her mom and many members of her extended family, she didn't initially plan on continuing the family tradition. She began her college career with hopes of becoming an ultrasound technician, but that changed when a college textbook filled with coloring pages of human anatomy sparked her interest.
"Using that textbook was my first real realization that I could connect science, something that I was really interested in, to other content areas including art which was also something I'd always been really drawn to," Gartman explained. 
As she shifted trajectories from sonography to teaching, UNI was the clear choice, especially since many of her educator family members were also UNI alumni. So she transferred. She had such a positive experience in the art education program at UNI that she went back to get her master's which she completed in 2021 alongside Olberding and Christensen. 
Gartman has now been an art educator for seven years and currently works as the K-12 art teacher for the Brooklyn-Guernsey-Malcolm Community School District in east-central Iowa. Goss chose to nominate Gartman for a high school educator award specifically because of the interdisciplinary strategies she uses to help high schoolers in areas related to and outside of art. 
When Gartman found out about her nomination, she was surprised. In fact, she considered not moving forward with the nomination. 
"A phrase that has always placed a lot of value in my life is 'realize your potential'," Gartman explained. "You often don't realize your potential without the help of others around you. When I read through the reasons why I had been nominated, I realized the person who nominated me saw things I hadn't initially realized about myself and I thought of that phrase. That is what led me to move forward with my nomination acceptance. The hope for my practice is that I can help students realize their own potential both in and out of the classroom whether they choose to pursue art or not."